Polyurea EVA foam-filled fender is a new fender that adopts the high tech and high elastic foaming EVA as the buffer medium as the core, spiral reinforcement in the middle, and polyurea coating outside with USA-imported special spraying equipment.

By means of foreign advanced experience, we further developed the fender by using closed-cell and hydrophobic EVA as the core and polyurea fabric as the skin. This fender is widely used for big vessels, yachts, marine platforms, and ports.
Features of Foam-filled Fenders:
- Good floating performance, not influenced by tidal range.
- Could provide various colors according to the client's requirement.
- Don't need to check when using. No need for air inflation, good resistance to seawater, acid, and alkali.
- Use life 10-15years.
- No risk of blasting, high safety.
- High energy absorption and reaction force from small to large, it's suitable for open sea terminals, gravity port, especially for large tidal range docks and ship to ship, ship to dock.

Applications of Foam-filled Fenders:
- Cruise ships
- Container vessels
- Bulk cargo
- Ro-Ro and ferries
- Oil and gas tankers

Dimensions and Performances: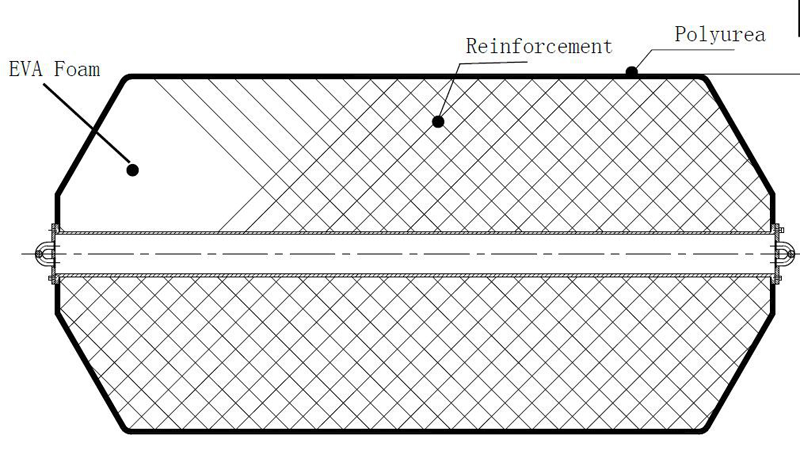 D x L(mm)


D (mm)


L(mm)

Compression Deflection at 60%

Reference Weight (kgs)

------------

---------------

------------

Reaction force
(KN)

Energy Absorption
(KN-M)

-----------------------

500x1000L

500

1000

71

8

34

600x1000L

600

1000

86

12

45

700x1500L

700

1500

161

27

101

1000x1500L

1000

1500

205

49

206

1000x2000L

1000

2000

274

64

275

1200x2000L

1200

2000

337

93

405

1200x2400L

1200

2400

390

110

475

1350x2500L

1350

2500

463

145

626

1500x3000L

1500

3000

624

216

927

1700x3000L

1700

3000

696

273

1191

2000x3500L

2000

3500

990

456

1923

2000x4000L

2000

4000

1110

505

2298

2200x4500L

2200

4500

1396

679

2992

2500x4000L

2500

4000

1386

781

3434

2500x5000L

2500

5000

1750

985

4272

3000x5000L

3000

5000

2050

1410

6411

3000x6000L

3000

6000

2460

1695

7293

3300x6500L

3300

6500

2950

2245

8335

4500x9000L

4500

9000

19650

7860

21460
Project Photos: