Marine power pedestal also called dock power pedestal, or marina power pedestal, which is an electrical enclosure unit used to safely deliver power to a dock or waterside residence. It provides shore power to vessels of all sizes, primarily through cables running from the power transformer down through the dock and into the pedestal.
Whether you have a commercial dock or a private dock, power pedestals are your safe, efficient and reliable choice for power supply. Our power pedestals are designed to be attractive and functional. Its exterior is made of aluminum alloy, which is strong enough and coated with an anti-rust coating to resist corrosion, rust, weathering and UV damage, ensuring proper operation in even the harshest weather conditions.
Available in 2 and 4 sockets, our dock power pedestals can power 2 or 4 yachts simultaneously, in addition to providing power from 16A to 125A per unit. Our pedestals are primarily equipped with smart card management options such as receptacles, meters, miniature circuit breakers, lighting, photo sensors, water taps, and with fire extinguisher storage.
If you are looking for the right marine power pedestal, we are the right choice for you. As a professional marine equipment supplier, our entire line of power pedestals can provide all the power supply and electrical layout solutions for your marina!
Features of Power Pedestal:
The appearance design is beautiful and compact, which can save the installation space to the greatest extent.
The base frame adopts aluminum alloy structure, which is strong and durable.
The outside of the base is coated with anti-rust coating, which has excellent corrosion resistance and anti-ultraviolet function, and can adapt to the worst weather conditions.
The welded base provides extra strength so that the entire power base is firmly fixed on the dock.
Each socket is protected by a thermal magnetic circuit breaker.
There are 2-socket and 4-socket specifications to choose from, and each can provide power from 16A to 125A, which can supply power for two or four yachts at the same time.
Excellent durability gives it a long service life.
Easy to install and maintain. An electrician can install and run a power pedestal quickly and easily. Each pedestal has a large removable access panel that opens with just a few screws.
At night, the power pedestal can provide 360-degree light to prevent accidents.
High safety performance, which can protect the power supply from water, storm and fire. In addition, it can be used with the firehouse pedestal, equipped with a fire extinguisher and a life buoy.
Specifications of Marine Power Pedestal
Installation: Fixed on the pontoon with bolts
Size: 1100×450×285mm
Sockets for option sockets available: 2 sockets or 4 sockets
Power: 16A, 32A, 63A, 125A
Material: Aluminum Alloy
Surface treatment: Powder coating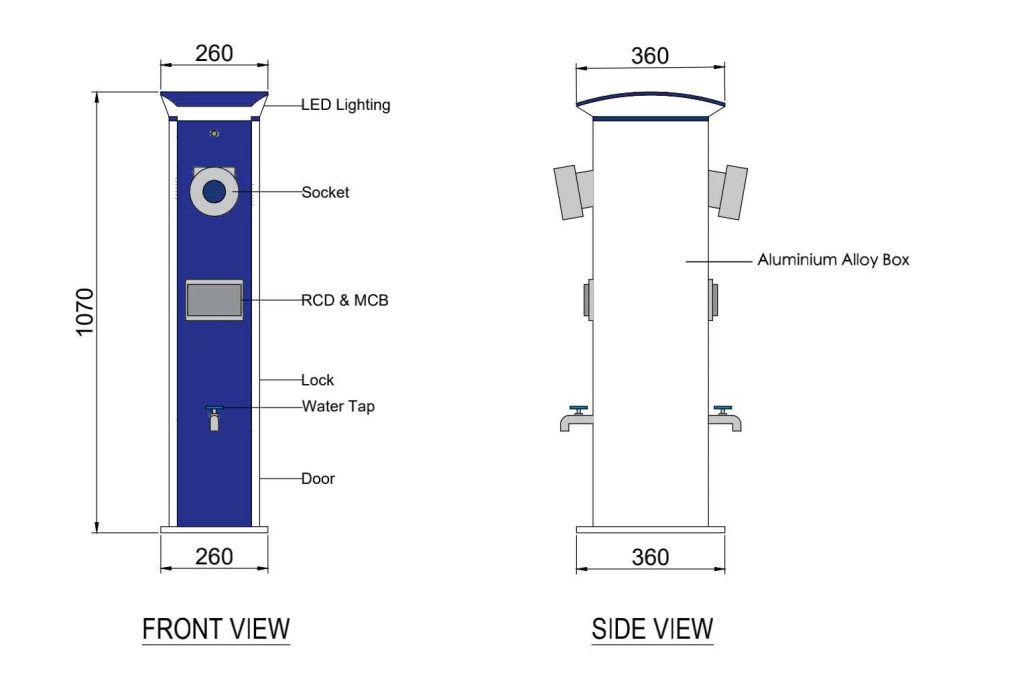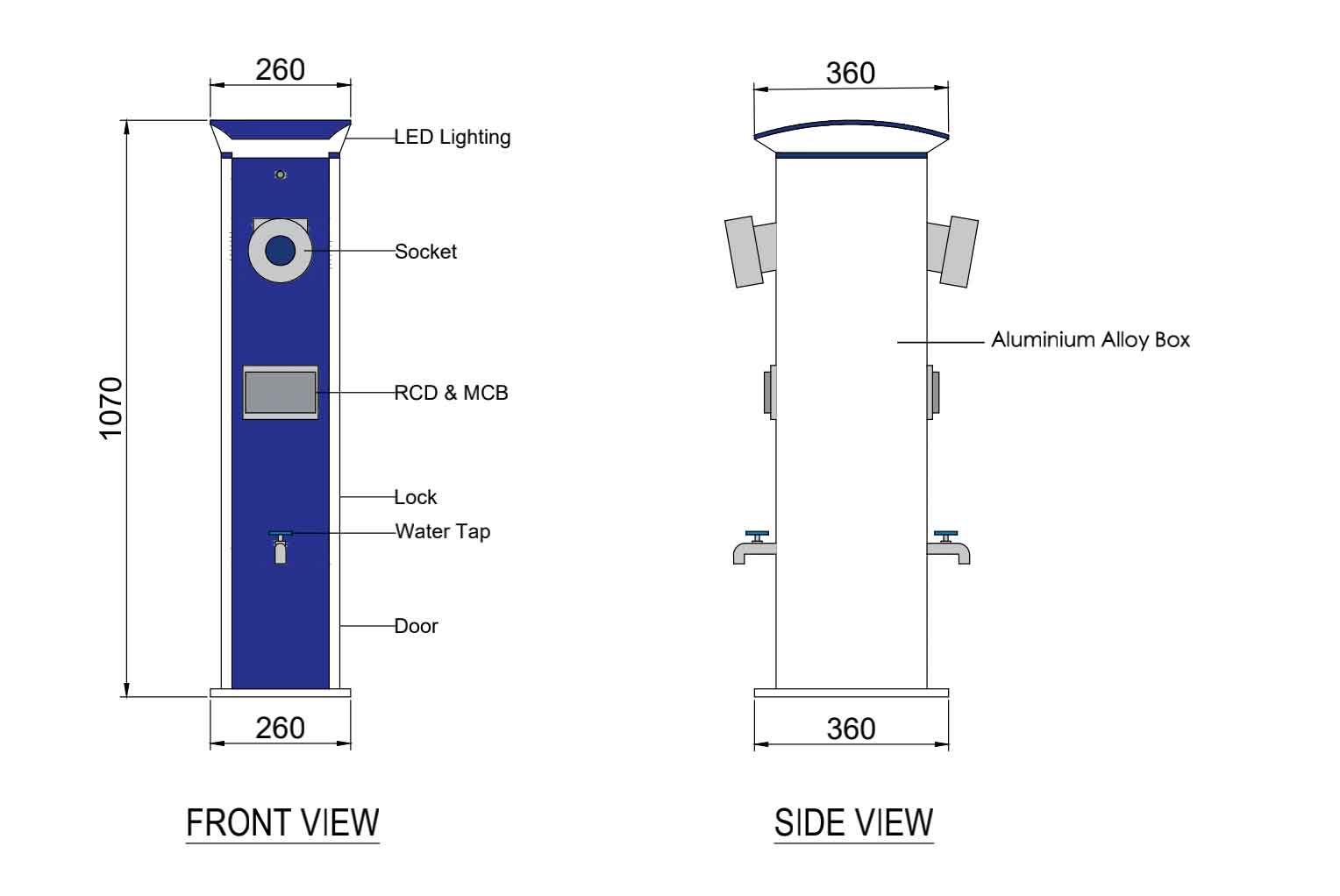 Accessories of Marine Power Pedestal: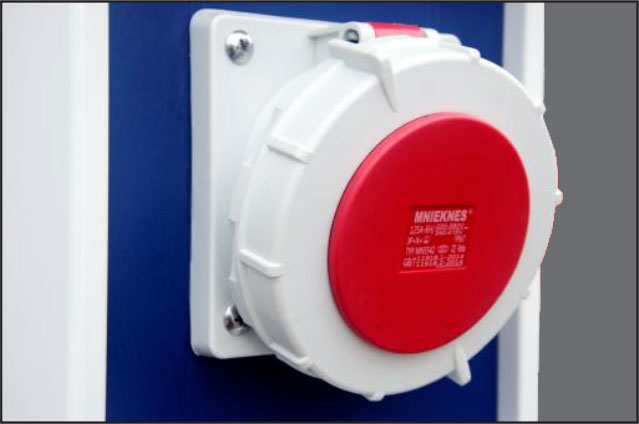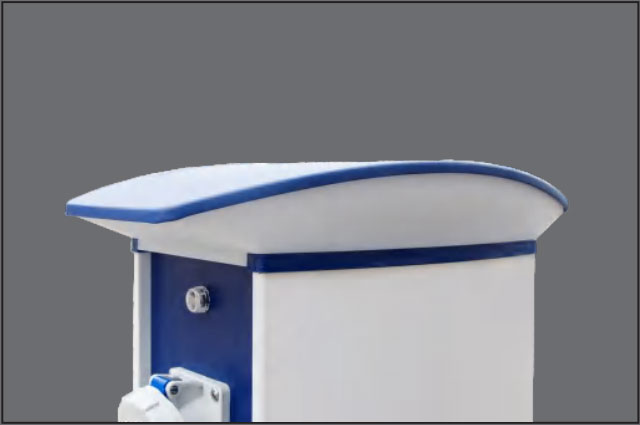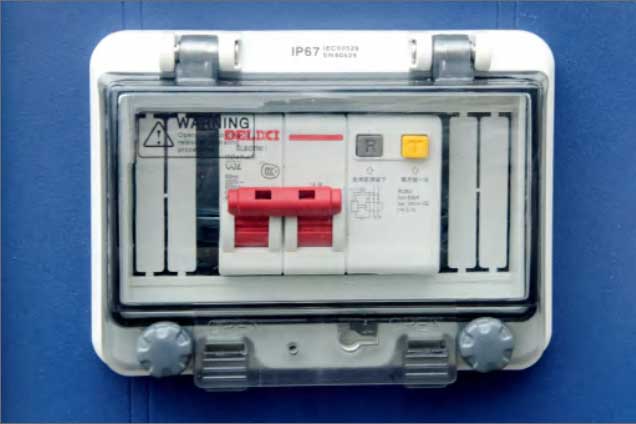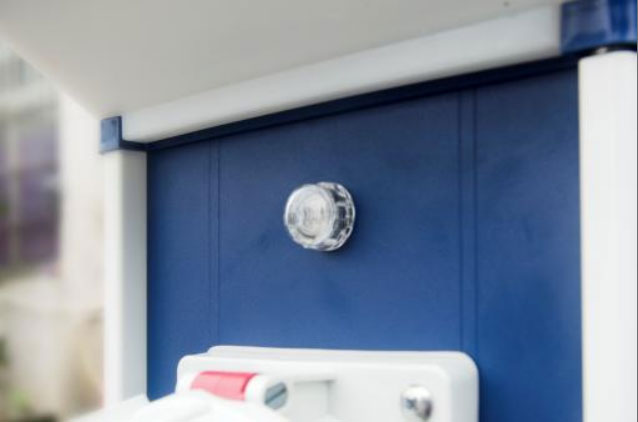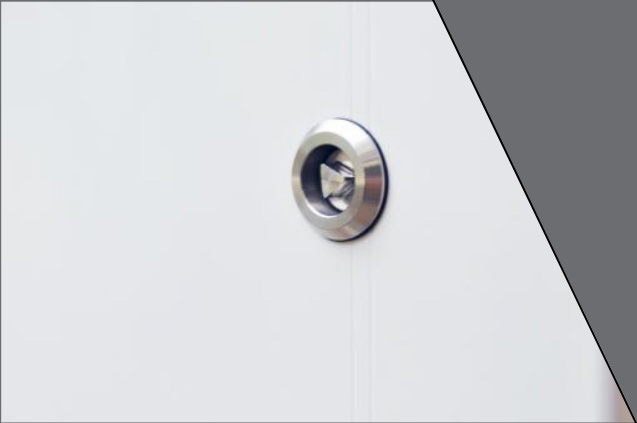 Maintenance of Marine Power Pedestal:
Stop the use of this product and disconnect the electricity before cleaning and maintenance.
Do not apply strong chemical cleaning agent or any other cleaning agent to clean the equipment or its accessories.
Please apply soft and dry cloth to clean the equipment and its accessories.
When you are away, unattended, take extra care to unplug electrical appliances and turn off the shore power.
Locate the wires where they will not be crushed, and replace any damaged wires immediately.
When dealing with wires, you should always make sure it has some slack to allow the boat to move. Wires that are too tight can put tension on the power connections at both ends, causing the power pedestal to overheat.
If you are particularly concerned about the overall safety of your marina, we recommend having a firehouse pedestal. The firehouse pedestal comes with a 10 lb or 20 lb fire extinguisher, and optional features such as strobe lights, siren, and life buoy.
Why Choose Power Pedestals?
Unparalleled Convenience – For private marina owners, a power dock is an incredibly easy way to charge your personal jet ski or get an internet connection on board. the
Increase Revenue – For commercial marina owners, a power dock is an attractive device for boat owners – it can help you stand out from the competition, attract more customers and make your marina more profitable.
Impressive Features – Despite its compact size, the Power Base can provide shore power to vessels as small as personal watercraft or as large as luxury yachts. Managing power for big promotions or festivals is a breeze with this small but mighty power base!
In short, power pedestal is an investment. For marina owners or even commercial marina owners who want to make the most of their leisure time with friends and family, it's an investment worth making.
Photos of Power Pedestals
Recommended Products