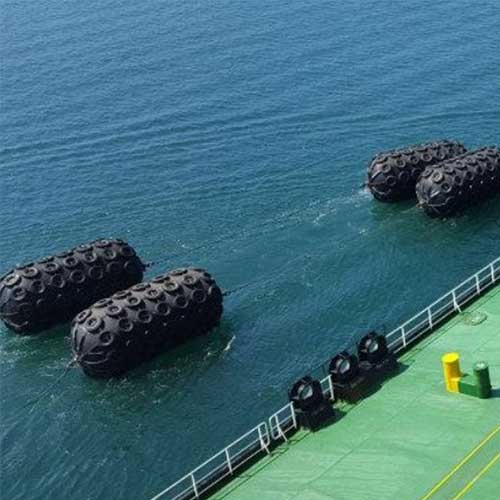 Pneumatic Fender | Yokohama Fender
Fender Type: Rope type, Net type, Tire mesh type
Materials: Natural Rubber
Diameter: 500mm to 4500mm
Length: 1000mm to 12000mm
Initial Pressure: 50kPa and 80kPa
Application: Ship-to-ship, ship-to-port
Certificates: CCS, ABS, BV, LR, KR, etc.
Pneumatic Fender, also known as Yokohama Fender, is a common floating fender that is used to protect ships and avoid collisions during ship operations. They are also commonly used in the seaport of the wharf to protect ships during berthing operations.
Pneumatic fender is made of the synthetic-cord-reinforced rubber sheet with compressed air inside, at an initial pressure of 50kpa or 80kpa, to enable it to float on the water and work as a shock absorber between two ships. As a leading anti-collision device, pneumatic fenders have a long and successful history of protecting vessels in mooring operations. They are ideal for permanent and semi-permanent port applications, as well as for offshore ship-to-ship transfers. Our fenders are fast and easy to install, keeping suitable clearances between the hull and the jetty or vessels. its aim is to minimize potential damage during berthing operations. These fenders play a critical role in the safe operation of ship berthing.
Our pneumatic fenders can be provided with a diameter range from 500mm to 4500mm, a length range from 500mm to 12000mm, or special sizes according to customer requirements. These pneumatic fenders are usually equipped with chain nets and tires or wire rope nets, end rings, traction rings and swivel joints, with suitable D-shaped shackles at both ends to increase service life.
Boomarine is a professional manufacturer and supplier of marine rubber fenders, we offer pneumatic fenders in various sizes and standard or high-pressure versions. Smaller fenders can be provided as a hook type. Larger fenders are usually equipped with chain tire nets to provide additional protection. They are extremely resistant to pressure and cuts, and can withstand wear and tear in harsh weather conditions, which means they are very suitable for harsh marine environments.
The Structures of Pneumatic Fenders:
Pneumatic fender is constructed of an inner rubber, synthetic-tire-cord layer, and outer rubber. All of those shall be vulcanized firmly and proven by compress test.
Outer rubber layer covers the outside of the fender to protect the cord layers and the inner liner rubber from abrasion and other external forces.
Inner rubber layer of a rubber membrane that seals the pressurized air inside the fender.
Synthetic-tyre-cord layer for reinforcement layer made of synthetic-tire-cord fabric, which maintains the internal air pressure of the fender.
Applications of Ship Launching Airbags:
Ship launching and landing.
Heavy lifting and conveying.
Sunken ship salvage and stranded ship saving.
Possible substitute for marine pneumatic rubber fender for protective purposes.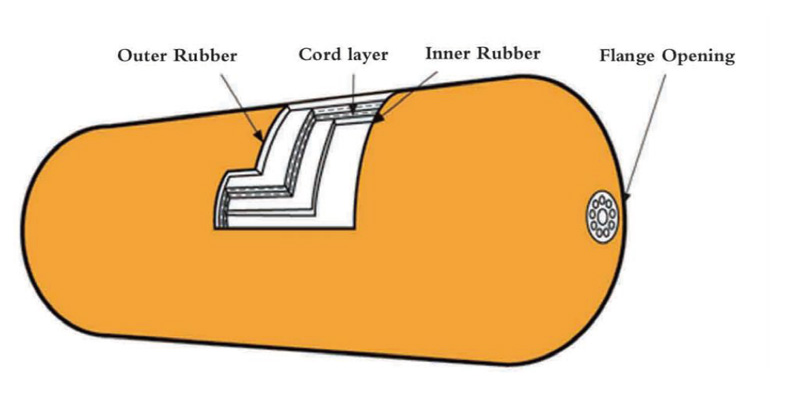 Dimensions & Performances:
(Download the PDF at this page for more details)
Size
DxL (mm)
Initial Internal
Pressure(Kpa)
Guaranteed Energy
Absorption(GEA)
Reaction Force at
GEA Deflection (R)
Hull pressure
at GEA deflection (P)
—
—
Min. Value at
Deflection 60±5% KJ
Tolerance ±10% KN
Reference value Kpa
500 x 1000
50
6
64
132
600 x 1000
50
8
74
126
700 x 1500
50
17
137
135
1000 x 1500
50
32
182
122
1000 x 2000
50
45
257
132
1200 x 2000
50
63
297
126
1350 x 2500
50
102
427
130
1500 x 3000
50
153
579
132
1700 x 3000
50
191
639
128
2000 x 3500
50
308
875
128
2500 x 4000
50
663
1381
137
2500 x 5500
50
943
2019
148
3300 x 4500
50
1175
1884
130
3300 x 6500
50
1814
3015
146
3300 x 10600
50
3067
5257
158
4500 x 9000
50
4752
5747
146
4500 x 12000
50
6473
7984
154
How does the pneumatic fender work?
The pneumatic fender uses compressed air as a buffer medium to absorb the impact energy of the ship when the two ships are close or the ship is close to the dock, so that the ship can avoid big losses due to collision. At the same time, the ship has more flexibility when docking.
What types of pneumatic fenders can we provide?
Rope Type: The net cover is woven with nylon rope and tied tightly to the ball. Suitable for small boats.
Rubber Net Type: a special rubber pad is tied to the sphere, which can be freely contracted or stretched when squeezed Suitable for small and medium-sized vessels.
Tire Mesh Type: multiple tires are tied to the ball, and the two ends are tied to a special fly ring that can rotate flexibly. Suitable for large ships.
Products Photos:
FAQ
Recommended Products