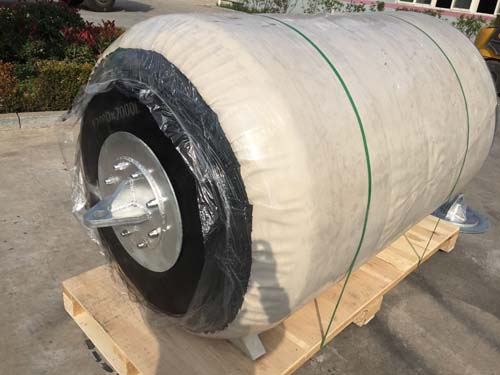 Foam Filled Fender
Type: Inflatable Type
Materials: Polyurethane
Diameter: 500mm to 4500mm
Length: 1000mm to 9000mm
Weight: 34kg – 21460kg
Certificates: CCS, ABS, BV, LR, KR, etc.
Foam Filled Fender is a type of floating compression fender. It is a new type of marine rubber fender that adopts the high tech and high elastic foaming EVA as the buffer medium as the core, spiral reinforcement in the middle, and polyurea coating outside with USA-imported special spraying equipment. Its skin is made of polyurea fabric, which is very wear-resistant and has low frictional resistance. The interior is filled with foam, which has high density and can easily absorb energy.
Foam filled fender has good floating performance, it will not be affected by the tide and the fender could be kept at an ideal water level. With high energy absorption and low reaction force, it provides the ultimate protection for ship-to-ship and ship-to-dock applications, absorbing shock even in corrosive environments. Applicable for pier and dock with large tide scope, and emergency standby purpose between ships.
Boomarine is a leading manufacturer and supplier of foam filled fenders, we offer a variety of foam filled fenders to provide cushioning and protection for vessels. By means of foreign advanced experience, we further developed the fender by using closed-cell and hydrophobic EVA as the core and polyurea fabric as the skin. This fender is widely used for big vessels, yachts, marine platforms, and ports. Since there is no air pressure inside the fenders, there is no risk of deflation, popping or sinking. No matter the level of abuse, our foam fenders will not burst or explode.
Features of Foam Filled Fenders:
Good floating performance, not influenced by tidal range.
Could provide various colors according to the client's requirements.
Don't need to check when using. No need for air inflation, good resistance to seawater, acid, and alkali.
No risk of blasting, high safety.
High energy absorption and reaction force from small to large, it's suitable for open sea terminals, gravity ports, especially for large tidal range docks and ship-to-ship, ship-to-dock.
Long service life up to 10-15years.
Applications of Foam Filled Fenders:
Cruise ships
Container vessels
Ro-Ro and ferries
Oil and gas tankers
All types of Berths
Construction Parts of Foam Filled Fenders:
Foam Core
The closed-cell EVA foam core used inside offers unsink ability during operation.
Outer Polyurethane Protective Layer + Nylon Cord Fabrics
Specifically designed to seal EVA foam inside and prevent any leakage.
Polyurea Spraying Coating
Permanent spray-on coatings that protect the surface of the fender body. It is more durable than rubber and flexible in all weather conditions; with no softening in heat or becoming brittle in cold.
Dimensions and Performances: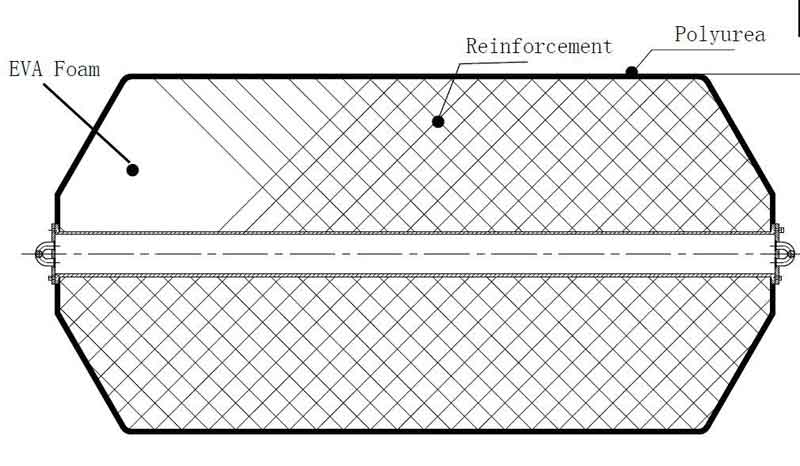 D x L(mm)


D (mm)


L(mm)

Compression Deflection at 60%

Reference Weight (kgs)

————

—————

————

Reaction force
(KN)

Energy Absorption
(KN-M)

———————–

500x1000L

500

1000

71

8

34

600x1000L

600

1000

86

12

45

700x1500L

700

1500

161

27

101

1000x1500L

1000

1500

205

49

206

1000x2000L

1000

2000

274

64

275

1200x2000L

1200

2000

337

93

405

1200x2400L

1200

2400

390

110

475

1350x2500L

1350

2500

463

145

626

1500x3000L

1500

3000

624

216

927

1700x3000L

1700

3000

696

273

1191

2000x3500L

2000

3500

990

456

1923

2000x4000L

2000

4000

1110

505

2298

2200x4500L

2200

4500

1396

679

2992

2500x4000L

2500

4000

1386

781

3434

2500x5000L

2500

5000

1750

985

4272

3000x5000L

3000

5000

2050

1410

6411

3000x6000L

3000

6000

2460

1695

7293

3300x6500L

3300

6500

2950

2245

8335

4500x9000L

4500

9000

19650

7860

21460
What Types of Foam Filled Fenders Can We Provide?
There are two main types of foam-filled fenders:
Portable foam filled fenders: without nets (only the fender body), usually smaller in size.
Flanged foam filled fenders: can be equipped with chain nets, chain nets with tires, or without nets, usually used for larger sizes.
Installation Methods of Foam Filled Fenders
Fixed to the pier wall with constant water level

This is the recommended securing mechanism for fenders installed in ports with consistent water levels (such as locks) or seas with low tides (ie the Mediterranean). The chain is usually fastened to the top of the dock.
Fixed to dock walls in tidal range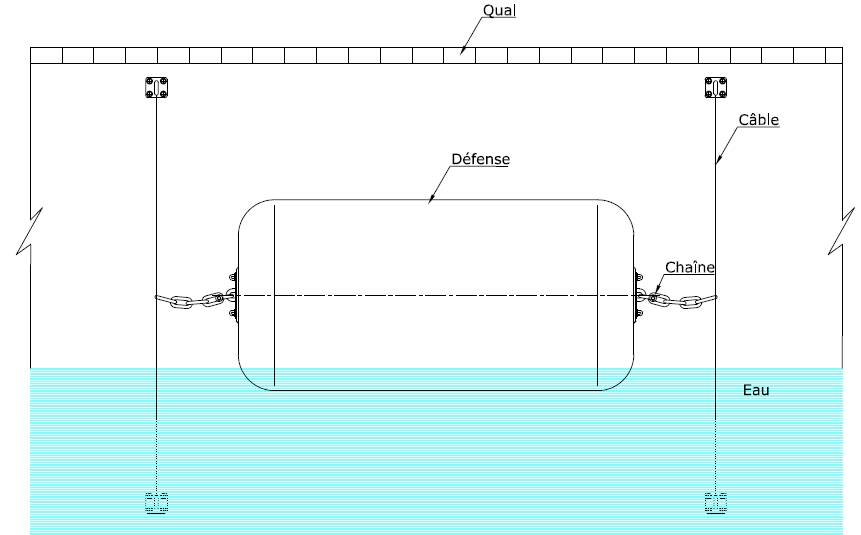 This is our recommended method when the fenders are installed on quays and/or jetties that are prone to tides. Vertically mounted "guide wires" are attached to the plates at the highest and lowest tide levels, which will keep the fender afloat and stay on top of the water at all times.
Project Photos: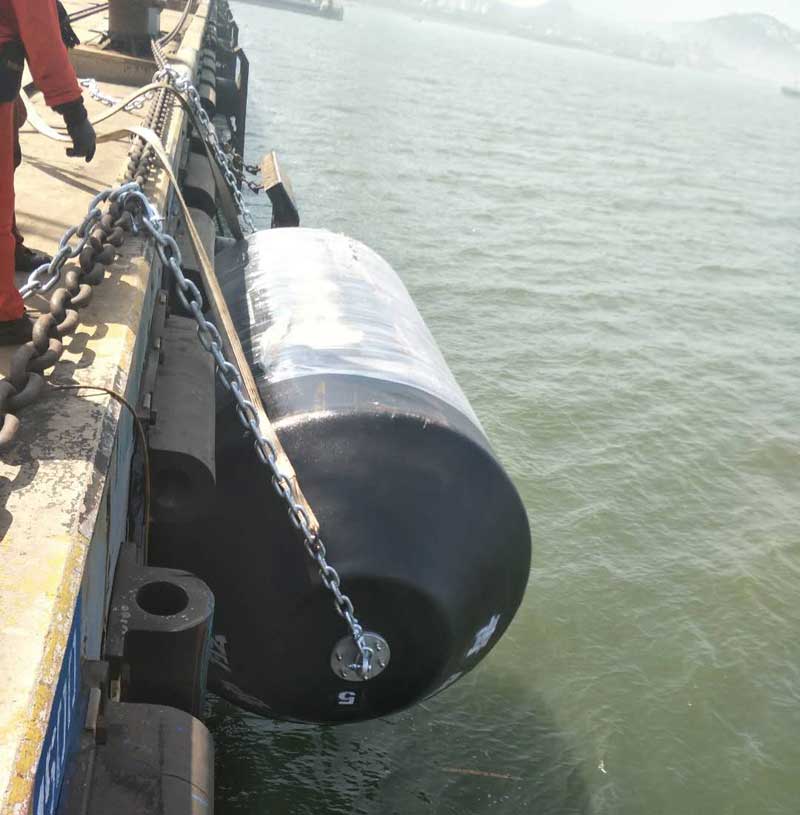 FAQ
Recommended Products