UHMW-PE is an extremely tough plastic with high wear resistance. It is the strongest and toughest fender of all polyethylene grades used in marine applications. Even as a finishing material, it is lighter and more durable than steel. Polyethylene's versatility has made it a common material for endless industrial applications that require toughness, low friction and resistance to chemicals.
UHMW-PE sliding fender will not rot, nor will it be affected by marine borers. It does not contain particles, so it will not chip or crush, and can be easily cut, drilled and processed. The thickness of our UHMW-PE sliding fenders is usually 2 mm to 400 mm, and the size ranges from 1,000 x 1,000 mm to 2000 mm x 6000 mm. It can also be customized according to your requirements.
UHMW-PE sliding fender is usually used in waterways, ports, wharf construction, pontoon bridges and composite fenders. The combination of excellent impact strength and low friction and wear resistance makes it a popular choice in the marine industry. Its applications include UHMW wear strips, chain guides, and fender pads for marine ports. As a professional marine fender manufacturer and supplier, Boomarine can provide you with tailor-made marine fender solutions.
Applications of UHMW-PE Sliding Fender:
Sliding boards
Lock walls & entrances
Quay wall protection
Pile Protection
Pier protection
Quick start lifeboat slide
Fender panel surface pad
Friction strip of fender pile
Floating bridge guide pile bearing
Belts for small workboats
UHMW-PE Sliding Fender Characteristics:
Low friction coefficient
High abrasion resistance
UV and ozone resistant
Reduced conductivity optional
100% recyclable & non-rotting
Resists marine borers
Easy to cut and drill
Marine Fender Face Pad: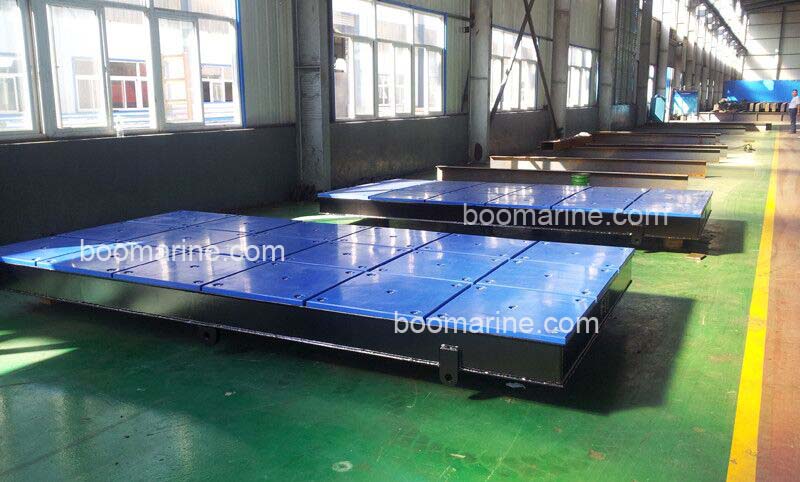 How to choose the right UHMW-PE sliding fenders?
You can use our UHMW-PE sliding fenders alone as a low-key protective barrier. These fenders are especially suitable for docks or any docking environment. Because the low friction properties provided by the material greatly reduce the damage and wear to the ship and the fender itself.
You can also combine our UHMW-PE sliding fenders with existing marine rubber fenders to extend service life and add new performance. For example, you can install this product as a panel on an arch fender to provide a low-friction alternative. This increases the functionality of the rubber fender and allows you to replace the panel at a fraction of the cost of a new fender.
The standard color of our UHMW-PE sliding fender is black. Other colors are available upon request, such as green, yellow, white or red.
Technical Properties of UHMW-PE Sheet:
Physical Properties

Test Method

Item

Unit

Value

ASTM D792

Density

g/cm³

0.93-0.97

ASTM D570

Water absorption

?

?0.01

Mechanical Properties

ASTM D638

Tensile strength

Mpa

40

ASTM D638

Elongation at break

%

300

ASTM D790

Flexural strength

Mpa

24

ASTM D695

Compression strength
10% deformation

Mpa

21

ASTM D2240

Hardness, shore D

–

D66

–

Coefficient of friction

–

0.12

Thermal Properties

ASTM D648

Heat deflection temperature

?

47

ASTM D3412

Melting point

?

135

–

Continuous service temperature

?

82

Electrical Properties

ASTM D257

Surface resistivity

Ω-M

?10^15

ASTM D150

Dielectric constant 106Hz

–

2.3

ASTM D257

Volume resistively

Ω*cm

?10^15

ASTM D604

Dielectric strength

KV/mm

45
FAQ
Recommended Products