Square rubber fenders are widely used as belts on tugboats and other workboats. The fender has a round hole to increase wall thickness and durability. The square fender has similar advantages to the D fender. Compared with the D fender, the square rubber fender is used for harder and stronger collisions under harsher conditions. Compared with cylindrical fenders, they have suitable reaction forces and higher energy absorption.
Square rubber fenders are simple rubber profiles, usually bolted to the structure. Extrusion molding can be made to virtually any length and then cut and drilled according to the requirements of each application. The square fender is applicable for all kinds of docks, quays, and ships. Good performance during angle berthing.
The square rubber fenders manufactured and provided by Boomarine can be customized according to the customer's specific size and design. Smaller square rubber fenders can also provide long lengths and other colors.
Features of Square Fenders:
Easy to drill & cut
Strong molecular bond
Highly durable
Good weathering resistance
High wear resistance
Easy to install
Combination of resilient rubber body
Applications of Square Rubber Fender:
Workboats
Tugboats
Pilot Boats
Fishing Boats
Quays
Pontoons
Piers
Loading Bays
Dimensions: (mm)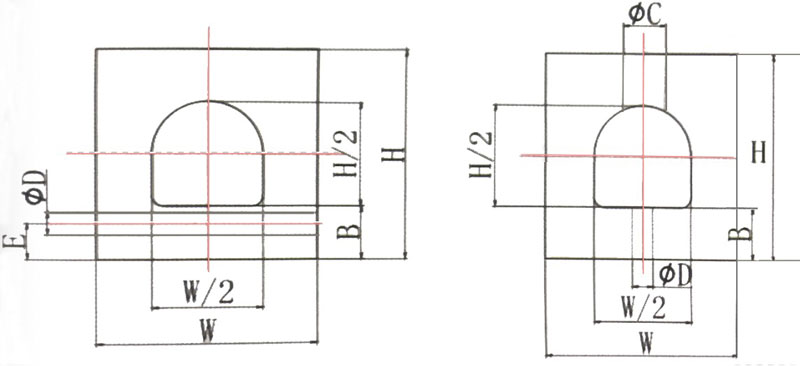 | | | | | | |
| --- | --- | --- | --- | --- | --- |
| H | W | B | C | D | E |
| 100 | 100 | 25 | 30 | 15 | 25 |
| 150 | 150 | 38 | 40 | 20 | 30 |
| 200 | 200 | 50 | 50 | 25 | 45 |
| 250 | 250 | 62 | 60 | 30 | 50 |
| 300 | 300 | 62 | 60 | 30 | 50 |
| 350 | 350 | 75 | 75 | 30 | 60 |
| 400 | 400 | 100 | 75 | 35 | 80 |
| 500 | 500 | 125 | 90 | 45 | 90 |
FAQ
Recommended Products