W type rubber fenders are usually installed on piers or ships, with a design compression deflection of 50%, which can effectively buffer the collision force between the pier and the ship during the mooring and berthing process, thereby preventing the ship and the pier from being damaged.
Both sides of the W fender have holes for installation, and the fender has good flexibility, which is convenient to be installed on various ship's sides. It is mainly used for all kinds of tugs and barges in port operation, and can also be used for the protection of bridge piles. The fender can be installed in rows, which is an ideal protection system. And it is also ideal for protecting the berthing section of a pontoon or bridge piles.
W type fender is designed for tugboats in extreme operating conditions. It has a unique double "legs" structure with hollows. It is easy to install, and the double "legs" can be deformed at will so that it can be well wrapped around the hull.
Boomarine can manufacture and provide W fenders with widths from 320 mm to 500 mm and lengths up to 2000 mm. We can also cut these fenders to suit the shape and design of your specific vessel.
Features of W Rubber Fenders:
High energy absorption and low reaction force.
Reasonable structure, flexible design, and durable.
Easy to install and replace.
Rugged and wear-resistant synthetic rubber.
Normally used for tugboats.
Ideal for protection of the berthing section of a pontoon or bridge piles.
Installed in rows to provide a continuous resilient fender face.
W fenders can be applicated to preserve:
Tug Boats
Work Boats
Icebreakers
Barges
Supply Boats
Corners of Wharf
Bridge and Pile
Dimensions: (mm)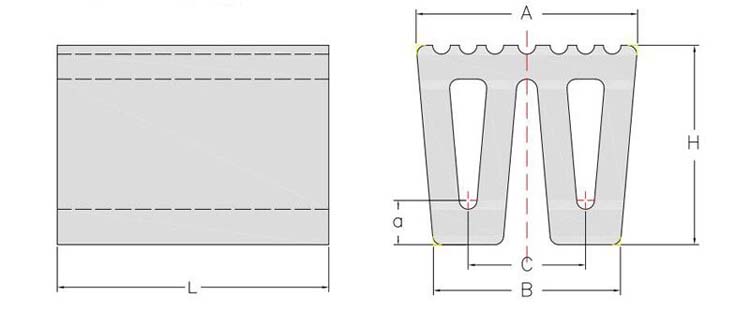 | | | | | | |
| --- | --- | --- | --- | --- | --- |
| Type | A | B | C | H | a |
| 480×300 | 480 | 420 | 260 | 300 | 65 |
| 500×350 | 500 | 420 | 260 | 350 | 80 |
| 500×450 | 500 | 422 | 265 | 450 | 100 |
FAQ
Recommended Products