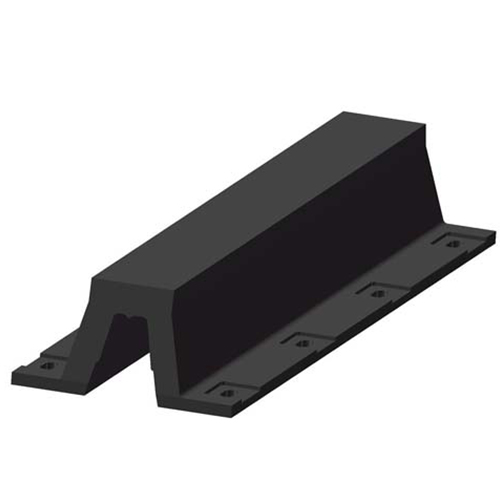 Arch Fender
Type: V Type Rubber Fender
Materials: Natural Rubber, Styrene-butadiene SBR based compounds
Height: 150mm to 1000mm
Length: 1000mm to 3500mm
Color: Black or custom as required
Certificates: ABS, BV, NK, LR, CCS, etc.
Arch Fender is a V-shaped rubber fender. By optimization, it can absorb more energy than the traditional rubber fender. As one of the most popular marine fender systems in the world, arch fenders are simple and rugged. It can be used in limited space or restricted height conditions, and provides reliable service for a wide variety of berths even under the most severe conditions. Arch fenders could be used as a single element, and also can mount the UHMW-PE pad as a system, which has a bigger compression ratio, higher energy absorption, and lower reaction force.
Arch fenders are molded from a single piece of rubber, and the simple design makes them easy to install and reduces the amount of maintenance required. The arch design can significantly reduce the torsion at the bottom of the fender. The base on both sides of the fender is attached to the dock surface, and the arches can compress and move at will without deterioration under pressure, which gives them better stability and stronger adhesion to the supporting structure. Together with the use of UHMW-PE pad, it will also reduce the friction coefficient between the ship and the fender, avoiding damage to the ship and improving the service life of the fender.
Boomarine is a professional supplier of rubber fenders, the arch fenders we provide are made of high-quality natural rubber, which has the characteristics of weather resistance, seawater resistance, cutting resistance, abrasion resistance and so on. In addition, we can match you with the most suitable rubber fenders according to your project needs. Meanwhile, all our rubber fenders are provided with CCS, ABS, BV, LR, KR, DNV-GL, NK, RMRS and RINA classification society certificates. If you have any comments or questions, please feel free to contact us.
Compared with traditional V-type fender, arch fender has the following features:
Has a bigger compression ratio, higher energy absorption, and lower reaction force.
Simple design makes it easy to install.
Good shear resistance.
Long service life.
High resistance to reducing maintenance operations and hidden costs.
Ideal for installing on limited space.
Wide range of uses, diversified installation.
UHMW-PE pad could be installed at the top of the fenders, it will reduce hull pressure and vessel friction factor so as to lessen shear force during vessel berthing.
Arch Fender's Main Applications:
RoRo Berths
General Cargo
Workboat Harbors
Barge and Tug Berths
Arch fenders are divided into 3 types:
Type A is without a pad. The UHMW-PE pad could be mounted with bolts (type B) or cohere to the top of the fender directly (type C).
Type B fender is to install a pre-built-in steel plate at the top part of the fender, it can be connected with a face pad directly or connected with the front panel coved with the face pad, so as to reduce the friction coefficient between ships and fenders and prolong the fender service life. There are three structure forms: two bevel ends, two straight ends, one bevel end and one straight end.
Type C fender is produced by the adoption of advanced material, and procedure to cohere 20-30mm thickness UHMW pad directly to the fender which maintains A fender performance so as to reduce the friction coefficient of fender against ships and also reduce project cost.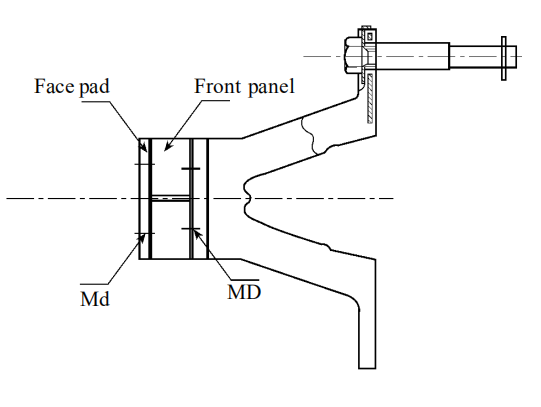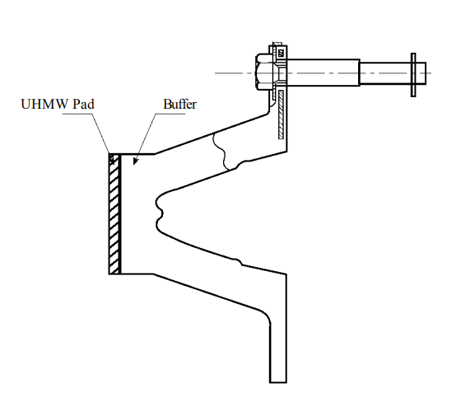 Finished arch fenders with PE pad (Type B)
Dimensions (mm)
(For more dimensions, performances, and fixings, please download the FDF at the top of this page.)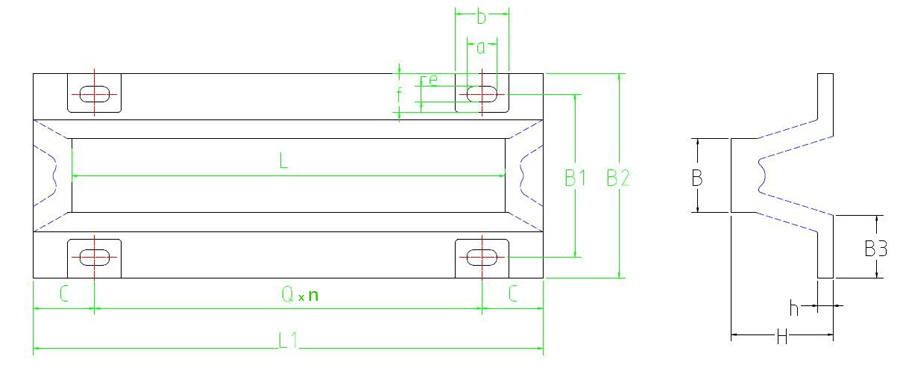 Type
Dimensions(mm)
H
L
L1
C
Q
n
B
B1
B2
B3
h
a
b
e
f
A150x1000
150
1000
1075
110
855
2
98
240
300
96
22.5
50
95
25
55
A150x1500
150
1500
1575
112.5
675
3
98
240
300
96
22.5
50
95
25
55
A150x2000
150
2000
2075
215
620
4
98
240
300
96
22.5
50
95
25
55
A150x2500
150
2500
2575
220
785
4
98
240
300
96
22.5
50
95
25
55
A150x3000
150
3000
3075
215
715
5
98
240
300
96
22.5
50
95
25
55
A150x3500
150
3500
3575
220
671
6
98
240
300
96
22.5
50
95
25
55
A200x1000
200
1000
1100
120
860
1
145
320
400
128
30
58
105
29
75
A200x1500
200
1500
1600
120
680
2
145
320
400
128
30
58
105
29
75
A200x2000
200
2000
2100
120
620
3
145
320
400
128
30
58
105
29
75
FAQ
Recommended Products