Wing-type Rubber Fenders is a new type of marine rubber fender developed from D type fender, it enlarges fender bottom width to get embedded steel frame plate inside and to be fixed to the port structure with double row bolts, therefore it gets stronger installation strength and longer service life than D type fender. Wing fenders get high reaction force and energy absorption than D fenders, and easy to install and repair. Double row fixings bolts give it a longer service life time.
Wing fenders have good energy absorption capacity and impressive durability. They are usually used to protect ship walls, docks and ports. They are also very resistant to longitudinal and transverse shear forces, and easy to install and replace when necessary.
The outer diameter of our fenders ranges from 3 inches to 12 inches, which can be customized according to the size and purpose of the ship. The wing fender usually has a standard hollow O-shaped cavity. However, if your application requires, we can also produce and supply these fenders as solid extrusions. Our fenders have the advantages of excellent stability, high energy absorption and long service life, and can be customized according to your needs.
Features of Wing Type Rubber Fenders
Higher reaction force and energy absorption capacity than D-type mudguards.
High installation stability.
Highly versatile.
The complete steel plate inside enlarges the strength and use life.
Suitable for framework quay and river.
Can be used with another rubber fender.
Applications of Wing Fenders:
Tugboats & Ferries
Workboats
Quays & Piers & Harbors
Small Crafts Berths
Warehouses & Frame Docks
Dimensions: (mm)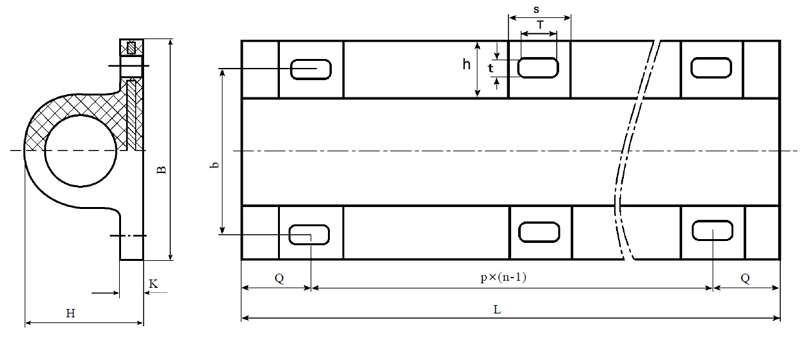 Types
Specifications
H
B
b
L
Q
p
S
h
T
t
k
n
DO280x540x1000
280
540
430
1000
150
700
165
120
82
41
40
2
DO280x540x1500
280
540
430
1500
150
600
165
120
82
41
40
3
DO280x540x2000
280
540
430
2000
145
570
165
120
82
41
40
4
DO280x540x2500
280
540
430
2500
150
550
165
120
82
41
40
5
DO280x540x3000
280
540
430
3000
150
540
165
120
82
41
40
6
DO300x600x1000
300
600
490
1000
150
700
165
120
82
41
40
2
DO300x600x1500
300
600
490
1500
150
600
165
120
82
41
40
3
DO300x600x2000
300
600
490
2000
145
570
165
120
82
41
40
4
DO300x600x2500
300
600
490
2500
150
550
165
120
82
41
40
5
DO300x600x3000
300
600
490
3000
150
540
165
120
82
41
40
6
FAQ
Recommended Products