Mooring bollard is an anchor point for a fixed mooring line that is cast using ductile cast iron, grey cast iron or cast steel. It is usually fastened to the deck or pier to safely secure vessels alongside jetties, berths, wharves and dolphins in ports and harbours. The base is very firm because of the great force exerted during use. Marine mooring bollards are a simple and cost-effective way to fulfill your mooring requirements.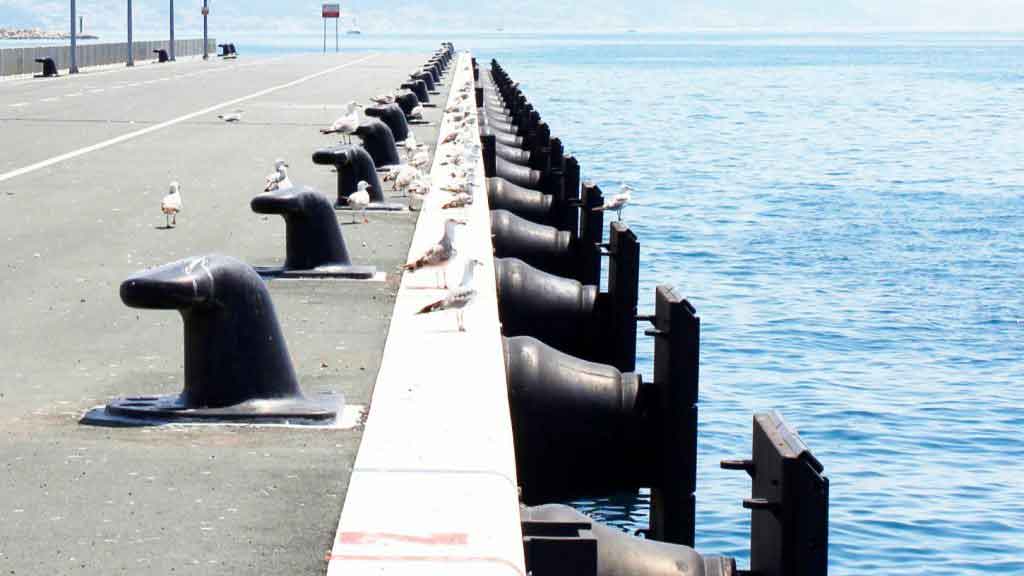 What Are The Selection Requirements of Mooring Bollards?
Mooring bollard is a simple and essential mooring device. But not all bollards are created equal. They have to adapt to each port, its needs, physical conditions, and the type of ships it will serve.
The selection of mooring bollards should take into account the mooring pattern, draft changes due to loading and unloading, wind and current forces, swell, wave and tidal forces, mooring line type, size, and materials of the mooring posts. In short, it is mainly divided into the following three consideration cases:
Design Standards
Mooring bollards shall be designed and arranged according to local standards. The design needs to consider the following aspects:
Mooring patterns and line styles, dimensions and angles.
Changes in draught during vessel loading and unloading.
Wind and current forces.
Swelling, wave and tidal forces.
Other abnormal environmental loads.
Mooring loads should be calculated wherever possible, the table below can be used as an approximate guide:
| | |
| --- | --- |
| Displacement | Approx. bollard rating |
| Up to 2,000 tons | 10 tons |
| 2,000–10,000 tons | 30 tons |
| 2,000–10,000 tons | 60 tons |
| 20,000–50,000 tons | 80 tons |
| 50,000–100,000 tons | 100 tons |
| 100,000–200,000 tons | 150 tons |
| Over 200,000 tons | 200 tons |
* If unfavorable weather conditions are expected at the berth, mooring capacity should be increased by 25% or more.
Mooring Line Angles
Mooring line angles are usually calculated as part of a comprehensive mooring simulation. Standards and guidelines such as BS6349, ROM 0.2-90 and PIANC recommend that mooring line angles remain within the limits given in the table below. In some cases, larger line angles can be expected.
Suggested Line Angles
(BS6349, ROM 0.2-90, PIANC)

Head & stern lines

45° ± 15°

Breast lines

90° ± 30°

Spring lines

5 – 10°

Vertical line angle

<30°
Fully Laden Case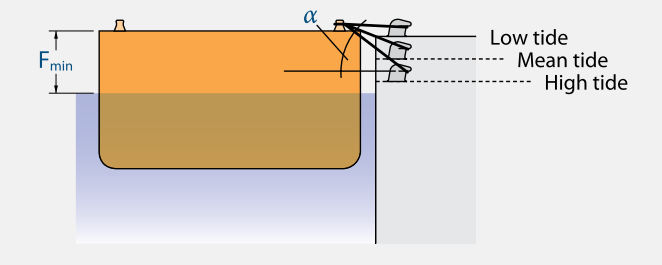 Light Draft Case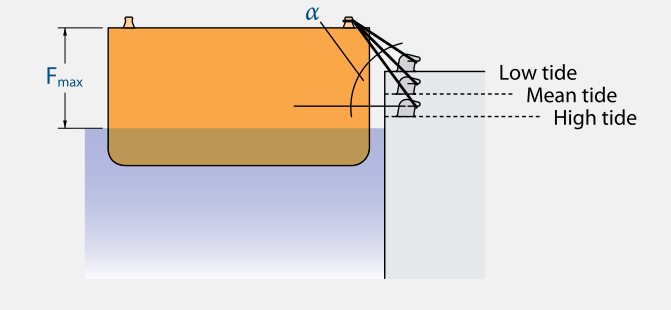 * Photo reference to "Trelleborg"
Manufacturing Materials
Ductile cast iron, gray cast iron and cast steel are the most common materials used for mooring bollards. They each have advantages in their applications. Ductile cast iron bollards are far less susceptible to corrosion than cast steel bollards, which can rust quickly and will need frequent painting to retain full strength.
Materials
Advantages
Disadvantages
Ductile Cast Iron
• Long service life
• High strength
• Good impact resistance
• High corrosion resistance
The most expensive among the 3 types of materials.
Grey Cast Iron
• Low cost per weight
• Excellent corrosion resistance
• Low strength
• Low impact resistance
Cast Steel
• High strength
• High impact resistance
• Good cost per weight
Needs regular maintenance to prevent corrosion.
If you want to know more details about mooring bollards, please read "Something You Don't Know About Mooring Bollards".
What Are The Arrangement Requirements of Mooring Bollards?

Mooring bollards can cope with horizontal angles of ± 90° (except for bollards at all horizontal angles) and vertical angles up to 60°, depending on the bollard types.
Design codes recommend that bollards are often placed at 15-30m intervals, usually at the same spacing as the fenders (at the same point or in the middle of the fenders). Another approximate guideline is 15% of the boat length.
Choose a Reliable Supplier of Mooring Bollards
What should you consider when you need to buy a good-quality mooring bollard? Here, some tips for choosing a good mooring bollard supplier are presented.
1. Mooring Bollards Types
To be able to provide enough types of mooring bollards, different types of boats need to adapt to different types of mooring bollards, and can also be customized if necessary.

2. Production Specifications
When producing mooring bollards, the specifications should be reasonable to reduce quality problems and ensure excellent performance.
3. Guarantee Performance
Performance is important for mooring bollards. Durability is a factor when selecting the proper bollard design, as maintenance is something the end user should consider. Manufacturing must ensure high performance, and materials must be sophisticated and reasonable.
4. Price
Price is always an important factor in choosing a supplier. A good mooring bollard supplier should provide the best value products.
5. After-sales service
Good after-sales service can dispel the worries of customers, and can solve any product problems in time.
Boomarine is a designer and supplier of marine mooring bollards, which could provide bollards with different capacities, shapes, and materials applied to different berths, shipyards, jetties, wharves, and ports. In addition, we can also provide customized mooring bollards according to customer requirements. If you have any needs, please feel free to contact us.
Related News