Nylon Ropes absorb water and are with high strength, a great elongation rate, and good abrasion resistance. Compared with other chemical fiber ropes, it's with best shock absorption, longer service life, and better resistance to UV and other corrosion.
Nylon braided rope is the most widely used of all ropes in use. Nylon rope is stretched with a "memory" of returning to its original length. For this reason, it is the best rope to absorb the shock load. Nylon can last 4-5 times longer than natural fibers.
As a professional manufacturer and supplier of nylon ropes, Boomarine provides the highest quality and selected nylon ropes. Besides, we can provide all types of mooring ropes for sale. We have more than 10 years of industry experience and are experts in marine mooring ropes. Contact us now to learn more!
Features of Nylon Ropes
Nylon is the strongest among the most common rope fibers, obviously stronger than polypropylene, polyethylene or organic fibers, and barely beats polyester.
Nylon rope has a high stretch coefficient and can stretch up to 40% (more commonly 15-25%).
Nylon rope is very suitable for shock absorption and dynamic load applications due to its elasticity, making it a clear choice for mooring and towing activities and certain anchoring applications.
Nylon rope is resistant to decay and mildew, but can be particularly dyed in water-soluble stains.
The nylon material of the rope has good UV resistance.
It feels soft and comfortable, can be dyed, and has a variety of colors to choose from.
The price is cheap and very cost-effective.
* One of the only weaknesses of nylon rope is that it absorbs water and therefore becomes weak when wet or immersed in water.
Applications of Nylon Ropes
Nylon rope is probably one of the most widely used ropes, which is usually used in pulley systems or winches, because of its wear resistance and shock absorption. The shock-absorbing properties of nylon ropes make them very suitable for lifting or towing operations where the rope needs to absorb dynamic loads. It is usually used in ship mooring, navy ships, pelagic fishing, and sea farming.
Specification for 8 strands & 12 strands nylon ropes
Size

Weight

Type I

Type I

Type II

Type II

Breaking Strength ISO MBF

Breaking Strength MEG4 LDBF

Breaking Strength ISO MBF

Breaking Strength MEG4 LDBF

mm Dia.

Inch Cir.

g/m

kgs/220m

KN

Ton

KN

Ton

KN

Ton

KN

Ton

24

3

355

78.1

127

12.9

114

11.6

28

3-1/2

485

106.7

184

18.8

166

16.9

32

4

630

138.6

235

23.9

11

21.5

36

4-1/2

830

182.6

296

30.2

266

27.2

40

5

1000

220.0

350

35.7

315

32.1

463

47.3

417

42.6

44

5-1/2

1210

266.2

417

42.5

375

38.3

560

57.2

504

51.4

45

5-5/8

1248

274.6

437

44.6

393

40.1

584

59.6

526

53.6

48

6

1430

314.6

501

51.1

450

46.0

656

66.9

590

60.2

50

6-1/4

1535

337.7

537

54.8

484

49.3

16

73.1

645

65.8

52

6-1/2

1680

369.6

588

60.0

529

54.0

777

9.3

700

71.4
* MBF: Mini Breaking Force according to ISO2307.
* LDBF: Line Design Break Force according to OCIMF MEG4 Appendix B.
* Other sizes are available upon request.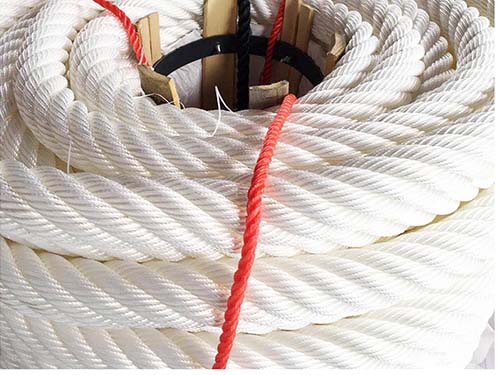 What do we need to pay attention to in the process of use and maintenance of nylon ropes?
Although nylon braided rope is good, it should be used to a degree. The degree referred to here is the application field of nylon braided rope. Users can not apply the product to various fields because of the toughness and high hardness of nylon braided rope.
Nylon braids can produce toxic substances, such as dimethane, after being boiled at high temperatures. The toxin will seep into the boiling water, so don't use a nylon cord to wrap food that needs heating.
Maintenance in the process of use:
Can not burst in the sun (afraid of heat), acid corrosion (alkali), put in the car trunk pull to pull, etc. (the above behavior in addition to acid and alkali corrosion is not absolute).
Rope cleaning: can be washed with water (neutral or special washing liquid) after spreading on the ground to dry;
Avoid damage by hard objects during use;
Although trampling does not cause damage to the rope, it should be avoided.
The Development of Nylon Ropes:
Early nylon ropes, while superior to those made of natural fibers, were stiff and caused a lot of friction, making them extremely difficult to use because they were too elastic. The nylon rope was gradually replaced by the woven nylon rope. Modern woven nylon ropes are divided into core lines and sheaths. The middle core line is a parallel or braided nylon wire that provides most of the tension resistance and cushioning. The outer layer is covered with a smooth nylon sheath, which mainly protects the core of the rope. Woven nylon rope retains the characteristics of nylon rope, to remove the shortcomings of nylon rope – rough, too much friction, too good elasticity.
Recommended Products