Bulwark mounted ISO13729 closed mooring chock is a special type of anchor hole at a vessel's bow bulwarks. It is specially used to guide the mooring ropes of large ships. The closed chock is made of high quality cast steel and bolted or welded to the hull. It is used to lead the mooring and towing rope from the ship's inboard to outboard.
As a large ship mooring chock, it meets the outfitting design by the requirement of Panama Chock. This closed chock is very important mooring equipment. In the process of mooring ship, it bears huge loads. The radius of the chock surface was designed based on the bending ratio of rope through the chock of not less than twelve times the wire rope diameter. Because this type of mooring chock is closed, the cable will not jump out.
As a professional marine equipment supplier, Boomarine provides a wide range size of ISO13729 closed chock to meet the requirements of different projects. Customers can choose the suitable ISO13729 closed chock according to the size of the vessel and the diameter of the pipeline. In addition, we can also provide a series of customized solutions. If you have any needs, please feel free to contact us
The chocks are classified by their installation site as follows:
Type B – ISO 13729 bulwark mounted closed chock
Technical Requirements:
All surfaces of the closed chocks including welding shall be free from any visible flaws or imperfections.
All surfaces in contact with the ropes shall be free from surface roughness or irregularities likely to cause damage to the ropes by abrasion.
The closed chocks shall be coated externally with an anti-corrosion protective finish.
Dimensions: (mm)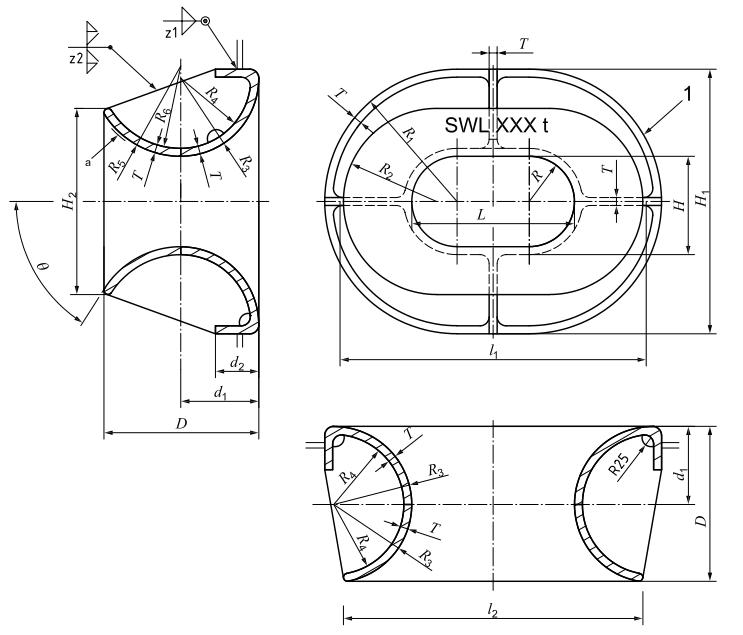 Norminal size
L x H x D (mm)

l1

l2

H1

H2

R

R1

R2

R3

R4

R5

250x200x214

516

441

466

306

100

233

153

108

96

150

300x250x286

638

554

588

410

125

294

205

144

128

180

350x250x333

736

646

636

449

125

318

224.5

168

150

200

400x250x381

834

736

684

450

125

342

225

192

172

250

450x250x381

884

786

684

450

125

342

225

192

172

250

500x250x381

934

836

684

450

125

342

225

192

172

250

400x250x428

882

778

732

515

125

366

257.5

216

194

250

450x250x428

932

828

732

515

125

366

257.5

216

194

250

500x250x428

982

878

732

515

125

366

257.5

216

194

250

500x400x428

982

878

882

665

200

441

332.5

216

194

250

500x250x525A

1078

976

828

551

125

414

275.5

264

240

320
Recommended Products