JIS F2007-1976 Mooring Closed Chock is a ship's mooring and towing fitting installed on the side of the ship. It is used to guide the mooring ropes from the inside to the outside of the ship, change the direction of the rope and limit its position.
There are two shapes of JIS F2007-1976 closed chocks, one is the oval shape mooring chock and the other is the circular mooring chock. It is cast from high-quality steel, designed and manufactured in accordance with JIS F2007 standards. The nominal size ranges from 150mm to 500mm, and it can also be customized according to your requirements. In addition, bulwark mounted bearing seats can be provided with primer or galvanized treatment to protect them from adverse weather conditions.
JISF 2007-1976 mooring chock can reduce the abrasion between the rope and the gunwale and avoid the increase of stress due to sharp bending. It is used for temporary mooring and is specially used to guide the rope mooring rope on large ships.
As a leading marine equipment supplier, Boomarine can manufacture various sizes, standards and types of mooring chocks, or customs according to your drawings. We can also provide all kinds of marine chock class certificates, such as BV, ABS, LRS, DNV, GL, RS, IRS, CCS, KR, NK, etc. We ensure that the products have reliable quality and competitive prices, if there is any demand, please feel free to contact us.
Features of JIS F2007-1976 Closed Chock:
More insurance than steeper, because it is closed, so the cable will not jump out.
Its oval or circular shape makes the surface more smooth and can reduce the friction of the mooring rope.
Feed line in the direction you require to increase efficiency.
The surface is smooth, especially on the contact with the ropes. Cracks, burrings, shinkages, etc. are not allowed.
Technical Requirements:
The mooring chock material is made of seamless steel pipe in accordance with GB 8162 204, or it can be bent according to the grade A steel plate specified in GB 712.
At the intersection of the mooring chock and the outer edge, the welding surface is clean, no cracks, warped pages, skewed, and cut straight to the edge of the wind.
The mooring stopper stainless steel composite plate shall be connected to the hull smoothly, and the welding shall be free of pores, cracks, burrs and defects.
The surface of the mooring block shall be painted with anti-rust paint.
Dimensions: (mm)
Bulwark Mounted Chock JIS F2007 Type A (oval shape)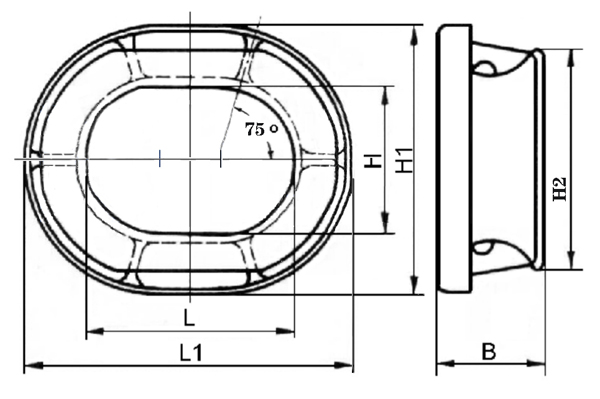 Norminal Size

Dimensions (mm)

Weight

Dia. of rope

Unit: mm

L

L1

H

H1

H2

B

kg

Manila Rope
(mm)

Wire Rope
(mm)

150

150

300

110

260

202

129

15.1

40

16(6×12)

200

200

368

150

318

250

143

20.5

45

18(6×12)

250

250

430

200

380

308

155

26.9

50

20(6×12)

300

300

500

250

450

372

169

42.7

60

22.4(6×12)

350

350

560

250

460

378

179

50.8

70

24(6X24)

400

400

632

250

482

394

195

76.3

80

26(6X24)

450

450

700

250

500

406

209

102

85

30(6X24)

500

500

760

250

510

412

219

115

90

35.5(6X24)
Bulwark Mounted Chock JIS F2007 Type B (Circular)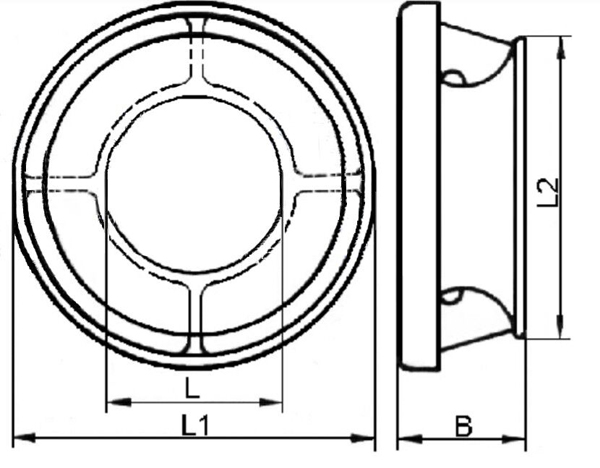 Norminal Size
(mm)

Dimensions (mm)

Mass(kg)

Dia. of
Wire Rope

L

L1

L2

B

150

150

318

288

144

18

18

200

200

380

346

155

24

20

250

250

450

414

169

38

22

300

300

510

470

179

46

24
Why Choose Us?
Have complete and rigorous management, production and inspection processes to control quality and avoid details of errors
Strong design and production capacity
Strict inspection, including incoming inspection, flaw detection, etc., must be double-checked.
Guarantee of advanced factory facilities
Respond to any inquiry within 24 hours with the design or effective solution of our engineers or technical support staff.
Provide professional customized services according to customer requirements
Delivery on time, because we have a strict production plan and professional follow-up process
Competitive price and professional service.
Recommended Products