JIS F2026 Roller Fairleads Type BR is designed with 5 rollers for free mounting on the deck, and welded into the bulwark to guide the rope, and prevent it from moving laterally.
This Roller Fairleads is made of high quality steel and is available in various sizes ranging from 140mm to 315mm, and weights from 225kg to 2050kg. It consists of vertical and horizontal rollers that guide the mooring line from any direction.
Roller fairlead is an indispensable device in the ship's mooring system, which can greatly reduce the wear of the mooring line by the rollers fixed around the fairlead. As a professional marine equipment supplier, Boomarine provides various types of marine mooring equipment, such as mooring chock, marine bollards, etc. And all of them have CCS, ABS, DNV, RINA, LR and other classification societies certificates. Besides 5-roller fairleads, we also offer 4-roller JIS F2026 Type A roller fairleads as an option. Please feel free to contact us.
Features of JIS F2026 Roller Fairlead Type BR:
Good wear and corrosion resistance.
Welded construction, strong and durable.
Effectively reduces lateral load tension on the winch.
Can be freely mounted on the deck with flexible disassembly and assembly.
Greatly reduces wear on the mooring rope by the rollers fixed around the cable guide.
Applications of JIS F2026 Roller Fairlead Type BR:
It is widely used in small ships and various ships, such as container ships, oil tankers, bulk carriers, tugs, dry cargo ships, etc.
Parameters of JIS F2026 Type BR Roller Fairlead: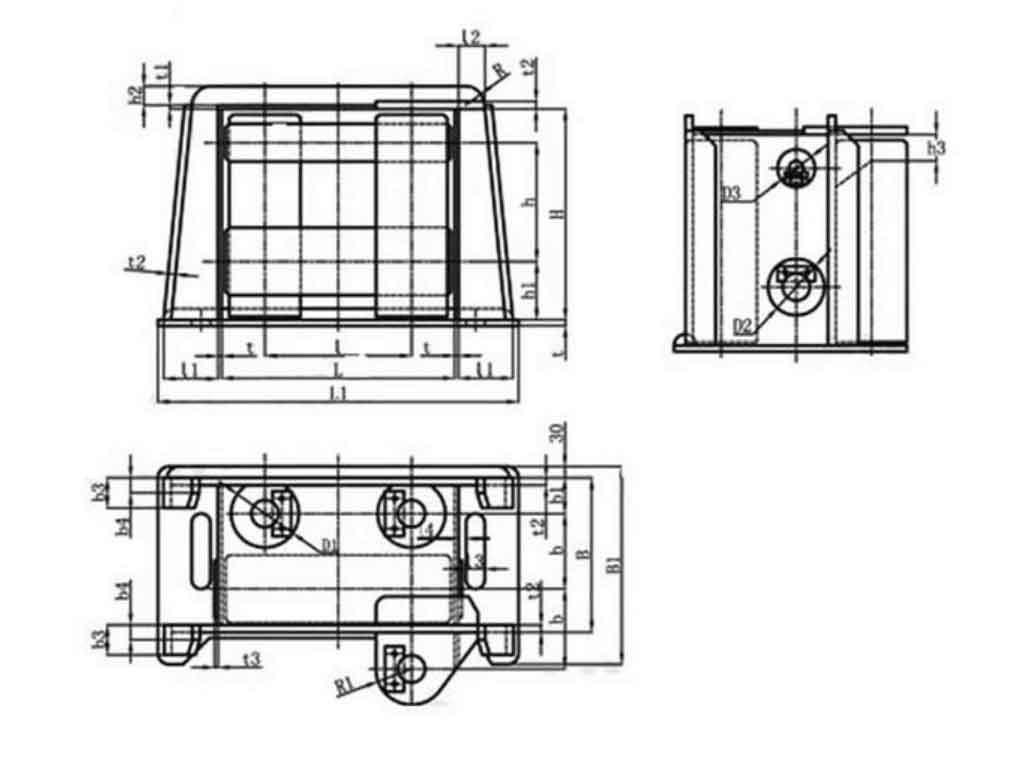 Nominal
Dia.
Frame
B
B1
b
b1
b2
b3
b4
D
D1
D2
D3
H
h
h1
h2
h3
L
L1
140
310
390
150
69
20
45
25
90
140
120
80
480
275
130
40
50
515
805
160
360
460
175
82
22
65
35
110
160
140
90
515
290
145
45
60
570
890
180
410
525
200
95
24
80
40
135
180
150
100
560
315
155
50
70
620
960
200
460
583
225
108
26
90
45
160
200
160
110
590
330
170
60
80
675
1049
250
565
701
280
133
30
105
55
200
250
200
130
715
415
195
75
90
825
1303
315
670
824
330
159
34
125
65
240
300
240
160
870
520
220
90
100
980
1562
Nominal
Dia.
Frame
Leg of weld
Weight
l
l1
l2
l3
l4
R
R1
t
t1
t2
t3
t4
f
f1
f2
f3
(kg)
140
335
120
60
50
20
40
70
12
10
16
6
20
9
6
12
4
235
160
365
135
65
50
20
45
85
14
10
18
8
22
9
7
12
6
353
180
390
145
70
50
20
50
95
16
10
20
10
24
9
9
12
8
496
200
420
160
80
50
20
60
110
18
12
22
10
26
10
10
14
8
648
250
520
210
105
60
25
75
135
20
14
26
12
30
10
12
14
10
1176
315
620
260
130
60
25
90
160
22
16
30
14
34
12
14
16
10
2050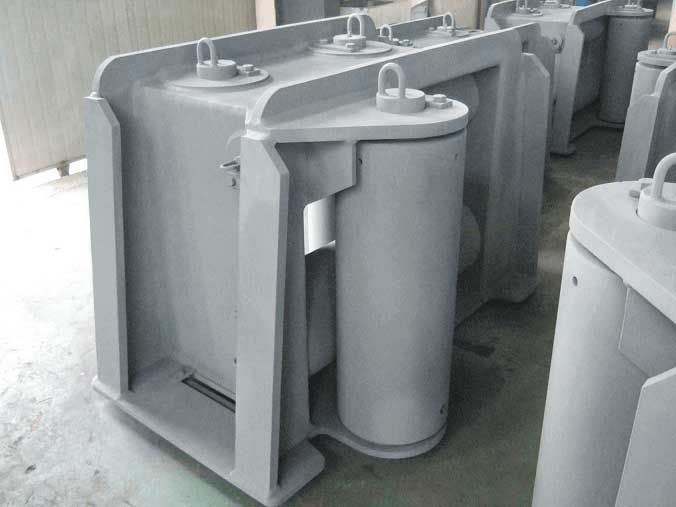 FAQ
Recommended Products