JIS F2026 Roller Fairlead Type A is produced according to the Japanese Standard JIS F2026-1980. It is a cable guide composed of vertical and horizontal rollers, which can guide the cable from any direction. It is made of high-quality steel, and ranges in size from 140 to 315mm and weight from 187kg to 2050kg. The surface is coated with zinc-rich primer and anti-rust paint, which has high anti-corrosion performance.
JIS F2026 roller fairleads are available in two types, type A and type BR. Type A has 4 rollers, including 2 vertical rollers and 2 horizontal rollers. The type BR has 5 rollers. Both Type A and BR can perfectly guide the direction of the rope and protect them. Both types of fairleads are designed to be freely mounted on the deck and welded into the gangway.
JIS F2026 roller fairleads play an important role in the mooring and towing operations of ships. Mainly to maintain the tension and straightness of the rope or wire rope, and reduce the transverse load tension on the winch. Boomarine is a professional marine equipment supplier. The roller fairleads we provide are manufactured in strict accordance with industry standards, and all can provide CCS, ABS, DNV, RINA, LR and other certificates.  If you are interested, please feel free to contact us.
Features of JIS F2026 Roller Fairlead:
Welded structure, sturdy and durable.
Smooth primer surface to protect mooring ropes and steel wire ropes.
Seawater-resistant bronze sliding bearings, grease lubrication.
The surface is coated with zinc-rich primer and anti-rust paint, which has high anti-corrosion performance.
Quality in accordance with international standards, long service life.
Applications of JIS F2026 Roller Fairlead:
It is widely used in different ships, such as container ships, oil tankers, bulk carriers, tugboats, dry cargo ships, etc.
Change the direction of the cables used to guide the ropes will not cause malfunctions during the mooring of ships.
Parameters of JIS F2026 Type A Roller Fairlead: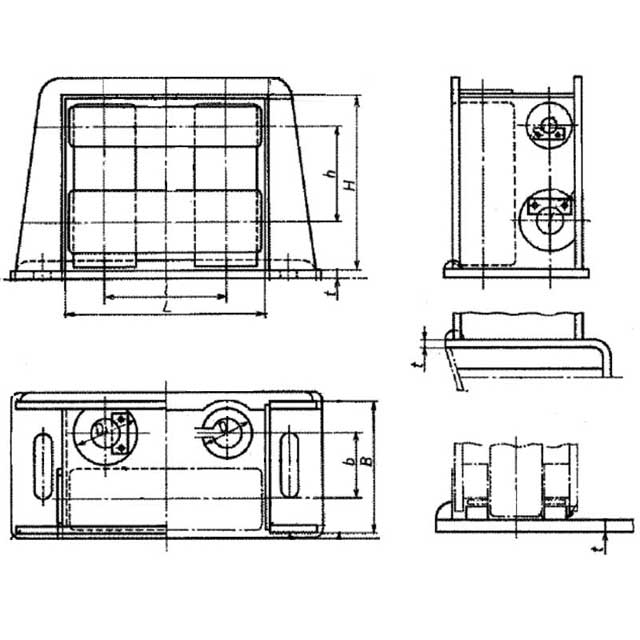 Nominal Size
Rope Dia.
Dimensions (mm)
Weight for 4-roller
(mm)
(mm)
b
D1
H
h
L
l
t
(kg)
140
18
150
140
480
130
515
335
12
187
160
22.4
175
160
515
145
570
365
14
277
180
25
200
180
560
155
620
390
16
387
200
28
225
200
590
170
675
420
18
510
250
35.5
280
250
715
195
825
520
20
900
315
42.5
330
300
870
220
980
620
22
1232



Why Choose Us?
1. Quality Assurance
All of our products are manufactured in strict accordance with the production standards. All products are inspected and accepted by the technical inspection department of the manufacturing plant before the product quality certificate is issued.
2. Product Customization Service
We can provide standard and non-standard products to meet your various needs. We can customize products according to your drawings.
3. Provide classification society certificate
We can provide various classification society certificates: CCS, ABS, BV, DNV, GL, LR, NK, KR, RINA, RS, etc.
4. Excellent pre-sales and after-sales service
Our sales staff adheres to the principle of honest and trustworthy, fair and impartial transactions, providing quality and satisfactory services to our customers.
Recommended Products