Single point mooring chock is a closed mooring chock that is installed on the deck or bulwark. It is usually cast into a round or oval shape, used for temporary mooring, and is used for the guidance of rope mooring lines on board for large vessels.
The single point mooring chock is made of cast iron, cast steel or stainless steel, and the nominal size is from 400 to 800mm. The surface is coated with gray epoxy paint or black asphalt paint, or galvanized, or it can be customized according to customer requirements. The surface is smooth, with no shrinkages, sand burring, cracks, and other defects that will affect the strength and appearance.
There are two types of single point mooring chocks, type A and type B, both are manufactured in accordance with JIS F2030-1978 standards. Type A is a bulwark mounted chock, and Type B is a deck mounted chock.
Boomarine is a professional marine equipment supplier. All our single point mooring chocks have passed the approval of various classification societies such as CCS, DNV, ABS, BV, LR, etc. We can design and produce the mooring chocks according to your drawings and technical requirements. If you have any needs, please feel free to contact us.
JIS F2030-1978 Type A Specification:
Model: JIS F2030 Type A
Nominal Size: 400mm – 800mm
Weight: 210kgs – 880kgs
Material: Cast steel
Standard: JIS F2030-1978
*Application for the installation inclination angle ≤20º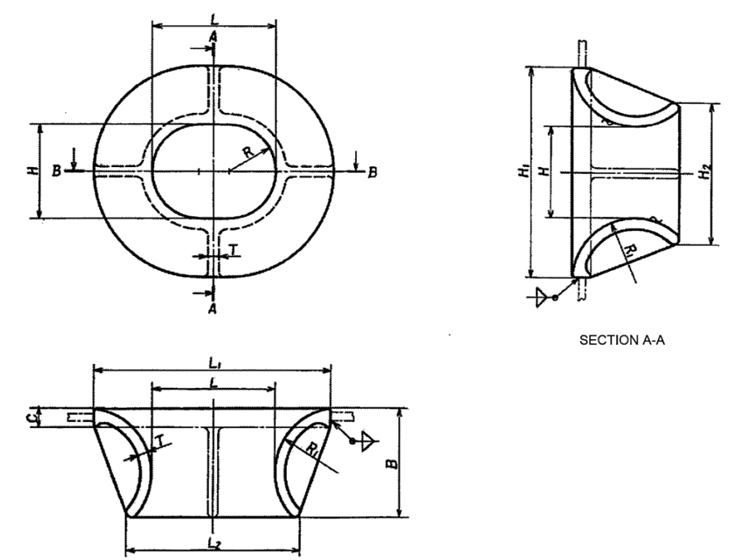 Dimensions (Unit: mm)
Nominal Size
L
L1
L2
H
H1
H2
B
400
400
780
570
300
680
460
350
500
500
940
690
400
840
580
400
600
600
1100
810
450
950
655
450
700
700
1260
930
500
1060
730
500
800
800
1420
1050
600
1220
850
550
Dimensions (mm)
Applicable Rope
Nominal Size
C
R
R1
T
Weight(kg)
Wire Rope
PP Rope
400
65
150
210
35
210
30
80
500
70
200
240
40
340
40
90
600
75
225
270
45
490
50
100
700
80
250
300
50
600
60
110
800
85
300
330
55
880
70
120
JIS F2030-1978 Type B Specification:
Model: JIS F2030 Type B
Nominal Size: 400mm – 800mm
Weight: 190kgs – 830kgs
Material: Cast steel
Standard: JIS F2030-1978
*Application for the installation inclination angle ≥20º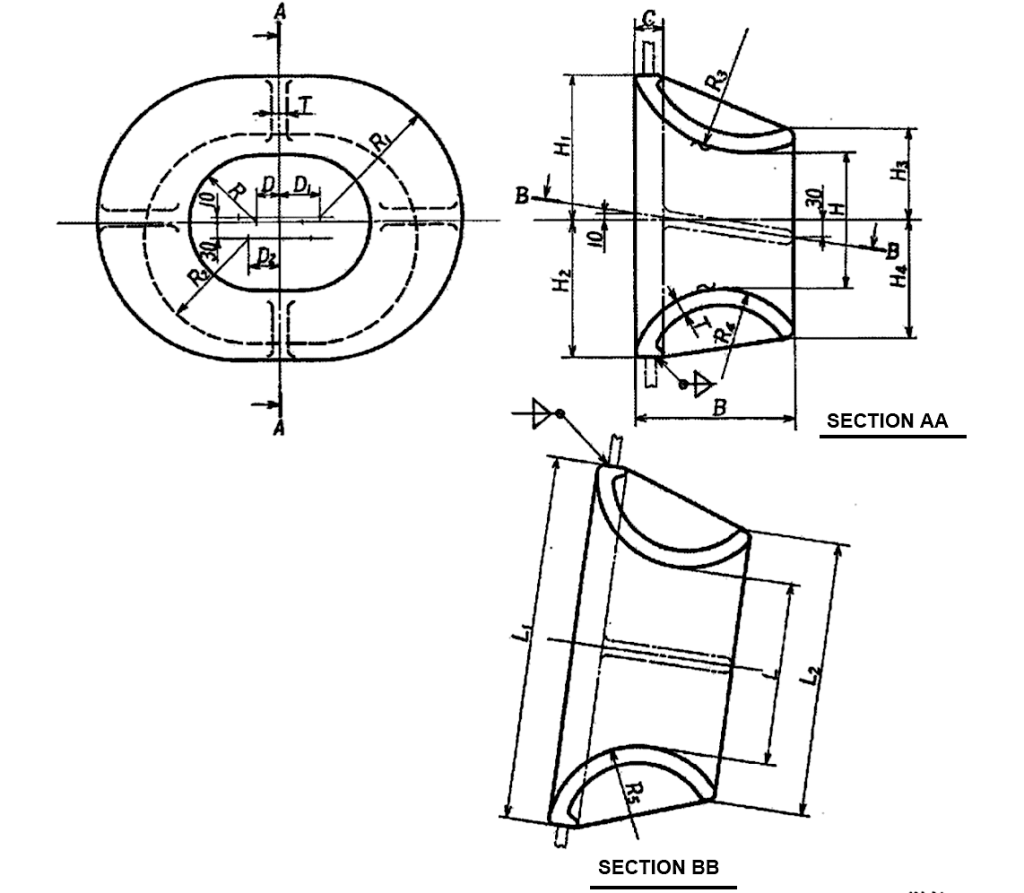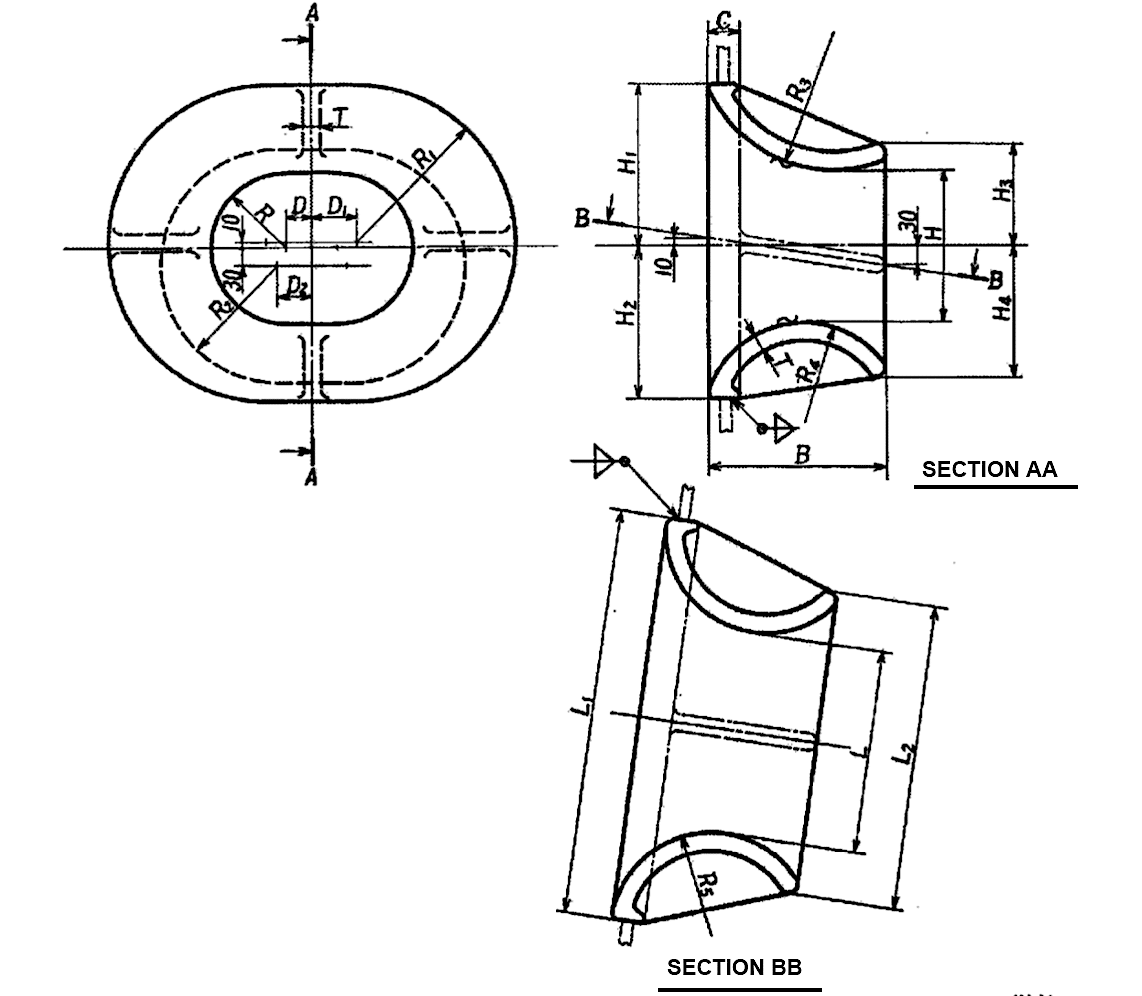 Nominal Size
Dimensions ( Unit: mm)
Applicable Rope (mm)
Unit: mm
L
L1
H
H1
H2
B
R
R1
T
Weight(kg)
Wire Rope
PP Rope
400
400
800
300
320
300
350
150
310
35
190
30
80
500
500
960
400
370
350
400
200
360
40
310
40
90
600
600
1120
450
420
400
450
225
410
45
460
50
100
700
700
1280
500
470
450
500
250
460
50
660
60
110
800
800
1440
600
520
500
550
300
510
55
830
70
120

Recommended Products