Kenter Shackle is a common anchor shackle on the ship. It consists of two separate halves that are securely joined together with a center chock and taper pin.
It is made of alloy steel, carbon steel or stainless steel. The nominal diameter ranges from 12.5mm to 127mm. Its surface is available in black painting, hot-dip galvanized or electro-galvanized. We also provide custom solutions to customers' requirements.
The kenter shackle is a type of detachable shackle, used to connect two separate lengths of chains. It has grades 2 & 3, and is economical and safe for anchor chain links.
Except for kenter shackles, Boomarine also supplies other types of marine shackles, such as End Shackle, Pear Shackle, Swivel Forerunner. And all of our chain fittings have DNV, GL, ABS, LRS, RINA, BV, NK, KR, IRS, RS and other major classification society certificates. If you are interested in our products, please feel free to contact us.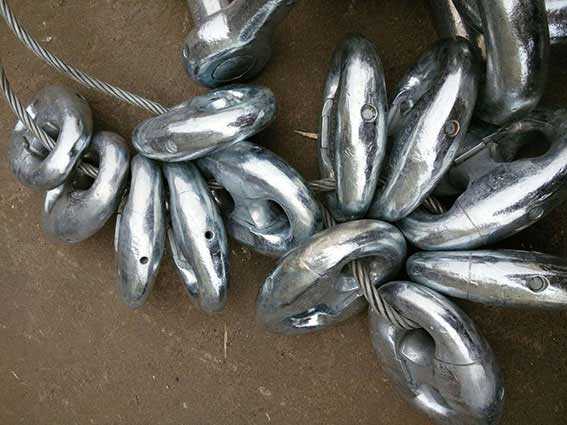 Technical Requirements for Kenter Shackle:
The shackle surface should be smooth and no cracks; sharp edges, over-burning and other defects are not allowed.
The use of cast iron or cast steel shackles is strictly prohibited. The shackle body can be forged with killed steel, and the shaft pin can be machined after bar forging.
The shackles shall not be repaired by drilling or welding. The shackle body and shaft pin shall not be repaired after permanent deformation.
When using, the shackle body and pin should be checked to avoid serious wear, deformation and fatigue cracks.
After the shaft pin is properly assembled, the width of the shackle body shall not be significantly reduced, and the thread connection is good.
The use of shackles shall not exceed the prescribed safety load.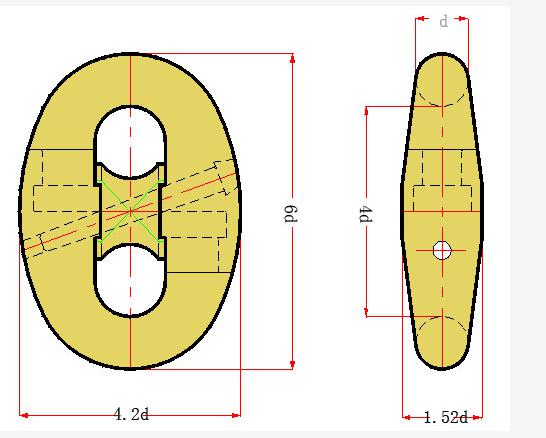 How to Assemble a Kenter Shackle?
There are 4 steps to assemble a kenter shackle: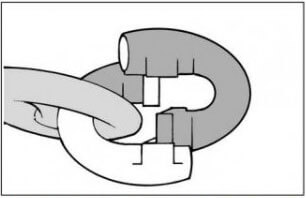 Step 1: Inserting the first half of kenter shackle through the chain link, then the other half of kenter shackle, and driven the two parts together.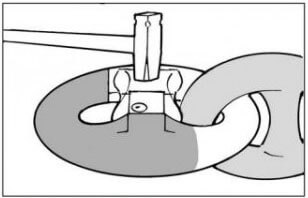 Step 2: Insert the center stud of kenter shackle.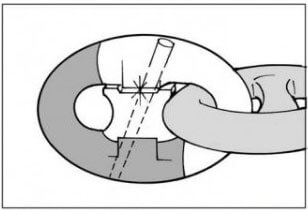 Step 3: When the center chock is in the correct position, insert the taper pin with or without a hammer as shown in the figure. The correct center chock position as per shown in the figure.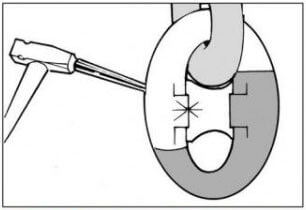 Step 4: Use a hammer to drive in the taper pin and secure it with the lead pellet.
Weight Among Kenter Shackle and Other Shackles
| | | | | | | |
| --- | --- | --- | --- | --- | --- | --- |
| Chain Diameter | Kenter Shackle | Joining Shackle | Anchor Shackle | Swivel | Swivel Forerunner | Swivel Shackle |
| mm | kg | kg | kg | kg | kg | kg |
| 14 | 0.6 | 0.6 | 1.5 | 1.1 | 2.4 | – |
| 16 | 0.6 | 0.9 | 1.5 | 1.3 | 3.2 | – |
| 17.5 | 0.8 | 1.3 | 2.1 | 1.7 | 4.2 | – |
| 19 | 1.1 | 1.8 | 2.4 | 2.1 | 5.5 | – |
| 20.5 | 1.3 | 2.2 | 3.2 | 2.2 | 6.1 | – |
| 22 | 1.6 | 2.6 | 3.9 | 3.5 | 8.7 | 17.5 |
| 24 | 2.1 | 3.4 | 5.1 | 4.5 | 10.9 | 17.5 |
| 25.5 | 2.5 | 4.5 | 6.7 | 5.7 | 14.2 | 37.6 |
| 27 | 3.3 | 5.1 | 8.1 | 7.2 | 17.4 | 37.6 |
| 30 | 4.1 | 6.3 | 10 | 9 | 22.3 | 91 |
| 31.5 | 5 | 8.2 | 11.7 | 10.1 | 26.6 | 91 |
| 33.5 | 6 | 9.5 | 14.2 | 12.7 | 32.2 | 107 |
| 35 | 6.8 | 11.3 | 16.5 | 14.9 | 38.3 | 107 |
| 38 | 8.4 | 13.4 | 19.5 | 17.4 | 42.6 | 107 |
| 39.5 | 9.6 | 15.5 | 22.8 | 20.2 | 50.4 | 115 |
| 41.5 | 11 | 18.1 | 26 | 25.4 | 59.5 | 115 |
| 44.5 | 12.4 | 20.2 | 29.7 | 26.6 | 66.5 | 139 |
| 46 | 14.1 | 23.3 | 34.3 | 30.6 | 76.7 | 139 |
| 47.5 | 16.7 | 27.5 | 38 | 35 | 89.8 | 139 |
| 49 | 19 | 31.6 | 45.2 | 40.5 | 101.8 | 264 |
| 51 | 20.3 | 34 | 50.9 | 49.5 | 117.2 | 264 |
| 54 | 23.7 | 38.5 | 53.8 | 50.5 | 124.9 | 270 |
| 55.5 | 26.7 | 46 | 63 | 55 | 137.9 | 270 |
| 58.5 | 27.2 | 46.8 | 70 | 64.6 | 156.4 | 294 |
| 60.5 | 27.7 | 51 | 77.5 | 71.3 | 171.3 | 294 |
| 62 | 35 | 59.2 | 86.3 | 77.7 | 187.4 | 294 |
| 63.5 | 38.4 | 62.7 | 96.3 | 83.3 | 202.2 | 403 |
| 66.5 | 42.3 | 75 | 99.6 | 88.7 | 223.1 | 403 |
| 68 | 46 | 76.7 | 102.6 | 100 | 247.5 | 403 |
| 69.5 | 48.7 | 90 | 126.2 | 107.8 | 269.3 | 464 |
| 73 | 53 | 95 | 138.2 | 125.6 | 306.2 | 464 |
| 76 | 60.7 | 107 | 146 | 143.8 | 347.8 | 464 |
| 77.5 | 65.5 | 116 | 164 | 154 | 379.4 | 749 |
| 81 | 75 | 130 | 190 | 188 | 435.7 | 749 |
| 84 | 90 | 136 | 212 | 198 | 464 | 931 |
| 87.5 | 96 | 160 | 237 | 215 | 521.7 | 931 |
| 90.5 | 108 | 176 | 245 | 238 | 571 | 1191 |
| 92 | 114 | 196 | 257 | 252 | 616 | 1191 |
| 95 | 128 | 215 | 300 | 269 | 656 | 1191 |
| 97 | 133 | 222 | 335 | 301 | 713.1 | – |
| 100 | 146 | 252 | 353 | 330 | 785 | 1464 |
| 101.5 | 158 | 267 | 378 | 344 | 835.5 | 1464 |
| 105 | 160 | 294 | 385 | 387 | 916 | 1466 |
| 108 | 180 | 305 | 420 | 428 | 991 | 1466 |
| 111 | 198 | 325 | 463 | 448 | 1061 | 1830 |
| 114.5 | 204 | 345 | 485 | 460 | 1116 | 1830 |
| 117.5 | 225 | 365 | 528 | 475 | 1177 | 1830 |
| 120.5 | 250 | 400 | 570 | 547 | 1332 | – |
| 122 | 263 | 425 | 602 | 649 | 1480 | – |
| 124 | 290 | 465 | 632 | 680 | 1550 | – |
| 127 | 312 | 499 | 679 | 729 | 1663 | – |
| 130 | 333 | 536 | 729 | 784 | 1797 | – |
| 133.5 | 350 | 561 | 762 | 820 | 1862 | – |
| 136.5 | 392 | 627 | 852 | 912 | 2065 | – |
| 143 | 436 | 698 | 949 | 1012 | 2315 | – |
| 146 | 485 | 774 | 1053 | 1124 | 2578 | – |
| 152.5 | 537 | 856 | 1164 | 1238 | 2839 | – |
| 157 | 591 | 943 | 1283 | 1360 | 3102 | – |
| 162 | 651 | 1036 | 1410 | 1490 | 3401 | – |
Recommended Products