Pot Bearing is also known as pot rubber bearing, is a new type of bridge bearing composed of steel and rubber. Compared with other similar types of bridge bearings, it has the advantages of large bearing capacity, large horizontal displacement, flexible rotation, and so on. The pot rubber bearing is composed of an upper steel plate, stainless steel plate, PTFE plate, sealing ring, elastomeric pad, pot, foundation bolt, and dust cover.
The pot bearing is designed to withstand a combination of vertical load, horizontal load, longitudinal and lateral movement and rotation. It supports vertical loads by means of rubber discs confined in steel pans and caps. This type of bearing can withstand very high loads of more than 50.000 kN. At the same time, due to its deformability, it allows rotation around any axis.
Pot bearing is a special type of bridge bearing used to withstand large loads, large horizontal displacements and large rotation requirements in narrow areas. They are particularly suitable for curved or inclined bridges and other complex structures where the direction of rotation varies or cannot be precisely determined. As a professional bridge bearing supplier, Boomarine provides different types of high-quality pot bearings, which can also be customized according to the needs of maintenance. If you have any needs, please feel free to contact us.
Features of Pot Bearing
Thin but high load capacity of over 50,000 kN.
Very low sliding friction, between 1% and 3%.
Allows large rotations ranging from 0 to 0.03 radians.
Compared with elastic bearing pads, the service life is longer, up to 25 years.
Wide allowable temperature range from -40°C to +50°C.
All metal parts are galvanized and epoxy sprayed to prevent corrosion.
PTFE layer provides excellent resistance to fatigue, impact and aging.
Easy to install, completely detachable, low maintenance cost.
Applications of Pot Bearing
Locations requiring thin, high-load bearing units
The structure of the bridge can be rotated in all directions
Curved or inclined bridge
Highway
Complex structure that accurately determines the direction of rotation
Other areas that also need to meet large loads and rotation requirements
Physical Properties of Rubber Materials of Bearing
Item/Rubber Type

Neoprene

Natural Rubber

EPDM

Hardness (shore A)

60 ± 5

60 ± 5

60 ± 5

Tensile Strength

≥17.0

≥17.5

≥15.2

Elongation at Break

≥400%

≥400%

≥350%

Brittleness Temperature

≤-40 °C

≤-50 °C

≤-60 °C

Constant EN Compression Set(70 °C, 22 h)

≤20%

≤25%

≤25%

Resistance of Ozone Aging(Test Condition: 25–50 pphm, 20% Elongation, 40 °C, 96 h)

no cracking

no cracking

no cracking

Air Oven Aging Test

Test Condition(°C × h)

100 × 70

70 × 168

100 × 70

Reduction Rate of Tensile Strength

<15%

<15%

<15%

Reduction Rate of Elongation at Break

<40%

<20%

<40%

Change of Hardness

<+15

<+10

<+10
Structures of Pot Bearing
Steel top plate – Capable of accommodating longitudinal or lateral sliding of the superstructure.
Stainless steel panel and PTFE – Reduce frictional resistance and horizontal force.
Steel piston and internal brass seal ring – Protects the elastomer pad from extrusion.
Elastomeric pad – behaves like a fluid at high pressures and allows for higher working pressures at reduced dimensions
* According to your requirements, an outer ring can be provided to ensure that the gap between the piston and the steel tank is free of moisture and debris.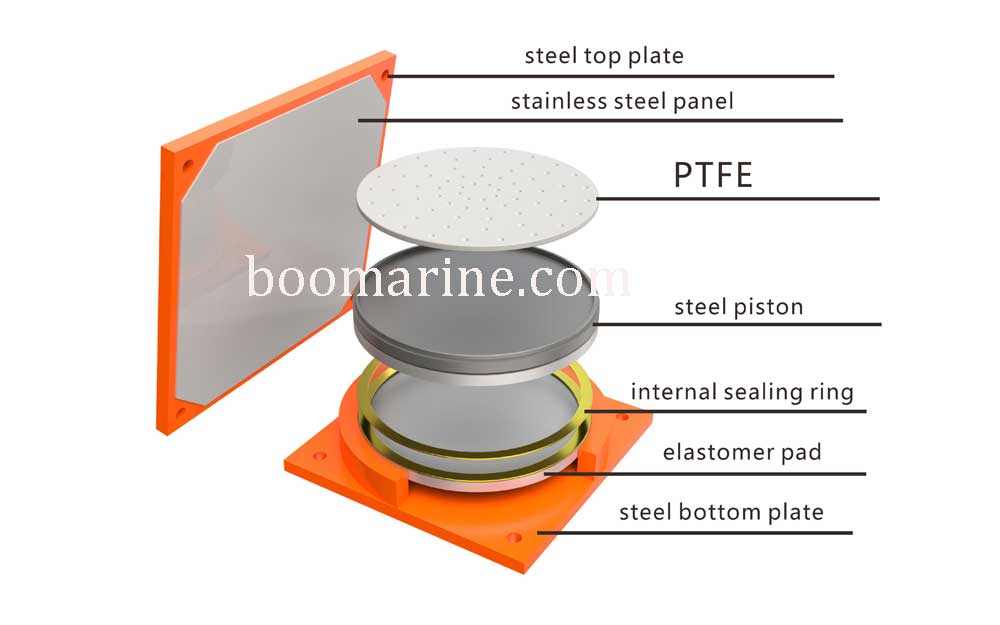 Types of Pot Bearing:
According to the displacement ability, pot bearing can be divided into three types:
Fixed pot bearing
Guided sliding pot bearing
Free sliding pot bearing
The fixed pot bearing is composed of upper and lower steel plates, stainless steel plates, pistons, brass seals and elastic pads. The internal sealing ring enables the piston to rotate under load. This pot bearing has rotational performance, but limits all displacements of the plane shaft.

The structure of the guide sliding pot bearing is the same as that of the free sliding bearing, but two guide rails are fixed on the top steel plate to limit the movement of the bearing bush. It has vertical rotation performance and one-way sliding performance. There are two types of this protection: Center Guided Bearing and Edge Guided Bearing.


The structure of free sliding pot bearing is the same as that of fixed bearings. These multi-directional devices are equipped with pure PTFE plates in contact with austenitic steel plates, so that the bearing can slide in all directions.

Products Photos:
Recommended Products