PTFE Slide Bearing is a bearing formed by pasting a PTFE plate of a certain thickness on the top surface of the laminated rubber bearing. On the face of it, the PTFE slide bearing is a simple assembly. It consists only of 2 layers – a PTFE board and a polished stainless steel plate. In order to secure the PTFE in place, a low carbon steel sheet is usually used as the backing.
Because the friction coefficient between the PTFE plate and the stainless steel plate is very small, and the stainless steel at the bottom of the beam can slide freely, adapting to the horizontal displacement of the superstructure in a wider range. PTFE's excellent frictional properties, chemical and weather resistance, and consistent performance at high and low temperatures make it ideal for structural plain bearings.
The PTFE slide bearing plate is superior to the conventional expansion plate, roller and rocker support in a wide range of applications. They adapt to the expansion, contraction and other reciprocating movements of any structure that moves due to thermal, earthquake or different effort. As a professional bridge bearing supplier, Boomarine offers PTFE sliding bearing pads with high load capacity and low friction. We can also provide customization services according to customer requirements. Please feel free to contact us with any requirements.
Specifications of PTFE Slide Bearing
Top Sliding Plate – 2.5mm thick Reinforced PTFE / Virgin PTFE bonded to a 3mm thick carbon steel plate / stainless steel plate.
Bottom Sliding Plate – 2.5mm thick Reinforced PTFE / Virgin PTFE bonded to a 3mm thick carbon steel plate / stainless steel plate.
Method of Installation – Tack welding, full welding, bolting, mortar embedment.
Load Capacity – Reinforced PTFE: 18 MPa (184 kg/cm2), Virgin PTFE: 7 MPa (71 kg/cm2).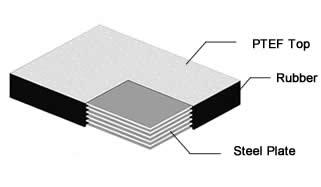 Features of PTFE Slide Bearing
Low Coefficient of Friction – Lower than lubricated metals or any other self-lubricating solid, the coefficient of friction of the bearing surface remains constant even under the worst conditions.
Chemical Resistance – Resistant to almost all chemicals, solvents and fuels.
Weather Resistance – Completely unaffected by outdoor exposure, the surface does not wet and does not absorb water.
Thermal Stability – -250°C to +250°C (-450°F to 450°F) continuous operating temperature range. For temperatures outside this range, alternative bonding systems can be used.
Low and Uniform Wear – PTFE-based plain bearings have extremely low wear rates and are typically not subject to design limitations.
Electrical and Thermal Insulation – Electrical and thermal insulation is automatically provided; this is valuable in preventing galvanic corrosion and heat loss.
Wear Resistance – PTFE allows small foreign particles to be embedded without long-term damage to friction performance and bearing life.
Fatigue Resistance – Fatigue failure will not occur with PTFE-based plain bearings.
Maintenance-free Bearings – PTFE is inherently self-lubricating, and dirt particles are absorbed into the material. Only simple protection is required to prevent the ingress of large amounts of dirt.
Simplicity and Flexibility of Design – Simple design and ease of fabrication and mounting enhance cost-effectiveness.
Applications of PTFE Slide Bearing
Petrochemical plants, heavy machinery, construction and bridge beams.
For steel and concrete structures.
Used as pipe slides and pipe saddles.
How to Install PTFE Slide Bearing?
Bearing components can be bolted, welded, fully welded or mortar embedded to locate the mounting and the appropriate bearing should be selected according to the mounting method. During installation, PTFE should be adequately protected against welding spatter, paint spray, metal wear paste, etc.
Selection of PTFE Slide Bearing
 1. When selecting the PTFE slide bearing, the maximum bearing capacity of the bearing should be consistent with the bridge fulcrum force, and the allowable deviation range should be ±10%
2. For curved, slope, inclined, and wide Bridges, round bearings should be selected.

When the longitudinal slope of the bridge is not more than 1%, the rubber bearing can be directly set on the pier, but the thickness required by the longitudinal slope should be considered. When the longitudinal slope is greater than 1%, the embedded steel plate, concrete pad, or other measures should be used to level the bottom of the beam.
PTFE sliding rubber bearing should be installed horizontally. The PTFE sliding plate shall not be set on the bottom of the bearing, and the stainless steel plate in contact with the PTFE sliding plate shall not be set on the pier and the cushion stone.
Products Photos:
Recommended Products