BM-004 Type Helm Chair is an ergonomically designed, comprehensive and comfortable suspension seat suitable for most types of boats. The chair has a sliding design with 1.2m rails and can also be customized in length upon request. The rails are controlled by the seat side handles for sliding and positioning.
The chair frame is made of high-strength aluminum alloy and stainless steel, which is extremely stable and durable. The seat surface is wrapped in black high-quality PU leather, and can also be customized with leather or fabric according to requirements. The seat back and seat cushion are made of PU cold foamed one-time molding foam, which ensures the comfort of the ride, and the navigator will not feel tired even when cruising for a long time. The seat height and backrest angle can be adjusted within a certain range, making it easy to get up and down and adjust the seat freely in confined spaces.
Our BM-004 type helm chair has a wide range of applications, especially suitable for all kinds of merchant ships, passenger ships, yachts, etc. As a company specializing in the production and export of marine equipment, Boomarine strictly controls the quality of its products and produces seats in accordance with ISO90001 standards. In addition, our seats are also certified by ABS, BV, CCS, DNV, EC, GL, KR, LR, NK and RINA. If you have any needs, please feel free to contact us.
Features of BM-004 Type Helm Chair:
Ergonomic design ensures ride comfort.
The aluminum alloy frame provides extremely high stability and durability.
The seat surface is made of PU wear-resistant and fire-resistant high imitation leather, genuine leather or fabric, with good wear resistance.
Backrest and seat cushion are made of high-density polyester one-time molding high-cold foam rebound fireproof sponge.
Backrest and headrest can be tilted and adjusted within a certain angle.
The height of the seat can be adjusted, and it can be moved back and forth.
Foldable/adjustable angle comfortable seat armrest.
The seat can be rotated 360 degrees, with multi-point positioning.
The height of the foot pedal is adjustable/foldable.
The column can be lifted vertically up and down.
Parameters of BM-004 Type Helm Chair:
The upper part of the seat can be moved forward and backward by 120mm, the height can be adjusted by 50mm, and the seat tilt angle range is ±12°.
Seat back can be adjusted from 85° to 150°, the headrest can be adjusted up and down by 50mm, and the armrest can be controlled by multi-point positioning.
Air pressure rod of the core component of the air pressure lift adopts Stabilus imported from Germany, and the adjustment range of the pneumatic lift is 0-150mm.
Seat can be rotated and locked by 360°, with four-point positioning control.
Seat can move 0-4000mm on the guide rail. The width of the guide rail is 500mm and the depth is 28mm. The transmission part is wheel-type unimpeded double sliding and multi-point positioning control.
Seat pedal can be rotated 90° and returned, and the upper and lower position adjustment range is 0-50mm.
Seat can withstand more than 150FT.LB torsion, reaching the AD level standard.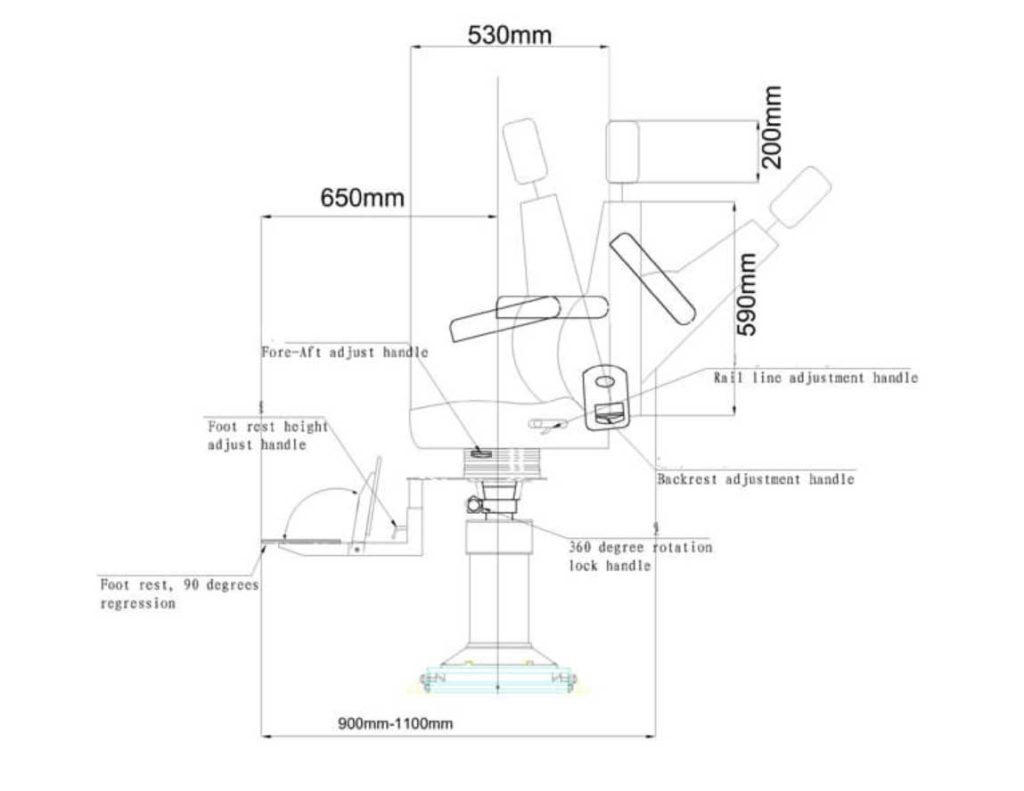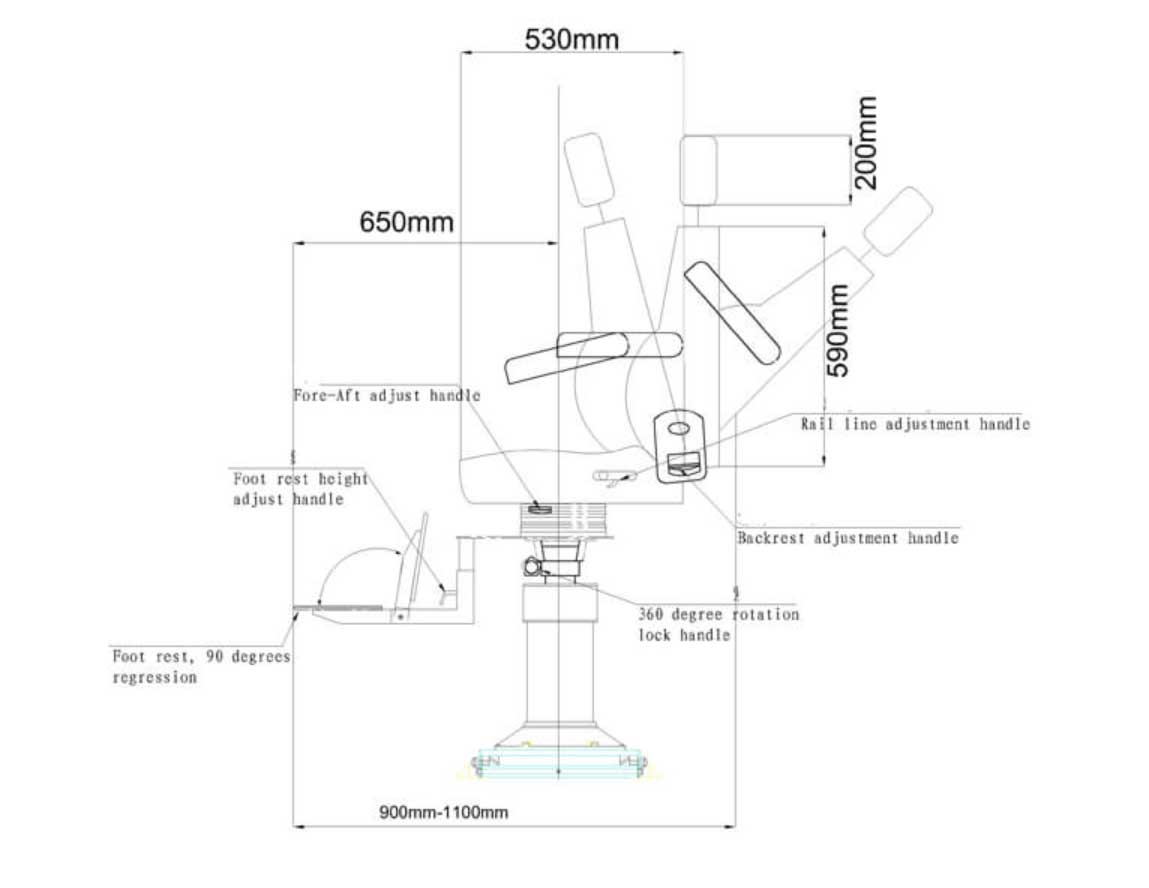 Applications of Captain Chairs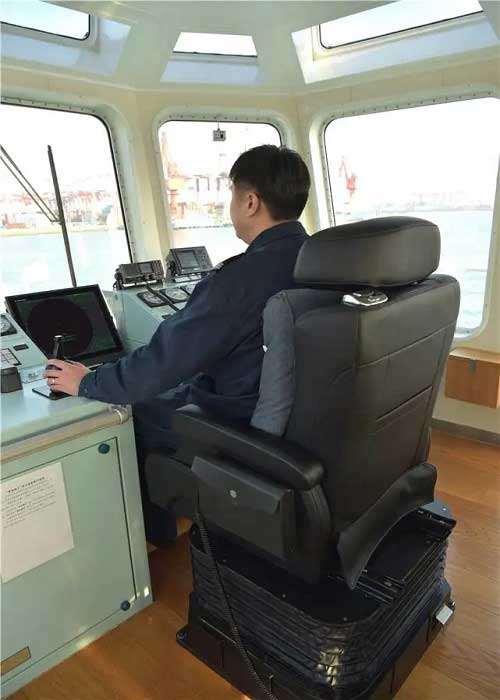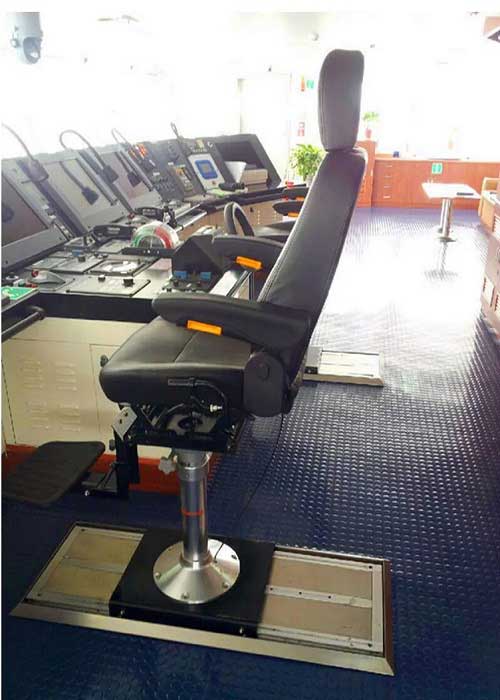 Product Photo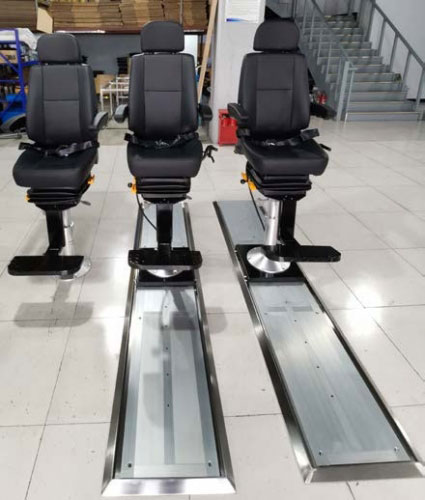 FAQ
Recommended Products