BM-001 type pilot chair is ergonomically designed with good comfort, so that the pilot will not feel tired during long voyages. It is fixed and has good stability. The frame is made of a combination of aluminum alloy and stainless steel for durability. The surface is made of high-quality PU imitation leather, and leather or fabric can also be customized according to customer needs, which is wear-resistant and comfortable.
The BM-001 pilot seat is easy to install and doesn't take up much space. And it can be raised and lowered freely within a certain range, and the backrest and armrest can be adjusted within a certain angle. The seat can be rotated and locked 360°, controlled by four-point positioning. The pedal is composed of a steel inner core and eco-friendly rubber, and can be rotated by 90°.
Boomarine is a professional marine equipment supplier, offering a wide range of marine pilot chairs and passenger seats. The structural strength and materials of the chair are selected according to IMO and HSC requirements. The fabric and sponge meet the flame retardant requirements of IMO FTPC PART8. Meanwhile, we can provide you with CCS or MED certificate. We make sure that every chair handed to you is to your satisfaction.
BM-001 Type Pilot Chair Features:
Adopted ergonomic design.
Pneumatic suspension with automatic weight adjustment.
The seat surface is made of black high-quality PU imitation leather, and leather or fabric can also be customized according to requirements, with good wear resistance.
The seat backrest and seat cushion are made of steel inner core and PU cold foamed disposable sponge, which has good comfort.
The seat height can be adjusted freely and can also be moved forward and backward to suit various operators.
The lifting column is made of aluminum alloy and stainless steel, which is very durable.
With foldable/adjustable angle comfort seat armrest.
The seat can be rotated 360°, with multi-point positioning.
Footrests are steel construction, height adjustable/foldable.
The shape and color of the seat surface can be customized according to customer requirements.
The standard rail length of the seat is 1.2 meters, if you need to lengthen it, it can be customized.
BM-001 Type Pilot Chair Technical Parameters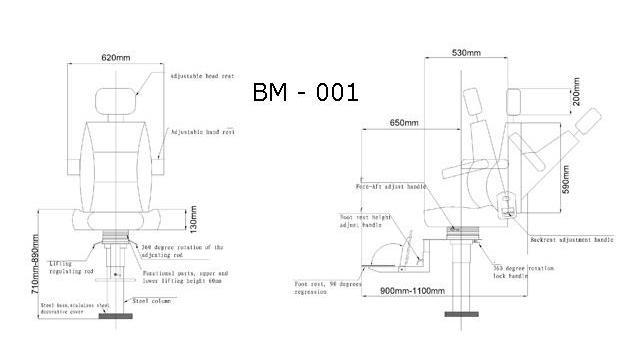 BM-001 Type Pilot Chair Function Data:
Function
Parameter
Lifting System
– Adopts pneumatic lifting, imported from Germany (Stabilus) stainless steel cylinder.
– Chair surface height from the ground lifting stroke is 710mm-890mm, lifting the handle to adjust, lifting column for A3 steel material, the appearance of the salt spray test anti-rust treatment.
Adjustable
– The seat part and a tilting adjustment by the handle, ±12° in the angle adjustment, adjust the height 60mm, front and rear 120mm adjustment.
– Seat backrest angle can be adjusted by hand, adjusted in the range of 85° -150°, headrest adjustable up and down 50mm.
– The armrest can be required through the knob on the angle adjustment, the head pillow with adjustable height.
– Seat air pressure lift adjustment range 0-150mm.
– Footrest can be folded 90°.
Cushion Part
Can handle slide, slide stroke is 120mm.
Rotation
The seat can rotate 360° in any direction, and through the knob lock, location every 90° positioning groove.
Material
– The seat is in the framework of cold steel, polyurethane foam molding of high elastic sponge, and fabric with black PU leather.
– The seat tilting, slide, and slide rail positioning device adopt steel structure, the appearance of the salt spray test anti-rust treatment.
– The footrest is a steel structure.
Loading Weight
The overall strength of the pilot chair meets "International HSC norms" requirements, a loading of about 260KG.
Product Photo
Applications of Pilot Chairs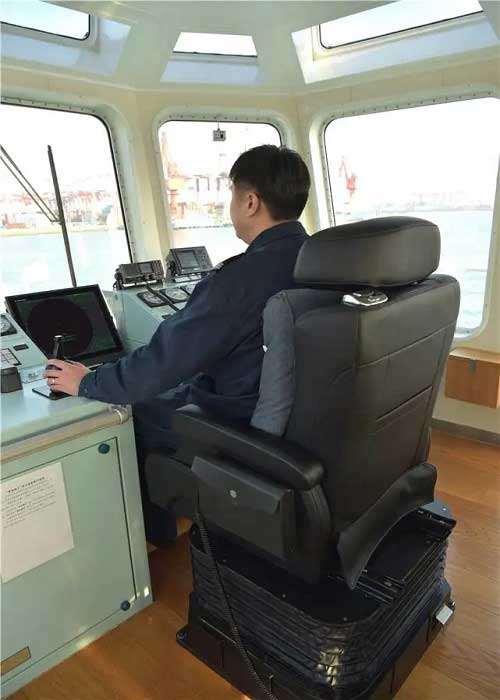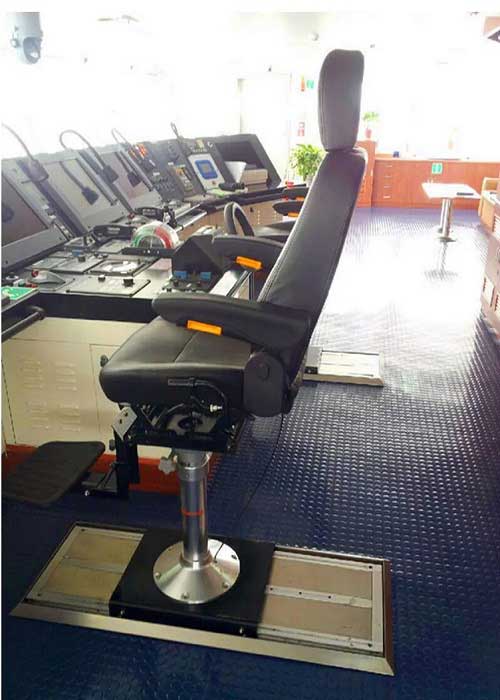 FAQ
Recommended Products