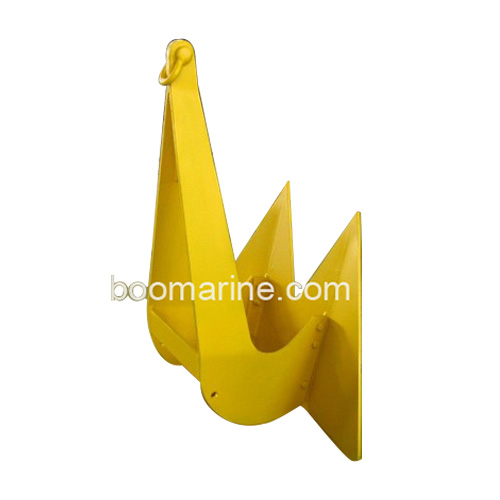 HHP Stingray Anchor
Type: Welding stockless anchor
Material: High tensile steel plate
Applications: Suitable for most sand conditions. Mostly for dredging, fish farming, and aquaculture.
Certificate: DNV, ABS, LRS, BV, RINA, etc.
Stingray Anchor is a type of high holding power anchor welding from high tensile steel plate. It is a typical welding stockless anchor. The weight is from 50kg to 5000kg, also can be customized. The surface is treated with black bitumen paint or hot-dip galvanized. Black, Yellow, Orange, Blue, etc. are available.
Stingray anchor is a new-designed anchor, with high holding and is suitable for most sand conditions. Although the weight is 75% of the ordinary anchor, the holding power is 1.3 times that of the ordinary anchor. The easy assembly design allows you can disassemble and assembly the anchor without any special tools to help. It has ultimate capacities of up to 440kN, and is suitable for most types of anchor chains, such as stud link chains and studless chains. The stingray anchors are mostly used for dredging, fish farming, and aquaculture.
Boomarine is a professional supplier of marine equipment. We provide various types and specifications of ship anchors, made of different materials, such as cast steel, stainless steel, carbon steel, welded anchors, etc. We also provide various classification society certifications for our anchors, such as DNV, GL, BV, ABS, LRS, RINA, IRS, etc. If you have any needs, please feel free to contact us.
Features of Stingray Anchor:
Quick and simple installation without the help of any special tools.
Up to 440kN ultimate load capacity.
Environmental protection and long service life.
Fast entry into the sea, little interference to the ground.
Flat packaging, greatly reducing shipping costs.
Customizable design.
Suitable for various soils and applications.
Applications of Stingray Anchor:
Storm and hurricane mooring;
Dredging, fish farming, and aquaculture;
Hold back mooring
Specifications of Stingray Anchor: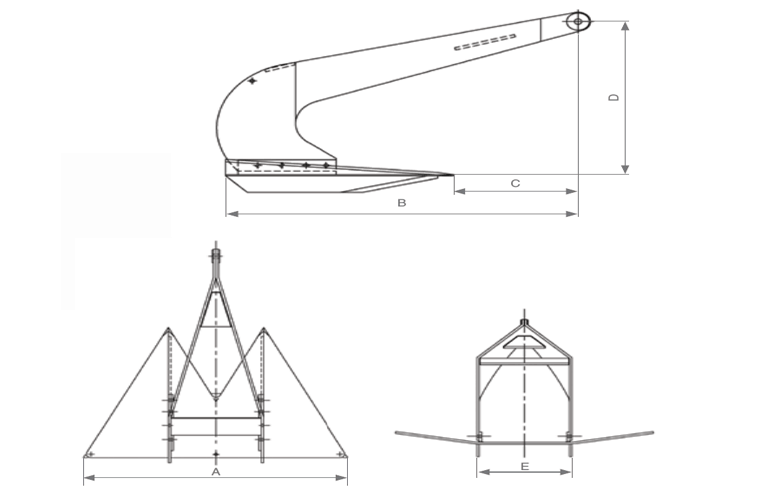 | | | | | | | |
| --- | --- | --- | --- | --- | --- | --- |
| Nominal Weight (kgs) | A | B | C | D | E | F |
| 50 | 1013 | 1023 | 347 | 598 | 368 | 54 |
| 75 | 1060 | 1070 | 363 | 625 | 385 | 58 |
| 100 | 1171 | 1182 | 401 | 691 | 426 | 64 |
| 150 | 1258 | 1271 | 432 | 742 | 458 | 69 |
| 250 | 1515 | 1530 | 519 | 895 | 556 | 83 |
| 375 | 1748 | 1765 | 599 | 1031 | 635 | 96 |
| 500 | 2024 | 2045 | 694 | 1190 | 736 | 111 |
| 750 | 2222 | 2243 | 761 | 1311 | 808 | 122 |
| 1000 | 2491 | 2516 | 854 | 1470 | 905 | 136 |
| 2000 | 3078 | 3109 | 1055 | 1817 | 1119 | 168 |
| 3000 | 3638 | 3719 | 1312 | 2160 | 1311 | 197 |
| 5000 | 4248 | 4291 | 1456 | 2504 | 1544 | 232 |
Products Photo
Recommended Products