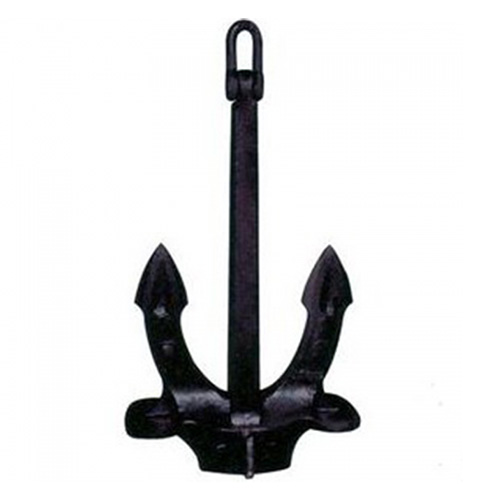 Hall Anchor
Type: A widely used stockless Anchor
Weight: 40kg to 46000kg
Material: ZG200-400
Finishing: black tarred painting, hot dip galvanized
Certificate: DNV, ABS, LRS, BV, LR, etc.
Hall anchor is a typical and widely used stockless anchor. The shank is forged steel, and the crown that holds the two flukes together is cast steel. The hall anchor weight ranges from 40kg to 46000kg. The surface is treated with black tarred painting and hot-dip galvanized.
During assembly, the anchor is passed from bottom to top through the crown until the anchor shank at the lower end is close to the pit of the crown. Then two bolts are inserted into the crown to prevent the anchor shank from coming out. In this way, the anchor flukes can turn relative to the anchor shank.
Hall anchors are not only manufactured for easy assembly, its biggest advantage is that there is no anchor rod for convenient storage. When lifting, the anchor shank could be collected into the hawse pipe and the anchor is often in the state of throwing. The holding weight of the Hall anchor is relatively small, about 2.5 ~ 4. But because it is convenient, saving time and effort, its two flukes could dig into the bottom of the water, will not cause harm to ships, so it is widely used in various ships, as the main anchor.
As a leading supplier of marine anchors, Boomarine can supply a variety of anchors for different applications. Our hall anchors are normally supplied with certification and these can be from any of the major classification societies. Besides, we can also help you to find suitable chains and fittings, please feel free to contact us.
Features of Hall Anchor:
Comply with GB/T 546-1997 standard.
Two flukes can dig into the bottom of the water without harm to ships.
No anchor rod for convenient storage.
The traditional design makes a stable working performance.
Made of high-quality marine cast steel ZG200-400, extremely tough.
There are A/B/C types of Hall anchors that differ by the length and shape of the shank cross-section (rectangle, circular, shortened rectangular cross-section).
Hall Anchor Type A – Rectangular cross-section of the shank. The most commonly used conventional stockless anchor.
Hall Anchor Type B – Circular cross-section of the shank. Mainly used for bower anchor.
Hall Anchor Type C – Shortened rectangular cross-section of the shank. It also has a smaller swing angle compared to other hall anchor types.
Specifications of Hall Anchor: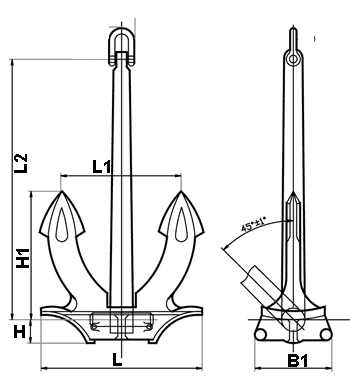 | | | | | | | |
| --- | --- | --- | --- | --- | --- | --- |
| Nominal Weight(kg) | L | L1 | L2 | H | H1 | B1 |
| 40 | 430 | 303 | 557 | 67 | 303 | 198 |
| 60 | 492 | 347 | 637 | 76 | 347 | 227 |
| 100 | 540 | 378 | 750 | 91 | 395 | 230 |
| 125 | 580 | 405 | 810 | 97 | 425 | 248 |
| 150 | 612 | 432 | 855 | 104 | 452 | 264 |
| 180 | 650 | 459 | 910 | 111 | 480 | 280 |
| 240 | 720 | 510 | 1010 | 122 | 530 | 310 |
| 280 | 760 | 534 | 1060 | 130 | 560 | 325 |
| 300 | 770 | 540 | 1080 | 131 | 570 | 331 |
| 320 | 790 | 560 | 1100 | 132 | 580 | 338 |
| 360 | 820 | 580 | 1150 | 139 | 610 | 353 |
| 420 | 860 | 610 | 1200 | 146 | 640 | 370 |
| 480 | 900 | 640 | 1260 | 153 | 670 | 387 |
| 570 | 1042 | 732 | 1355 | 161 | 732 | 481 |
| 660 | 1096 | 769 | 1422 | 169 | 769 | 506 |
| 780 | 1170 | 820 | 1506 | 180 | 820 | 540 |
| 900 | 1220 | 855 | 1580 | 188 | 855 | 560 |
| 1020 | 1260 | 885 | 1645 | 194 | 885 | 580 |
| 1140 | 1319 | 916 | 1705 | 206 | 926 | 605 |
| 1290 | 1378 | 965 | 1778 | 211 | 965 | 630 |
| 2100 | 1651 | 1120 | 2093 | 245 | 1120 | 732 |
| 2850 | 1890 | 1253 | 2318 | 271 | 1253 | 822 |
| 3540 | 2032 | 1345 | 2480 | 294 | 1345 | 880 |
| 4320 | 2171 | 1435 | 2695 | 316 | 1435 | 943 |
| 4890 | 2263 | 1498 | 2769 | 329 | 1498 | 984 |
| 5000 | 2317 | 1510 | 2800 | 332 | 1510 | 992 |
| 6450 | 2340 | 1644 | 3037 | 361 | 1644 | 1080 |
| 7800 | 2493 | 1750 | 3235 | 385 | 1750 | 1152 |
| 8500 | 2565 | 1800 | 3355 | 395 | 1800 | 1184 |
| 10500 | 2752 | 1934 | 3571 | 425 | 1934 | 1273 |
| 12900 | 2947 | 2072 | 3824 | 455 | 2072 | 1363 |
| 13500 | 2992 | 2104 | 3882 | 462 | 2104 | 1384 |
| 14700 | 3078 | 2165 | 3994 | 476 | 2165 | 1424 |
| 16900 | 3225 | 2268 | 4184 | 498 | 2268 | 1492 |
| 23000 | 3573 | 2514 | 4631 | 551 | 2514 | 1654 |
| 35500 | 4132 | 2903 | 5363 | 637 | 2903 | 1906 |
| 46000 | 4505 | 3165 | 5847 | 695 | 3165 | 2078 |
Products Photo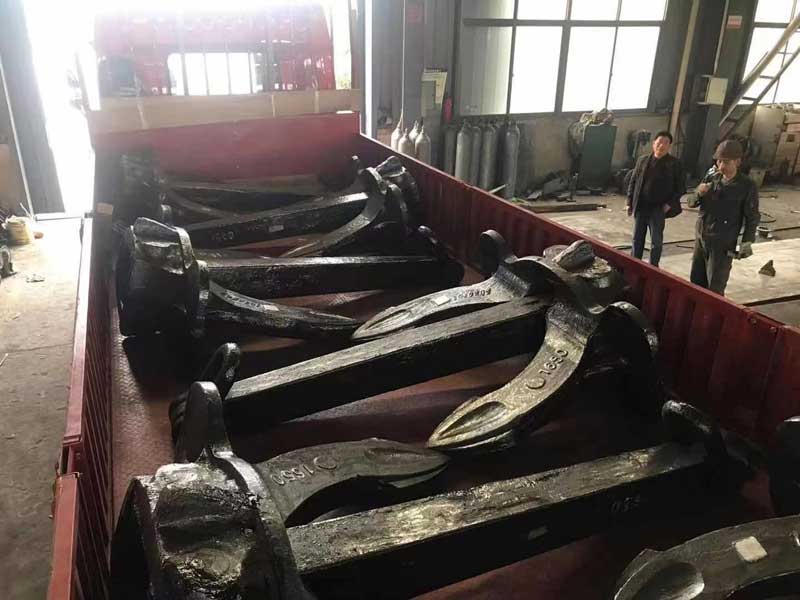 Recommended Products