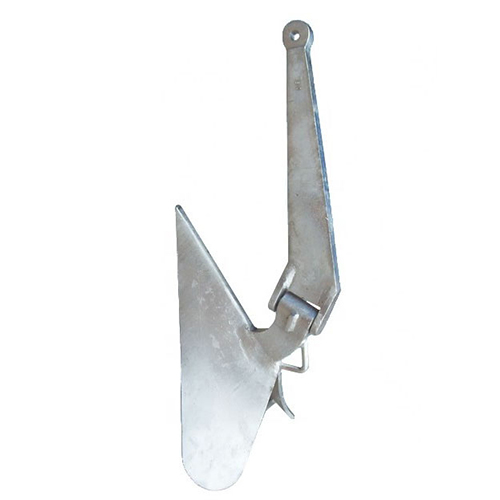 Plow Anchor
Weight: 7kg (15lbs) to 318kg (700lbs)
Material: Stainless steel 316L, carbon steel
Finishing: Hot-dip galvanized
Certificate: DNV, ABS, LRS, BV, LR, etc.
Applications: for yachts, fish farm, and aquaculture
Customized service is available
Plow Anchor is also known as CQR Anchor or Plough Anchor. It is named due to its obvious resemblance to the farming implement. Our plow anchor is constructed of high-grade carbon steel and stainless steel 316L for extra strength and durability. Weight ranges from 7kg to 318kg. The anchors have been hot-dipped galvanized for maximum corrosion protection. We can also provide customization solutions according to customer needs.
The plow anchor is a rod anchor with a fixed anchor pawl, a single pawl, and its rod is located at the upper part of the anchor shank, shorter. It also features a quick-setting geometric design that provides stability and great holding power regardless of the bottom condition.
Plow anchor is welded by steel pipe and sheet, and used for small barges and other ships in the inland river. It works well in a variety of seabeds including sand, clay, and firm mud. They also perform better than most anchors in grassy and rocky conditions.
Boomarine is a professional marine equipment supplier. We offer everything for your ship's needs at competitive prices, and we offer unparalleled services. Our plow anchors can be provided classification society certificates, such as DNV, ABS, LRS, BV, LR, etc. Whether anchors, chains or fenders, you can find them at Boomarine.
Features of Plow Anchor:
Ideal for anchoring small barges and other ships in the inland river.
Unique shank design and weighted tip allow the anchor to fit snugly on bow roller and easily self-launch when released.
Greater fluke area provides more holding power.
The multi-functional design is ideal for use under sand, clay, and firm mud.
The fast geometry provides excellent stability and high support.
Can stow well in a roller at the bow, making it quick and easy to place.
How to Choose the Right Plow Anchor For Your Ships?
Generally speaking, as the size of the ship changes, the size of the plow anchor you need will change. Different size boats match the corresponding anchor, which can make the anchor play the greatest role. To determine how large the anchors you need, you can use the boat/anchor chart.
| | | | | | |
| --- | --- | --- | --- | --- | --- |
| Boat Length(m) | Boat Weight | Anchor Weight(kg) | A(mm) | B(mm) | C(mm) |
| Up to 3.8 | 200kg | 3 | 125 | 140 | 330 |
| 3.8-4.5 | 0.5Ton | 4 | 145 | 165 | 375 |
| 4.5-6.0 | 1.5T | 6 | 152 | 175 | 403 |
| 6.0-7.5 | 1.5-2T | 9 | 165 | 185 | 445 |
| 7.5-9.0 | 2-3.5T | 14 | 185 | 205 | 480 |
| 9.0-10.0 | 3.5-5T | 16 | 205 | 225 | 520 |
| 10.0-12.0 | 5-11T | 22 | 210 | 225 | 550 |
| 12.0-14.0 | 11-16T | 25 | 300 | 260 | 560 |
| 14.0-18.0 | 16-26T | 35 | 300 | 250 | 640 |
| 18.0-20.0 | 26-34T | 42 | 315 | 250 | 730 |
| 20.0-22.0 | 34-40T | 61 | 390 | 310 | 705 |
| 22.0-25.0 | 40-60T | 74 | 390 | 310 | 705 |
| 25.0-28.0 | 60-88T | 113 | 440 | 355 | 435 |
| 28.0-32.0 | 88-100T | 125 | 440 | 355 | 435 |
| TBA | TBA | 150 | 525 | 400 | 855 |
| TBA | TBA | 185 | 570 | 420 | 940 |
| TBA | TBA | 220 | 610 | 465 | 960 |
Recommended Products