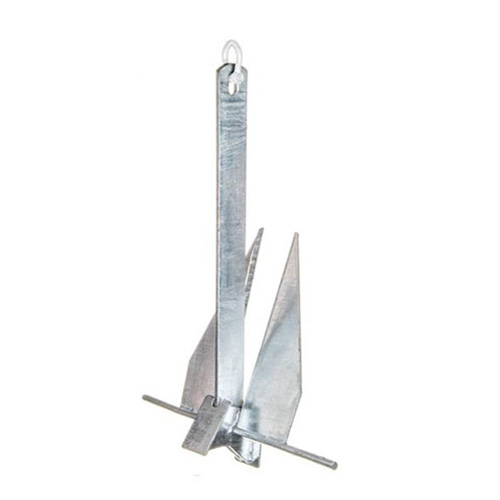 HHP Danforth Anchor
Anchor weight: 20kg to 25000kg
Material: Q235, stainless steel 316L as an option
Finishing: black painting, hot-dip galvanized
Mostly used on small boats.
It is best used in sand and mud.
Certificate: DNV, ABS, LRS, BV, LR, etc.
The HHP Danforth Anchor is a type of high holding power anchor, referred to as a stock-stabilized, pivoting fluke anchor. The anchor shank is made of high-strength steel, and the steel flukes are strong and wide, holding your ship in place under harsh conditions.
Its main characteristic is the placement of its large flukes at such an angle that they drive deep into the bottom to ensure good holding power through its relatively high resistance considering its size.
A danforth will not usually penetrate or hold in gravel or weeds. In boulders and coral, it may hold by acting as a hook. If there is much current, or if the vessel is moving while dropping the anchor, it may "kite" or "skate" over the bottom due to the large fluke area acting as a sail or wing.
Its lightweight makes it easy to retrieve and its compact flat aspect makes it easy to stow. On some danforth anchors, the stock can be folded parallel to the shank for easy storage.
The danforth anchors from Boomarine provide excellent holding power for your ship and are commonly used on yachts, fishing vessels, and other small craft. Our Danforth anchors are available in sizes from 20kg to 25000kg, use hot-dip galvanized treatment, with persistent corrosion resistance. And our marine anchors can be supplied with certificates from the classification society like ABS, LR, DNV, GL, BV, NK, KR, and CSS. If you are interested in our marine anchors, please feel free to consult us.
Features of Danforth Anchor:
Lightweight and mostly used on small boats.
Best choice to be used in sand and mud.
Easy to retrieve and store.
Good stability and long-lasting corrosion resistance.
High holding power and great durability.
It features an adjustable 32° and 45° shank/fluke angle to improve holding capability in common sea bottoms such as hard sand and soft mud.
Components of Danforth Anchor: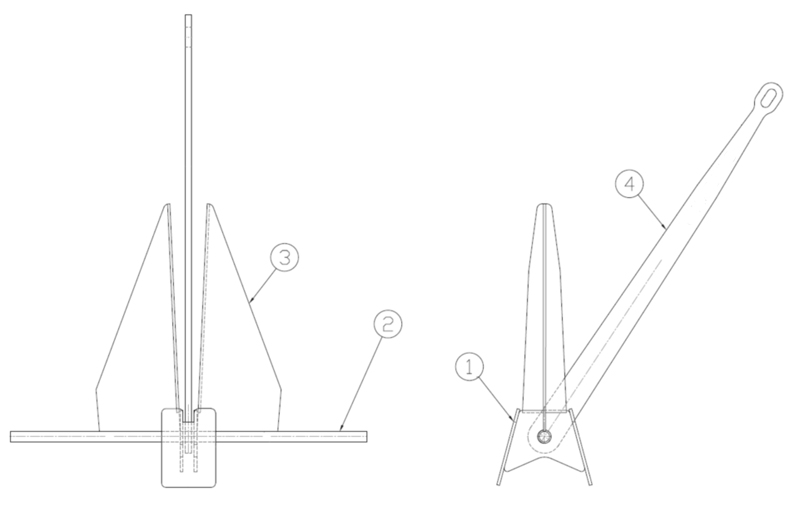 Specifications of Danforth Anchor: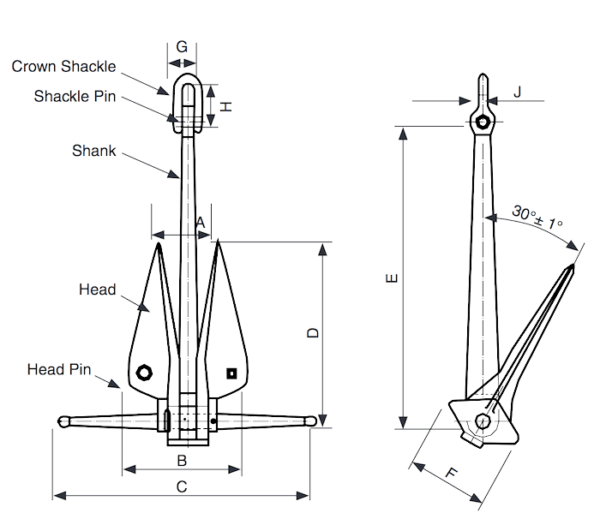 | | | | | | | |
| --- | --- | --- | --- | --- | --- | --- |
| Nominal Weight(kg) | A | B | C | D | E | F |
| 20 | 130 | 280 | 540 | 370 | 690 | 170 |
| 25 | 135 | 300 | 580 | 400 | 740 | 185 |
| 30 | 148 | 330 | 620 | 430 | 790 | 200 |
| 40 | 160 | 360 | 680 | 470 | 860 | 230 |
| 50 | 172 | 390 | 720 | 510 | 940 | 235 |
| 60 | 186 | 408 | 755 | 535 | 985 | 240 |
| 75 | 200 | 450 | 830 | 590 | 1080 | 260 |
| 100 | 216 | 490 | 930 | 640 | 1180 | 290 |
| 120 | 220 | 505 | 970 | 670 | 1230 | 300 |
| 125 | 234 | 520 | 1000 | 690 | 1270 | 310 |
| 150 | 242 | 550 | 1060 | 732 | 1348 | 330 |
| 200 | 266 | 600 | 1150 | 810 | 1490 | 360 |
| 250 | 294 | 650 | 1240 | 870 | 1600 | 390 |
| 276 | 296 | 660 | 1250 | 885 | 1620 | 400 |
| 300 | 312 | 690 | 1320 | 925 | 1700 | 420 |
| 400 | 342 | 750 | 1460 | 1010 | 1810 | 460 |
| 750 | 414 | 910 | 1800 | 1260 | 2300 | 560 |
| 1250 | 484 | 1070 | 2100 | 1490 | 2740 | 670 |
| 1500 | 512 | 1120 | 2200 | 1580 | 2850 | 700 |
| 2500 | 605 | 1217 | 2628 | 1864 | 3070 | 830 |
| 3000 | 640 | 1290 | 2790 | 1980 | 3330 | 880 |
| 4000 | 700 | 1420 | 3070 | 2170 | 3590 | 970 |
| 5000 | 735 | 1482 | 3200 | 2270 | 3840 | 1020 |
| 6000 | 800 | 1620 | 3500 | 2480 | 4100 | 1100 |
| 7000 | 840 | 1696 | 3850 | 2590 | 4180 | 1150 |
| 8500 | 910 | 1936 | 3940 | 2600 | 4490 | 1240 |
| 10000 | 940 | 2000 | 4150 | 2900 | 4640 | 1280 |
| 20000 | 1190 | 2350 | 5175 | 3695 | 5880 | 1635 |
| 25000 | 1280 | 2530 | 5570 | 3982 | 6330 | 1760 |
Products Photo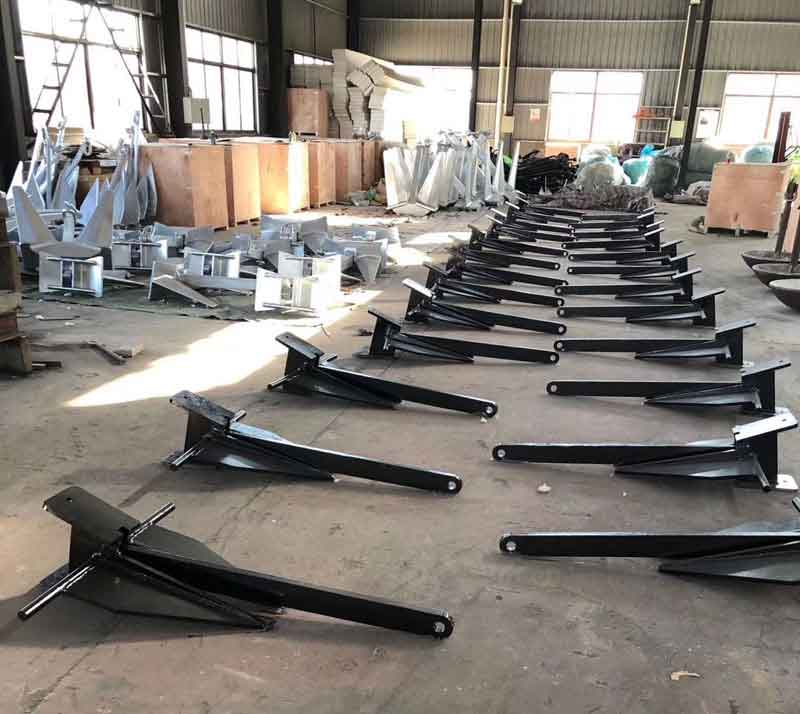 Recommended Products