Kidney Bollard is an important part of the mooring system, which is one of the most common bollards for jetty, quay and wharf. It is usually a short post on the wharf/quay, used to fix the mooring ropes to hold the ship.
Kidney Bollard is very simple, it is designed with a thicker diameter at the top (head/tip of the structure) to make the mooring rope more difficult to accidentally escape. It is made of ductile cast iron or cast steel, and the surface is sandblasted to Sa2.5, and then completely painted or with anti-rust primer, which can be used in harsh environments. Its mooring line capacity ranges from 10 tons to 200 tons, covering various mooring line capacity requirements from small ports to large bulk cargo handling terminals.
Kidney Bollard is particularly suitable for applications where tidal ranges are small, and is a popular choice for warping operations along quay-sides. We particularly recommend a vertical mooring angle of 0º to 40º for this type of bollard, although it can be used between -15º and 60º. For horizontal mooring, it works best at 180º. The wide size range makes it an ideal choice for small ship berths and large bulk cargo terminals.
As a professional marine equipment supplier in China, Boomarine can design and produce mooring bollards according to your requested drawings and technical requirements. All our bollards are provided with a warranty of at least 18 months. Usually, our bollards have a life span of 15 to 20 years. If you are looking for any mooring bollards, Boomarine will be your best choice.
Features of Kidney Bollard
Long service life of up to 20 years.
Durable design and good corrosion resistance.
Ductile cast iron and cast steel materials are suitable for extreme weather.
Mooring purpose applications up to 200 tons.
Perfect for multi-use berths.
Special designs are available upon request.
The cost-effective, simple design and ease of use make it an economical solution for securing ships through mooring rope winding methods.
Applications of Kidney Bollard
Small ship berth
Large bulk cargo terminal
Oil & Gas terminals
Commercial jetty
Container & Fishing wharfs
Difference Between Ductile Cast Iron & Cast Steel
Ductile cast iron and cast steel are the most commonly used materials for kidney bollards. Both can be used in various applications.
Ductile Cast Iron
Cast Steel
Properties
Quality
Equivalent standards
Quality
Equivalent Standards
GB/T1348-2009
QT450-10
ISO
450-10
ASTM
65-45-12
GB/T11352 ZG230-450
ISO
23-450W
ASTM
65-35
Yield Strength
≥310 Mpa
≥310 Mpa
≥31 Mpa
≥230 Mpa
≥230 Mpa
≥240 Mpa
Tensile Strength
≥450 Mpa
≥450 Mpa
≥448 Mpa
≥450 Mpa
≥450 Mpa
≥450 Mpa
Elongation
≥10%
≥10%
≥12%
≥22%
≥22%
≥24%
Parameters of Kidney Bollard:
| | | |
| --- | --- | --- |
| Type | Capacity (ton) | Bolts |
| BMS-K15 | 15 | 4xM24 |
| BMS-K30 | 30 | 4xM30 |
| BMS-K50 | 50 | 4xM36 |
| BMS-K80 | 80 | 5xM42 |
| BMS-K100 | 100 | 7xM42 |
| BMS-K125 | 125 | 7xM48 |
| BMS-K150 | 150 | 7xM48 |
| BMS-K200 | 200 | 7xM56 |
* Specific size designed according to requirements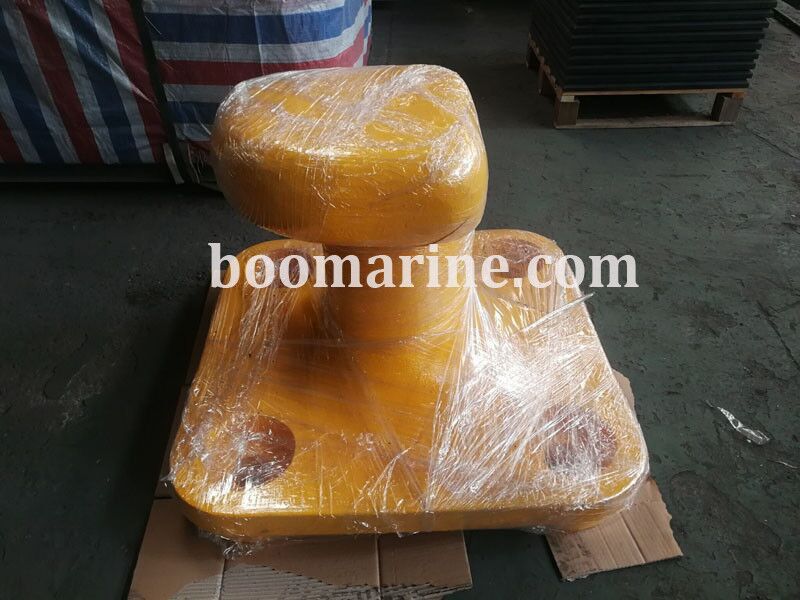 FAQ
Recommended Products