Pillar Bollard is a mooring and towing fitting installed on berth or pier to belay the mooring and towing ropes. It is made of durable ductile cast iron or cast steel to withstand use in harsh environments. And ductile iron is our preferred because it has high corrosion resistance and high tensile strength, which can save a lot of maintenance time and cost.
The Pillar Bollard is small, but can reach a capacity of 200 tons according to the requirements. It can withstand extreme weather conditions and excessive force. Pillar bollard is suitable for a small tidal range application and needs to avoid steep rope angles if possible, and ideal for warpage operations. Because of its 360-degree load range, it can also be placed on all sides of the pier.
The bollard is well painted with epoxy primer and middle coat, and polyurethane topcoat against corrosion. Therefore, it has high corrosion resistance.
As a professional marine equipment supplier, Boomarine can offer a variety of Mooring Bollards to meet different mooring needs. We can also provide custom-made mooring bollards or OEM services. If you are interested in our products, please feel free to contact us.
Features of Pillar Bollard
Can reach a capacity of 200 tons according to requirements.
Safety factors can be adjusted.
Suitable for warpage operations.
Can be used in all directions of the pier.
Can withstand extreme weather.
High strength and high corrosion resistance.
Very suitable for multi-purpose facilities.
Applicaitons of Pillar Bollard
Port: Bulk minerals, industrial oil and gas and liquid pier berth materials unloading and heavy-duty lifting facilities.
Business Terminal: Rolling Ship, Ferry, Container and Fishing Pier Local Administration, Leisure Pier and Pier.
Typical Materials of Pillar Bollard
Ductile cast iron and cast steel are the most commonly used materials for the mooring bollard. Both of them have their advantages during applications.
Ductile Cast Iron
Ductile cast iron has high corrosion resistance and is a cost-effective economic choice. It is more suitable for a warm environment. Ductile cast iron bollard is often heavier due to its thicker cross-section. And it can avoid coating damage, which provides clearer cast details, such as names and serial numbers.
Cast Steel
Cast steel is better in cold climatic conditions. A small repair can be carried out by qualified staff, and the guard column can even be welded to the existing steel structure. You may need regular inspections and maintenance to ensure long-term failure work life. It is highly recommended to perform impact tests in cold weather applications.
Parameters of Pillar Bollard:
| | | |
| --- | --- | --- |
| Type | Capacity(ton) | Bolts |
| BMS-P10 | 10 | 4xM20 |
| BMS-P15 | 15 | 4xM24 |
| BMS-P30 | 30 | 4xM30 |
| BMS-P50 | 50 | 7xM36 |
| BMS-P75 | 75 | 7xM42 |
| BMS-P100 | 100 | 7xM48 |
| BMS-P150 | 150 | 8xM56 |
| BMS-P200 | 200 | 8xM64 |
* Specific size designed according to requirements
Capacity Selection
Mooring points loads for general cargo vessels and bulk carries
Ship displacement (ton)
Mooring point load (ton)
20,000 up to and including 50,000
80
Above 50,000 up to and including 100,000
100
Above 100,000 up to and including 200,000
150
Above 200,000
200
Photos of Pillar Bollard: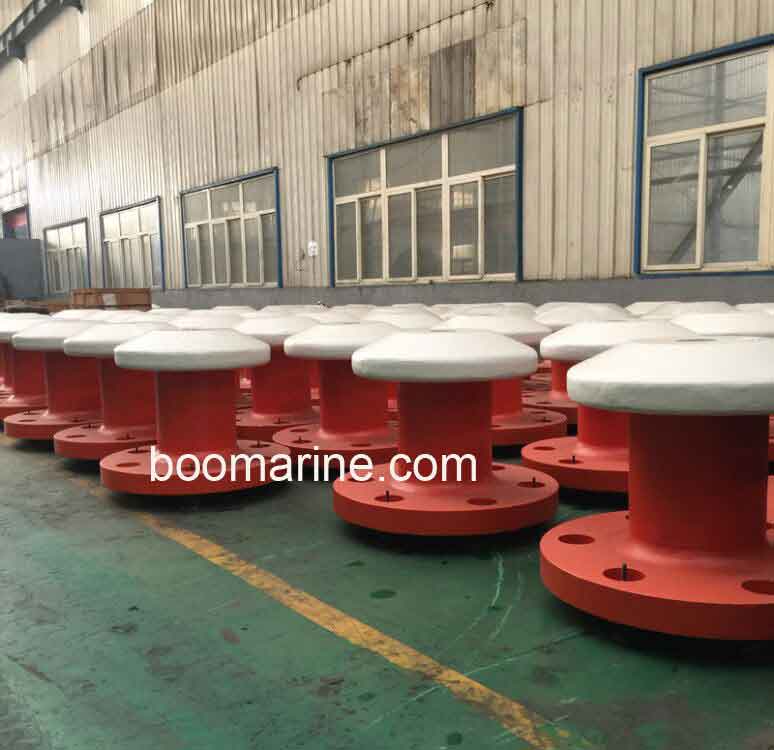 Recommended Products