Double Bitt Bollard is one of the oldest bollards used in jetty, quay and wharfs. Because of its double horn shape, it is often called a twin horn bollard. It is designed with a narrow base to accommodate the limited dock space in the work area.
Double Bitt Bollard is a direct improvement of Single Bitt Bollard, which can accept multiple mooring ropes without affecting the mooring lines of adjacent ships. And concrete is optional to enhance the stability of the wharf. It is made of ductile cast iron or cast steel. These materials are strong and corrosion-resistant, allowing bollards to enjoy a long and trouble-free service life. Its mooring line capacity can reach more than 200ton, which can withstand use in harsh environments.
It is suitable for a lower angle, horizontal ±180°, vertical +60°/-15. Besides, the horns on the double bitt bollard prevent ropes or wires from "climbing up" on the bollard during towing, and allow for easy and controlled checking.
The double bitt bollard provided by Boomarine has a good quality guarantee and a working life of up to 20 years. At the same time, we can also provide customized designs upon request. In addition, we also supply other types of mooring bollards. If you have any needs, please feel free to contact us.
Features of Double Bitt Bollard
Capacity is normally higher than 200ton.
Suitable for a lower angle.
Long service life, up to 15-20 years.
Multiple lines could share one bollard without affecting the mooring lines of adjacent ships.
The surface is coated externally with an anti-corrosion protective finish, without any visible flaws or imperfections.
Perfect for multi-use berths.
Applications of Double Bitt Bollard
Bulk terminals, RoRo and cruise terminals
Oil and LNG facilities
Container berths
Local authority, Recreational jetties & marinas
Parameters of Double Bitt Bollard:
| | | |
| --- | --- | --- |
| Type | Capacity (ton) | Bolts |
| BMS-D20 | 20 | 8xM20 |
| BMS-D30 | 30 | 8xM22 |
| BMS-D50 | 50 | 8xM30 |
| BMS-D75 | 75 | 10xM36 |
| BMS-D100 | 100 | 10xM42 |
| BMS-D125 | 125 | 10xM42 |
| BMS-D150 | 150 | 10xM48 |
| BMS-D200 | 200 | 10xM56 |
* Specific size designed according to requirements
Bollards Capacity Selection
Mooring points loads for general cargo vessels and bulk carries
Ship displacement (ton)
Mooring point load (ton)
20,000 up to and including 50,000
80
Above 50,000 up to and including 100,000
100
Above 100,000 up to and including 200,000
150
Above 200,000
200
Photo of Double Bitt Bollard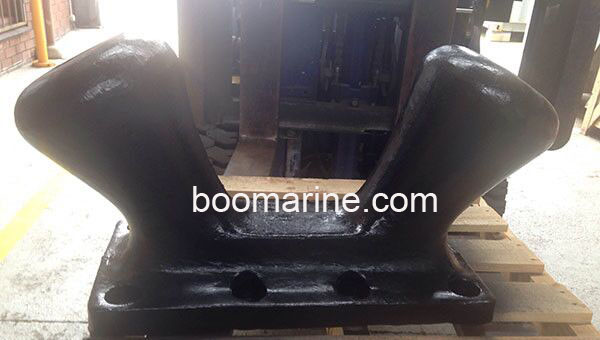 Why Choose Us?
1. Quality Assurance and Inspection
We guarantee quality not only because we have complete and strict management, production and inspection processes to control quality. While avoiding details of errors, we also attach great importance to customer satisfaction with product quality. More importantly, general products can provide Mill Test Certificate, and most of our products have passed CCS, ABS, DNV, BV, NKK, KR, LR, GL, RINA and other certifications.
2. Efficiency
Your request promises to get a response within 24 hours. Our experienced sales team obtains technical support from our engineering team to ensure fast quotations and good communication.
3. On-time delivery
We have strict production plans and professional follow-up procedures to control production time. Customers will be notified of the production process in time. In addition, we work with reliable logistics partners to ensure that the goods are delivered to you on time.
4. Customization
If you need customized services, our experienced engineers can design products according to your requirements or applications.
5. Product range
Can provide all marine equipment, accessories and technical solutions.
6. After-sales service
After delivery, we will keep track of the delivery. Once the goods arrive, we will actively contact customers for feedback.
Recommended Products