T Head Mooring Bollard is also called Tee bollard or Tee-head bollard, specially designed for carrying wire ropes. This design has a "T" shaped top, hence the name. Because of its simplicity, it stands out in many parts of the world.
T Head Bollard is made of ductile iron or cast steel, using advanced casting technology, and its capacity ranges from 10ton to 200ton. The surface is coated with epoxy paint, which looks smoother and more beautiful, and also has high corrosion resistance. The base can also be of different shapes, such as round, square, semi-circular, etc., and can also be customized. T head bollards along with staghorn bollards can handle higher line load angles than single bitt bollards and kidney bollards. It is an ideal choice for everything from small leisure terminals to the largest bulk terminals.
T Head Bollard is widely used in berths for bulk minerals and liquids. It provides a simple yet efficient method for fulfilling mooring requirements to allow the safe securing of vessels next to jetties, wharves, berths and dolphins in ports and harbors.
As a leading marine equipment supplier, Boomarine strives to provide mooring bollards with superior service life and resistance to physical and corrosive environments. The products we provide will guarantee quality and reasonable price, which ensure our cooperated customers can get the maximum value and low cost. If you have any needs, please feel free to contact us.
Features of Tee-head Bollard:
Small and very large load capacity sizes, usually from 10 tons to 200 tons.
Rugged and durable design, extremely low maintenance.
Narrow footprint for limited space installations.
Multiple mooring line capabilities.
High stability and high corrosion resistance.
Suitable for a steeper rope.
Applications of Tee-head Bollard:
Bulk mineral & liquid terminal berths
Local authority, Recreational jetties & marinas
Container Terminals
Commercial Ro-Ro, ferry, fishing wharfs
Industrial Oil & Gas Terminals
Parameters of Tee-head Bollard:
| | | |
| --- | --- | --- |
| Type | Capacity (ton) | Bolts |
| BMS-T10 | 10 | 4xM20 |
| BMS-T15 | 15 | 5xM24 |
| BMS-T30 | 30 | 5xM30 |
| BMS-T50 | 50 | 5xM36 |
| BMS-T80 | 80 | 5xM42 |
| BMS-T100 | 100 | 7xM42 |
| BMS-T125 | 125 | 7xM48 |
| BMS-T150 | 150 | 7xM48 |
| BMS-T200 | 200 | 8xM56 |
| BMS-T250 | 250 | 8xM64 |
| BMS-T300 | 300 | 10xM64 |
* Specific size designed according to requirements
Different Materials of Mooring Bollards
There are also some different materials for you to choose from, including spheroidal graphite (SG) cast iron / Ductile cast iron, cast steel and grey cast iron.
| | | |
| --- | --- | --- |
| Material | Standards | Grade |
| Ductile/ SG Cast iron | ASTM536 | 65-45-12 |
| Cast steel | ASTM A27 | 65-35 |
| Anchor bolts galvanised | ISO 898 | G.R.8.8 galvanised |
| Blasting | ISO 12944 | SA2.5 |
| Paint | ISO 12944 | Class C5M |
Ductile Cast Iron has more corrosion resistance than steel and can tolerate compromised coatings better than steel. Ductile cast iron is more fluid during the casting stage which results in a smoother finish.
Cast Steel is available in a wide range of strengths, this allows the bollard to be commercially competitive versus thicker cast iron bollards. The ductility of cast steel gives the needed structural margin in the event of an overload situation.
Grey Cast Iron is excellent corrosion resistant and cheaper per unit weight but the need for thicker wall sections and poor inferior mechanical performance such as low strength and low impact resistance make grey cast iron the last material for marine mooring bollards.
Mechanical Properties
Material
Tensile Strength
(Rm) N/mm2
Yield Point
(Rel) N/mm2
Break Elongation
(A)%
SG Iron
≥450
≥310
12
Cast Iron
≥250
—–
—-
Cast Steel
≥450
≥230
22
Bollards Capacity Selection
Mooring points loads for general cargo vessels and bulk carries
Ship displacement (ton)
Mooring point load (ton)
20,000 up to and including 50,000
80
Above 50,000 up to and including 100,000
100
Above 100,000 up to and including 200,000
150
Above 200,000
200
Photos of T-head Bollards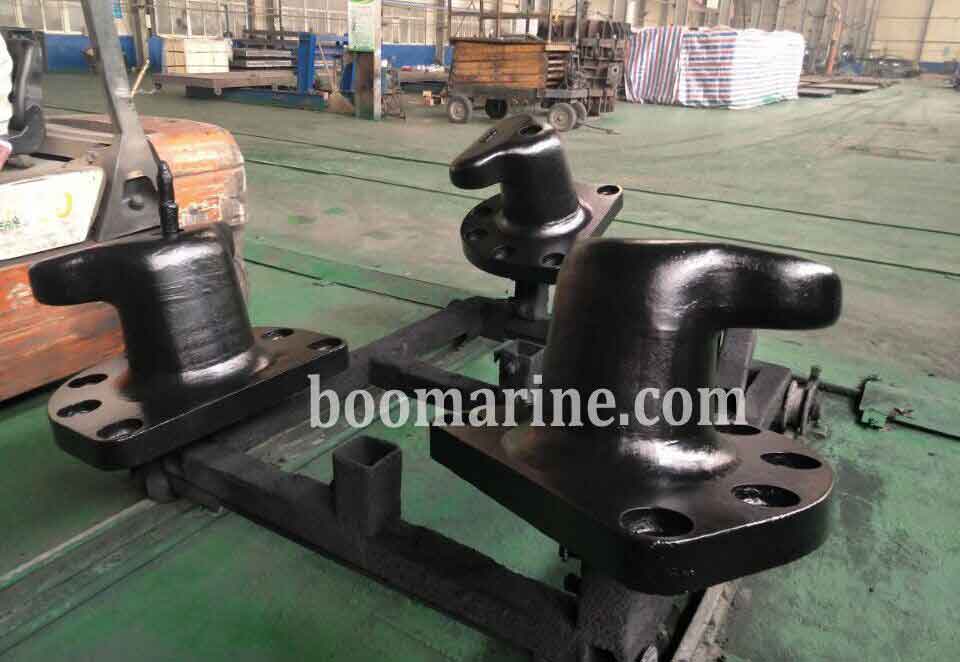 Why Choose Us?
Have complete and strict management, production and inspection processes to control the quality and avoid errors in detail.
Strong design and production capacity.
Strict inspection, including incoming inspection, flaw detection, etc., must be double-checked.
Guarantee of advanced factory facilities.
Respond to any inquiry within 24 hours with the design or efficient solution of our engineers or technical support staff.
Provide professional customized services according to customer requirements.
Delivery on time, because we have a strict production plan and professional follow-up process.
Moderate price and professional service.
Recommended Products