Single Bitt Bollard is a common mooring bollard, very often also known as pillar type bollard. It is designed and manufactured for areas with a wide tidal range.
Single Bitt Bollard is usually made of cast steel or ductile cast iron, installed with 4-8 bolts, and can be accepted by multiple mooring lines to withstand use in harsh environments. It has different capacities, from 20 tons to 200 tons, and also a larger capacity as required of up to 400 tons is available. The surface is coated with rust paint, and the color can be changed according to requirements.
This bollard is suitable for high angles mooring, the face angle of cable is -45 ~ +45 (vertical), 0~1800 (horizontal). Besides, Boomarine also provides other types of mooring bollards, such as Pillar Bollard, Kidney Bollard, Staghorn Bollard, T-Head Bollard, etc. And all of our mooring bollards can offer CS, ABS, GL, NK, LR, etc certificates.
Features of Single Bitt Bollard
Suitable for steep rope angles.
Small body with a large mooring line capacity of up to 200 tons.
Suitable for wide tidal variation areas.
Cast steel and ductile cast iron materials to withstand use in harsh environments.
Perfect for multi-use berths.
Multi lines may share a single bollard.
The surface is coated with rust paint with high corrosion resistance.
Applications of Single Bitt Bollard
Local authorities, casual pier.
Industrial oil and gas, bulk minerals and liquid pier berths.
Commercial rolling boat, ferry, container and fishing pier.
Material unloading and heavy-duty lifting facilities.
Ductile Cast Iron VS. Cast Steel
The normally used material for mooring bollards is cast steel and ductile cast iron.
Both of them have their advantages during applications.
Advantage of Ductile Cast Iron: More corrosion resistance than steel and can tolerate compromised coatings better than steel. Ductile cast iron is more fluid during the casting stage which results in a smoother finish.
Advantage of Cast Steel: Available in a wide range of strengths, this allows the bollard to be commercially competitive versus thicker cast iron bollards. The ductility of cast steel gives the needed structural margin in the event of an overload situation.
Ductile Cast Iron
Cast Steel
Properties
Quality
Equivalent standards
Quality
Equivalent Standards
GB/T1348-2009
QT450-10
ISO
450-10
ASTM
65-45-12
GB/T11352 ZG230-450
ISO
23-450W
ASTM
65-35
Yield Strength
≥310 Mpa
≥310 Mpa
≥31 Mpa
≥230 Mpa
≥230 Mpa
≥240 Mpa
Tensile Strength
≥450 Mpa
≥450 Mpa
≥448 Mpa
≥450 Mpa
≥450 Mpa
≥450 Mpa
Elongation
≥10%
≥10%
≥12%
≥22%
≥22%
≥24%
Capacity Selection
Mooring points loads for general cargo vessels and bulk carries
Ship displacement (ton)
Mooring point load (ton)
20,000 up to and including 50,000
80
Above 50,000 up to and including 100,000
100
Above 100,000 up to and including 200,000
150
Above 200,000
200
Photos of Single Mooring Bollard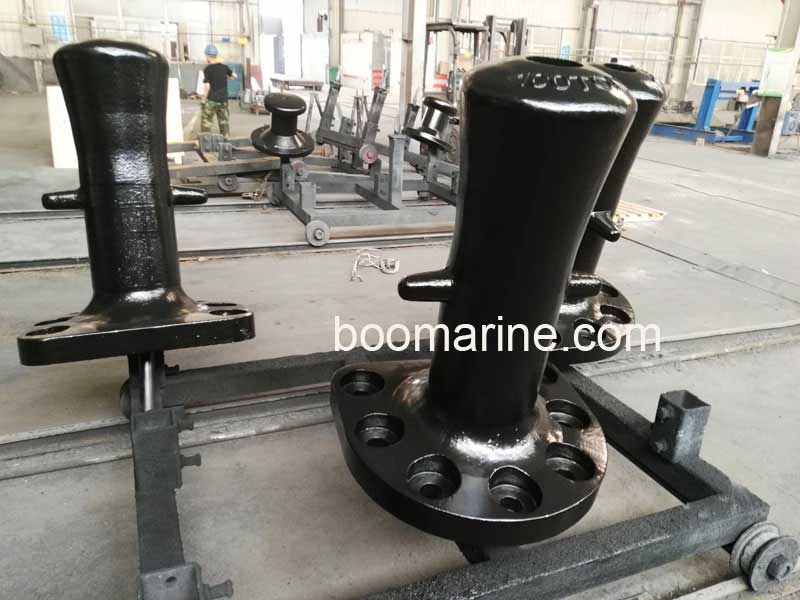 Why Choose Us?
11 professional engineers can provide overall solution services.
13 years specialising in marine equipment.
18 long-term cooperation supporting factories.
18 months quality guarantee.
24 hours day after-sale technical support.
Recommended Products