As a leading anti-collision device, pneumatic fenders have a long and successful history of protecting vessels in mooring operations. They are ideal for permanent and semi-permanent port applications, as well as for offshore ship-to-ship transfers. Our fenders are fast and easy to install, keeping suitable clearances between the hull and the jetty or vessels. its aim is to minimize potential damage during berthing operations. These fenders play a critical role in the safe operation of ship berthing.
The Structures of Pneumatic Fenders:

The pneumatic fender is constructed of an inner rubber, synthetic-tire-cord layer, and outer rubber. All of those shall be vulcanized firmly and proven by compress test.
- Outer rubber layer covers the outside of the fender to protect the cord layers and the inner liner rubber from abrasion and other external forces.
- Inner rubber layer of a rubber membrane that seals the pressurized air inside the fender.
- Synthetic-tyre-cord layer for reinforcement layer made of synthetic-tire-cord fabric, which maintains the internal air pressure of the fender.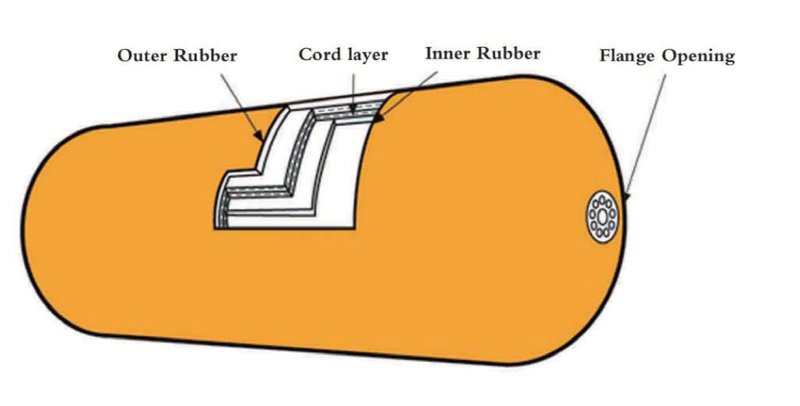 Dimensions & Performances:
(Download PDF at this page for more details)
Size
DxL (mm)
Initial Internal
Pressure(Kpa)
Guaranteed Energy
Absorption(GEA)
Reaction Force at
GEA Deflection (R)
Hull pressure
at GEA deflection (P)
--
---
Min. Value at
Deflection 60±5% KJ
Tolerance ±10% KN
Reference value Kpa
500 x 1000
50
6
64
132
600 x 1000
50
8
74
126
700 x 1500
50
17
137
135
1000 x 1500
50
32
182
122
1000 x 2000
50
45
257
132
1200 x 2000
50
63
297
126
1350 x 2500
50
102
427
130
1500 x 3000
50
153
579
132
1700 x 3000
50
191
639
128
2000 x 3500
50
308
875
128
2500 x 4000
50
663
1381
137
2500 x 5500
50
943
2019
148
3300 x 4500
50
1175
1884
130
3300 x 6500
50
1814
3015
146
3300 x 10600
50
3067
5257
158
4500 x 9000
50
4752
5747
146
4500 x 12000
50
6473
7984
154
Product Photos: