ISO13795 Double Bitt Bollard is also called ISO13795 Deck Bollard, which is a mooring and towing fitting based on ISO standards, designed and manufactured to install on ships for protecting mooring and towing ropes.
ISO13795 Double Bitt Bollard adopts a compact weldable steel plate and steel pipe design, and the yield point is not less than 235N/mm2. Its size ranges from 100mm to 600mm, and weight ranges from 29kg to 1391kg. The surface is coated with an anti-corrosion protective coating. All surfaces (including welding points) have no visible flaws or imperfections, and all surfaces that are in contact with the rope have no surface roughness or irregularity.
In addition, for the towing purpose, the maximum load on the rope is applied to the tugboat pull, and by using an eye splice at the end of the towing rope connects to the bollard.
As s China leading marine equipment supplier, Boomarine can provide all types of marine bollards. Besides, we can also provide custom bollards according to the customer's drawings. At the same time, we also offer other types of mooring bollards. All of our bollards have all classification certificates, such as ABS, LR, BV, NK, DNV, RINA, RS, IRS, CCS, etc. If you are interested in our products, please feel free to contact us.
Features of ISO13795 Double Bitt Bollard:
Using special materials, it can be used at low temperatures at -50°C.
The surface is coated with a corrosion protection coating, which has high corrosion resistance.
All surfaces that are in contact with ropes are smooth and effectively reduce the friction loss of the ropes.
There are different dimensions for customer choices, which can be customized according to requirements.
Technical Requirements of ISO13795 Double Bitt Bollard:
The bollard should be installed to keep the ropes as low as possible so as to reduce the loads to the bollard posts from the mooring/towing ropes.
An eye plate of ISO13795 Double Bitt Bollard would be provided for tying the stopping-off rope or chain.
Welding parts with no cracks, scars, holes, shrinkage, or alluvial soil such impact strength and appearance of the defects.
Dimensions: (mm)
Depending on the construction, welded steel bollards shall be classified into the following two types:
Type A – with compact base plate
Type B – with wide base plate
ISO13795 Bollard Type A – with compact base plate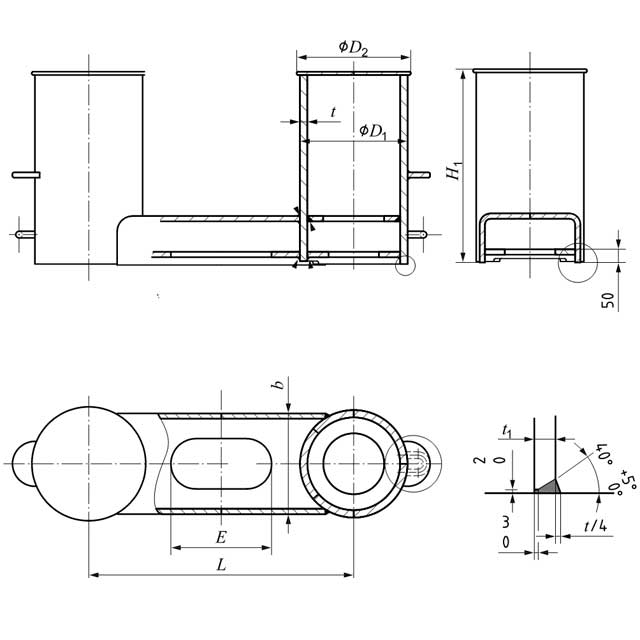 ISO13795 Bollard Type B – with wide base plate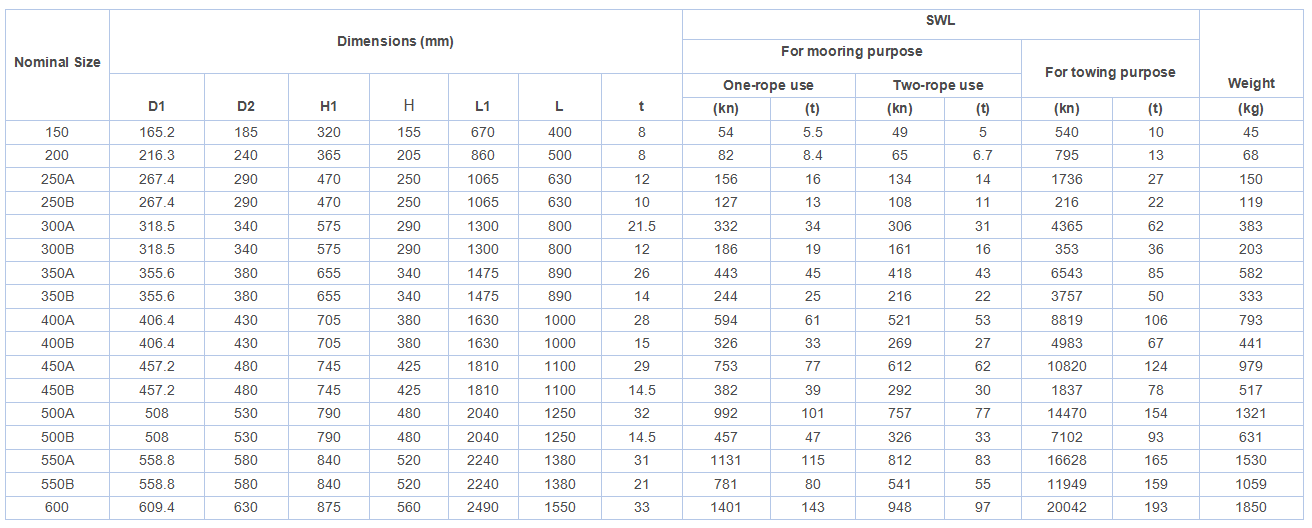 FAQ
Recommended Products