JIS F2001 Double Bitt Bollard is a type of mooring equipment installed on ships to mooring and towing ropes. It is based on Japanese Industrial Standards, and is mainly designed and manufactured according to berthing capacity and wharf structure to meet the safety and convenience of wharf, mooring, shifting and turning around.
JIS F2001 Double Bitt Bollard is mainly made by welding steel plates and steel pipes. Its appearance has no cracks, no defects or rust that are not conducive to use, and has a good smoothness. The nominal diameter ranges from 100mm to 800mm, and the weight ranges from 18.9KG to 3071KG. Its' appearance ropes are wire rope, manila and sisal fiber rope, synthetic rope, and so on.
The bollard can withstand use in harsh environments. Due to its dual horn shape, it can accept multiple mooring ropes. Because it is subjected to a lot of force during use, its base is required to be very firm. In order to prevent the rope from slipping off the pile, the top of the pile is usually covered with a pile cap slightly larger than the pile body. On ships, this bollard is usually installed on the bow, stern, and left and right decks of the middle.
Boomarine is a professional marine equipment supplier. In addition to JIS F2001 Double Bitt Bollard, we can also provide you with other standard marine bollards. And it is recognized by different classification societies, such as CCS, ABS, BV, DNV, LR, NK and other IACS members. For more information, please feel free to contact us.
Features of JIS F2001 Double Bitt Bollard:
High strength, not easy to deform.
Good craftsmanship, beautiful and practical.
The surface of the bollard is oxidized, which is not easy to be corroded.
The surface is without any visible flaws or imperfections.
Long service life, up to 15-20 years.
Modern ships, especially large ships such as container ships, oil tankers, bulk carriers, etc., can load and unload more than 10,000 tons of cargo within a few hours. As a result, the draught of the ship changes rapidly. Therefore, there are automatic mooring machinery and bollards, which can automatically retract and unwind the cables according to the changes in the cable tension to ensure the safety of the ship and the wharf.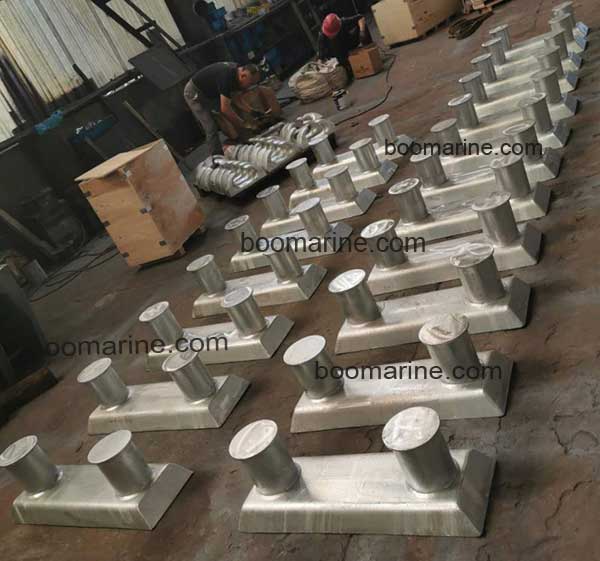 Dimensions: (mm)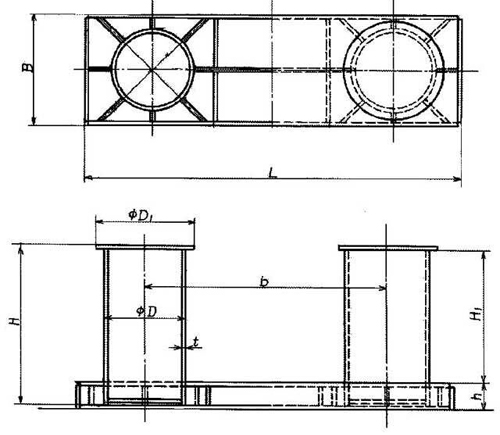 Nominal Size
Dimensions (mm)
SWL
Weight
Dn (mm)
D
D1
H
H1
t
b
B
h
L
(kN)
(kg)
100
114.3
145
196
150
10
250
165
50
445
29
18.9
125
139.8
180
246
190
10
315
195
60
540
39
29.4
160
165.2
210
316
250
10
400
225
70
670
49
44.7
200
216.3
270
378
300
10
500
290
85
860
78
79.5
250
267.4
330
470
380
11
630
360
100
1065
118
139
315
318.5
385
597
480
15
800
430
125
1300
196
261
355
355.6
425
663
530
17
890
480
145
1475
255
361
400
406.4
485
749
600
18
1000
550
160
1630
314
502
450
457.2
550
841
680
19
1130
620
170
1840
382
685
500
508
610
928
750
20
1250
690
190
2040
451
911
Recommended Products