NS2584 Marine Deck Bollard is a fixed structure with two short posts attached to the deck for fastening and operating cables. It is welded on the deck for mooring and towing, which is an important ship hardware device for ensuring ship safety.
NS2584 Marine Deck Bollard is designed according to the NS2584 standard. It uses high quality weldable steel plate refining, made by advanced technology and processing methods. The size ranges from 125mm to 710mm, and the weight also ranges from 25.9kg to 1532kg. The surface sandblasting to S2.5 and then spray one layer of shop primer. We can also custom according to customers' requirements.
The bollard can be loaded with two mooring ropes, and the fracture strength of each rope does not exceed the value in the table below. It is widely used in different types of ships, such as container ships, tankers, bulk ships, tugs, dry cargo ships, etc.
As a leading marine equipment supplier, Boomarine can provide a wide range of marine berth, reaching the China Classification Society standards. We can also provide custom-made marine bollards or OEM service, and CCS, ABS, BV, DNV, LR, NK, RINA and other certificates are provided according to customer requirements. Please feel free to contact us if you have any needs.
Features of NS2584 Deck Bollard:
Surface painting polishing, high corrosion resistance.
Round edge, effectively reducing the friction of mooring rope.
Semi-link fastening device, strong structure.
Larger top cover diameter to prevent dock lines from coming loose.
Long service life, up to 15-20 years.
Technical Requirements of NS2584 Deck Bollard:
Sharp edges need to be removed.
Welding parts with no cracks, scars, holes, shrinkage, or alluvial soil such impact strength and appearance of the defects.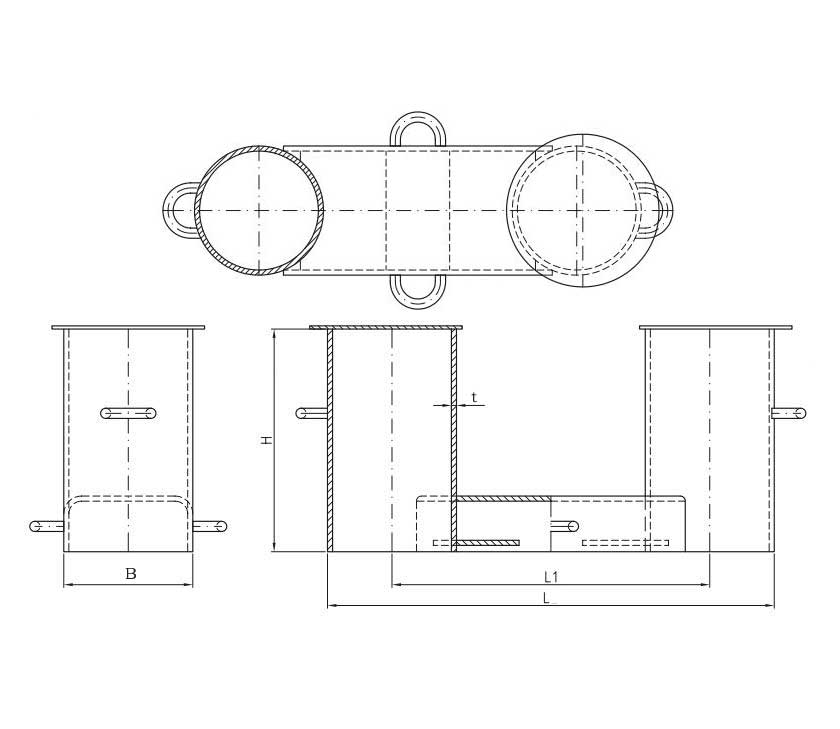 Nominal Size
Dimensions (mm)
SWL (kN)

Weight (kg)
L
L1
B
H
t
Mooring
Towing
125
455
315
140
250
10
45
130
25.9
160
568
400
168
300
10
55
155
37.2
200
719
500
219
400
12
100
285
75.2
250
903
630
273
500
12
130
365
124
315
1124
800
324
600
16
205
540
230
400
1406
1000
406
700
16
280
740
356
500
1758
1250
508
830
22
510
1300
723
600
2180
1570
610
1000
22
615
1550
1084
710
2461
1750
711
1100
25
815
2150
1532
Why Choose Us?
Wide product range: marine equipment, mooring equipment and terminal equipment, etc.
Strong design ability: We have a very experienced team, which is full of cooperative spirit, and can design the entire propulsion system according to different ships and requirements.
Processing and testing: We have advanced processing equipment and responsible teams. Our factory also has strict quality control processes and test skills.
After-sales service: You will get the world's after-sales service. Convenient, fast, efficient, global, etc.
Recommended Products