HDPE Pontoon is a unique dry dock system accessory, made from high density polyethylene using the blow molding method, with anti-corrosion, anti-freezing, anti-oxidation, and anti-ultraviolet characteristics. Its superior design prevents any disproportionate stress on the hull by distributing the weight of the boat evenly, which can make your boat more stable. Its environmentally friendly reinforced materials can avoid the erosion of seawater, chemicals, drugs, oil and water bodies.
There are 2 different sizes of HDPE pontoons, which are 50x50x40 cm and 50x50x30 cm. The top surface of the pontoon has a pattern without sharp corners and a non-slip design to ensure safety and stability. The four rounded and blunt corners avoid hazards such as slipping, splintered wood splinters and rusty nails in concrete, wood and steel facilities. The modular is cubes, which are connected by pins, and can be equipped with special railings, fasteners, bolts according to the environment on site.
Boomarine is a professional marine equipment supplier. The high-quality HDPE pontoons we provide have many years of quality assurance. It is easy to assemble and requires no maintenance. The modular floating dock – HDPE floating jetty is equipped with cleats, marine fenders, railings, gangways, the dock can berth different sizes of boats, and the boats can rise and fall with the water level. And It can be used for yachts dock, motorboat dock, kayak dock, etc. Also, we can provide customized solutions according to your needs. If you have any needs, please feel free to contact us!
Specifications of HDPE Pontoon
Size
50*50*40 cm or 50*50*30 cm
Material
High density polyethylene (HDPE), which is of good quality, environmental protection, low-temperature resistance, good durability, raw materials for one-time blow molding.
Surface
The pontoon has a flat appearance, no burrs and flashes, no effect on the use of cracks and deformation. The color of floating dock can be customized according to the requirements of the customers. There is no obvious color difference on a single dock. The color of the same batch of products is basically the same.
Thickness
The thinnest part is 5mm, Four ears (corners) are the thickest. The ears (corners) are solid.
Hygienic Index
Normal color and luster, no odor, no smell, no evaporation residue and decolorization test all meet the national standard
Performance
-60℃ to 80℃ can work normally, the service life reaches 15 years, corrosion resistance, oxidation resistance, free from seawater, drugs, no pollution, no damage to the environment, and will not affect the fish ponds.
Bearing Capacity
Max 350kg per square meter
Degree of depth: 30cm
Additive
Anti-aging, corrosion-resistant, anti-static, anti-ultraviolet
Subjected to wave forces
The safe use of water surfaces is within the sixth grade of wind-wave. In class 7-8 of wind-wave should limit the scope of use. In class 8-10 should be strengthened.
Wallop
300J
Diagonal tension
The single dock can bear more than 2500kg of tensile force without deformation and fracture.
HDPE Pontoon Features:
Polyethylene blow molding, no seam, strength, shock resistance to impact and strong, meet the environmental standards and recyclable recycling.
The overall modular construction is simple to install and you can assemble them to create whatever shape and size you like.
The configuration options are limitless.
High compression, the average compression load reaches 350 kg per square meter.
Made of high-density polyethylene, with anti-corrosion, anti-freeze, anti-oxidation and anti-UV characteristics.
There are patterns on the top surface of the pontoon, no sharp corners, and non-slip design to ensure safety and stability.
Lightweight, sturdy, low maintenance cost, long service life.
HDPE Pontoon Applications:
It is widely used in water engineering like boats docked at the pier, water floating platform, water stage, water sports pools for different purposes.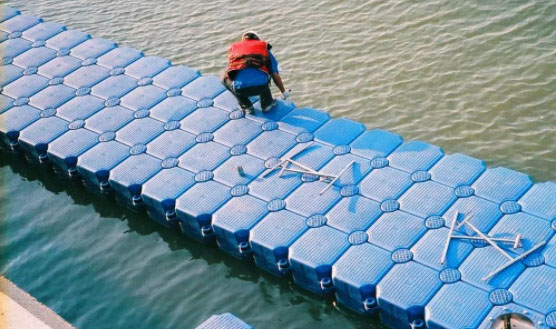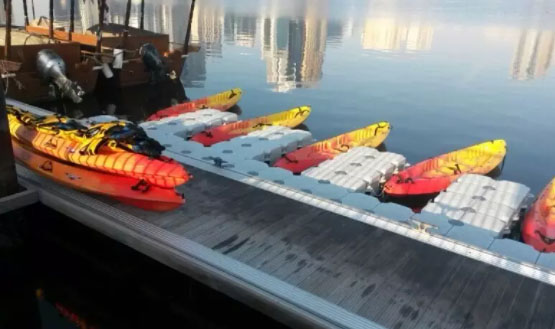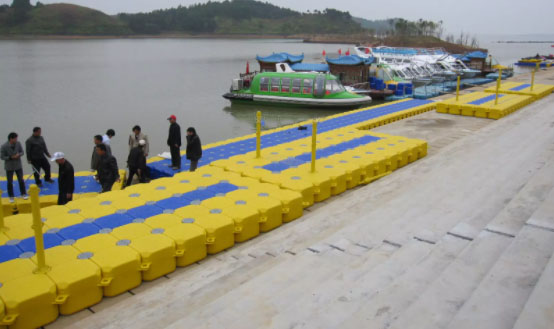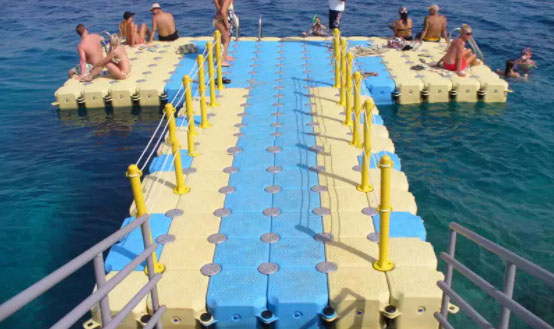 Configuration Parts of HDPE Pontoon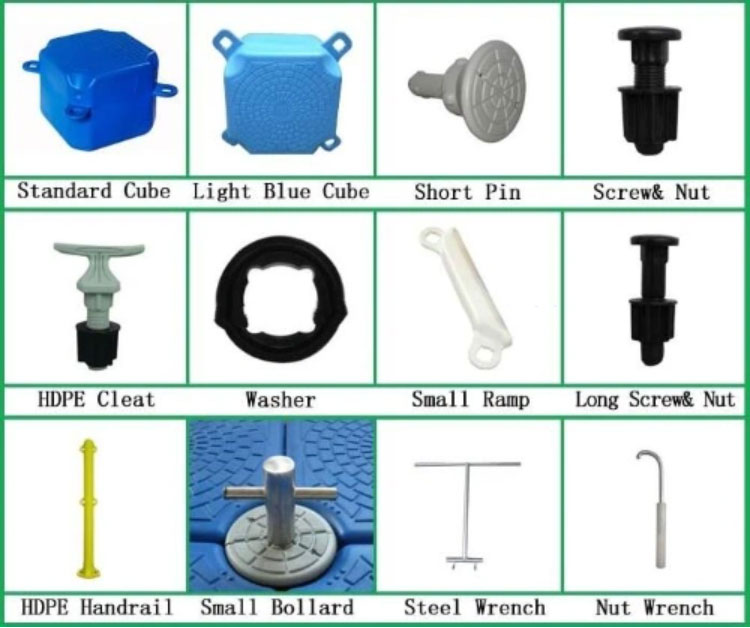 Connection Pin
It is used to lock the pontoon lugs together. When the pin is pushed in and turned, a quarter-turn locks the cube lugs together using two different locking systems. This ensures superior locking.
Side Fixation with Nut
The bolt and nut are used around the outside edge of the modular system assembly. Where two float edges meet, the two lugs are locked together by the nut and bolt side fixation.
Distance Disc
Pontoons are equipped with 4 lugs, positioned at various heights. Due to the space created between them, the spacer will be used to fill this empty space. Spacers are mainly used for the side fixation assembly.
Boat Cleat
Cleat is used to anchor your boat to the dock.
Other Types of HDPE Pontoons:
Diagonal length: 62cm
Edge width: 53.7cm
Side length: 30.97cm
Height: 40cm
Safe loading: 350kgs/sqm
Material: HDPE
Color: blue, black, gray, yellow, orange
Accessories: pin, bolt, washer, spanner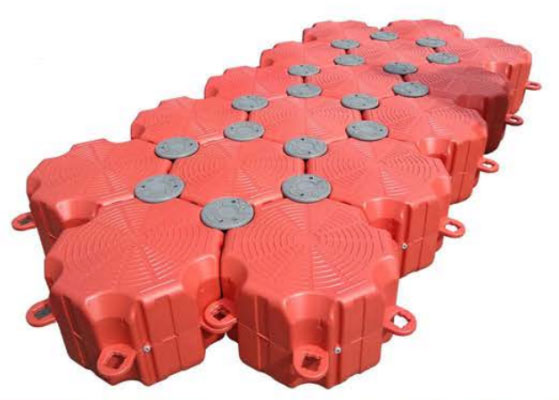 Installation Notes of HDPE Pontoons
The main connection and installation of the floating cube are the bolt holes around the cube. A single cube has four bolts to which visa bolts, pads and short pins (or long pins) can be attached. In this floating cube system, all shapes and sizes, we can also expand or assemble with this simple operating solution of yours. It is very easy to build larger floating platforms in the shortest time, suitable for a variety of applications, whether it is a water house or a movable stage for some activities on the lake or at sea.
Product Photos: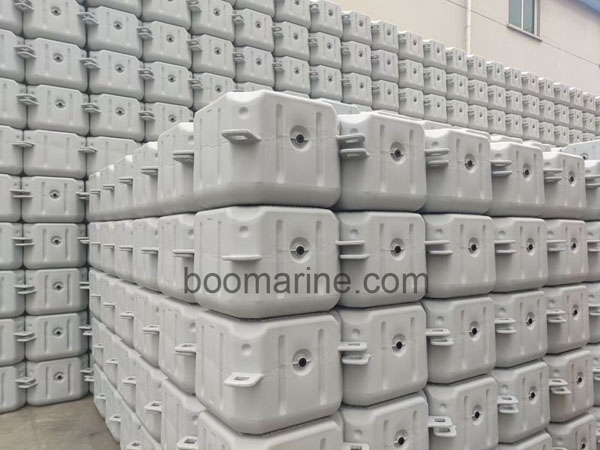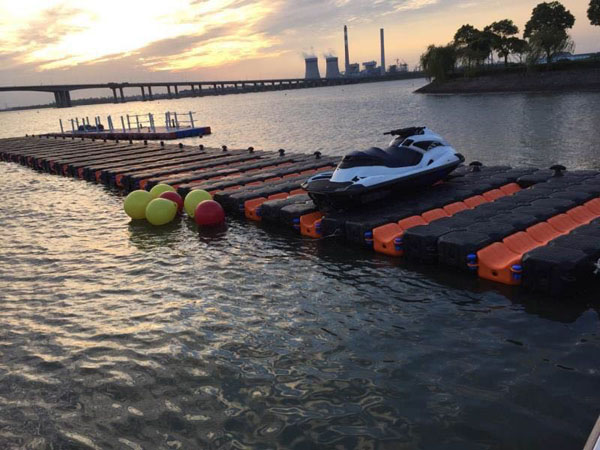 Recommended Products