Marine aids to navigation buoys are artificial signs that guide navigation, position and mark obstacles and warnings. Its outer shell is integrally formed from UV-stabilized colored polyethylene, which is protected from long-term degradation by natural radiation. Internally filled with closed-cell EPS foam for strength and buoyancy. And equipped with cast iron ballasts for stability.
This buoy has optimized performance due to its small size. Robust, lightweight polyethylene buoy tops are moulded in standard IALA high-visibility colors and shapes to meet a variety of installation requirements. Since the manufacturing process requires little maintenance, they have an expected lifespan of up to 20 years. The working life is 3 times that of steel buoys.
All marine buoys are successfully used to delineate various marine and coastal areas such as waterways, marinas, rivers, port entrances, oceans and offshore locations. As a professional marine equipment supplier, Boomarine's navigation buoy products are available in a variety of configurations and sizes and can be shipped economically worldwide.
Features of Navigation Buoy:
Excellent Chemical Stability
The buoys are constructed of marine-grade (UV stabilized) virgin polyethylene. It has excellent chemical stability and is highly environmentally friendly. All fasteners are made of 316 stainless steel.

Lightweight, Durable and Safe
Using imported food PE raw materials, lightweight and high buoyancy. Due to its high corrosion resistance and aging resistance, it is safe and durable.

Excellent Impact Resistance
The floating part is filled with closed-cell polyurethane foam with a density >45kg/m³, with internal steel support.

Simple and Beautiful
It is a one-time molding, no welding and gluing required. Unsinkable design with a beautiful appearance.

High Visibility
Bright colors, corrosion-resistant and durable. Will not fade in 15 years.

Long Working Life
The expected service life can reach more than 15 years, and environmentally friendly materials can be recycled.

Cost-effective
Color pigments are added to the HDPE material during production, which means the entire buoy does not need to be painted. In addition, the surface of the buoy is very smooth, and it is not easy to attach marine life, so the buoy needs to be cleaned less often than the steel buoy.
Dimensions: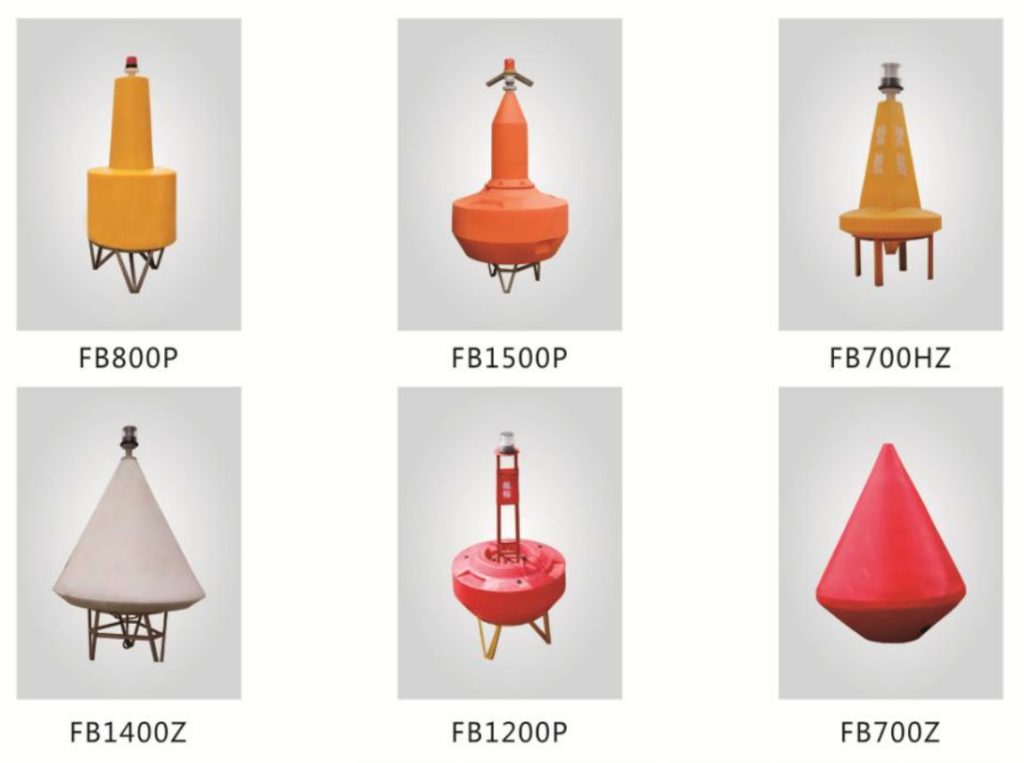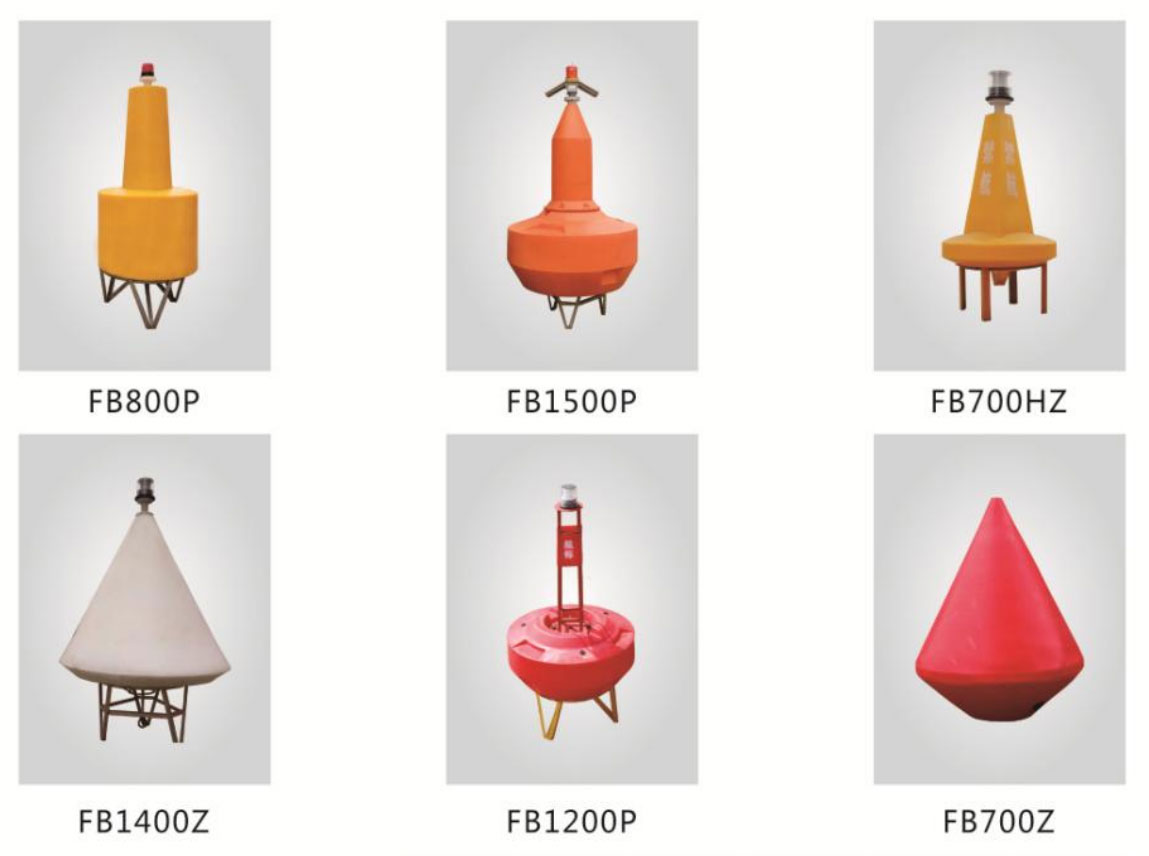 | | | | | |
| --- | --- | --- | --- | --- |
| Model | Diameter (mm) | Height (mm) | Thickness (mm) | Buoyance (kg) |
| FB700Z | 700 | 900 | 6 | 100 |
| FB700HZ | 700 | 1100 | 6 | 80 |
| FB800P | 800 | 1400 | 8 | 250 |
| FB1400Z | 1400 | 1400 | 8 | 680 |
| FB1200P | 1200 | 1600 | 10 | 500 |
| FB1500P | 1500 | 1800 | 10 | 900 |
| FB1800P | 1800 | 1800 | 10 | 1400 |
Products Photos: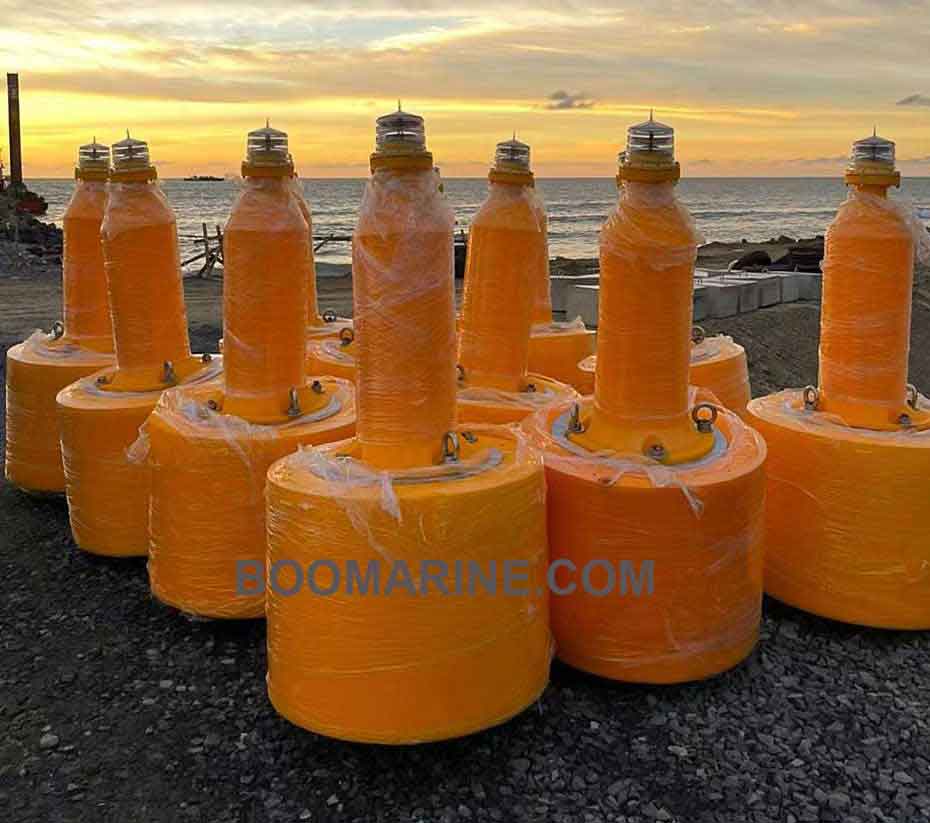 Marine Navigation Lights for Buoy
Navigation Light is an important part of navigation buoys. It can help people quickly find the location of the navigation buoys in the dark. It adopts an advanced structural design, and the control circuit adopts a micro-power control chip, which reduces the power consumption of the control circuit itself.
It also has a high-efficiency solar panel, with a dedicated solar battery as the power source. Its light source adopts a high-efficiency LED chip, which has the characteristics of high luminous brightness, low energy consumption and long life.
The shell of the product is made of marine-grade special materials, which have the characteristics of lightweight and corrosion resistance, which can reduce the weight of the buoy and facilitate installation and transportation. The lampshade is made of PC material, which has the characteristics of corrosion resistance, UV resistance and impact resistance.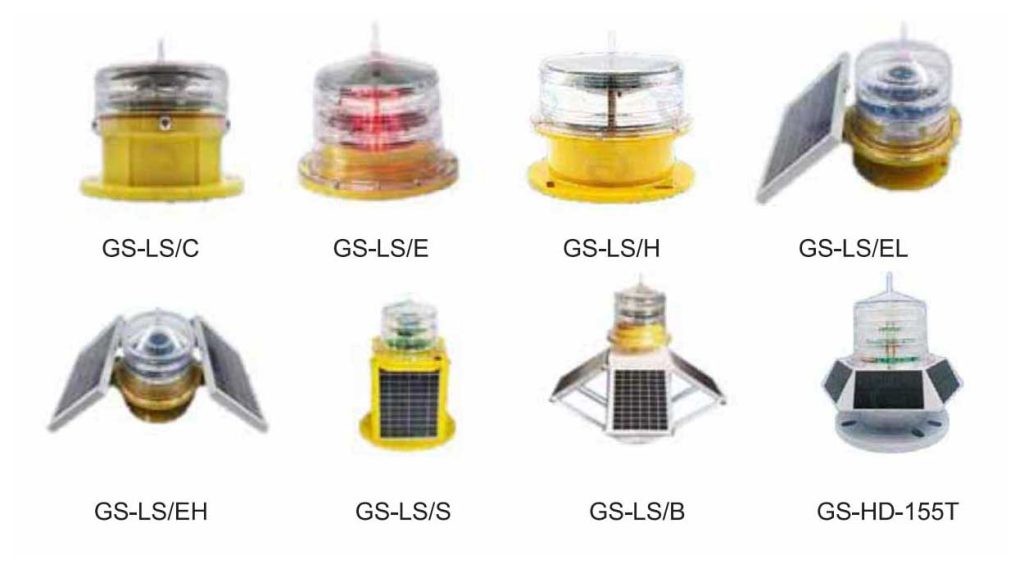 Type
Visual Range
Weight
(kgs)
Installation Size
Continuous Working Time
without Sunlight
GS-LS/C
1-2.5nm
0.3
Φ100mmxM6
15days work 12hrs a day
GS-LS/E
1-4nm
1.2
Φ170mmxM6
20days work 12hrs a day
GS-LS/H
1-5nm
3.2
Φ185-200mmxM8
15days work 12hrs a day
GS-LS/EL
1-5nm
3.5
Φ145mmxM11
15days work 12hrs a day
GS-LS/EH
1-6nm
4.2
Φ145mmxM11
20days work 12hrs a day
GS-LS/S
5-10nm
7
Φ220mmxM12
20days work 12hrs a day
GS-LS/B
5-10nm
8.5
Φ160mmxM12
20days work 12hrs a day
GS-HD/155T
1-5nm
3.6
Φ175-205mmxM16
30days work 12hrs a day
Why Choose Our Navigation Buoys?
We are a professional manufacturer and supplier of marine buoys, and we are committed to establishing long-term cooperative relations with our customers.
Our navigation buoys are made of imported food PE raw materials, which are light in weight and large in buoyancy. Due to its high corrosion resistance and aging resistance, it is safe and durable.
Our navigation buoys are of good quality, anti-ultraviolet, have good flexibility, good impact resistance, no cracking, and environmental protection.
Size, color or logo can be customized according to customer requirements.
The price is reasonable. You can save even more money and time in saving, replacing and repairing. The mold cost is low. The working life is 3 times that of the steel buoys.
FAQ:


If you have other questions, please feel free to contact us, we will reply to you within 24 hours!
Recommended Products