PE Floating Buoy Ball is a safety warning object for shallow water or near shore installations. It is made by a one-time rotomolding process, the shell is made of polyethylene plastic, the surface is smooth and clean, will not rust, and has the characteristics of aging resistance, impact resistance, ultraviolet resistance, seawater corrosion resistance and so on. The floating ball is filled with 15kg/m³ polystyrene foam, which does not absorb water and has strong buoyancy. Even if the shell is broken by strong impact, it will not affect its use. Both ends are connected by rings or flanges, which are convenient for installation, movement and use. The rings are made of 304 stainless steel.
Our PE floating buoy balls are available in a wide range of sizes and depths. The floating ball consists of one unit and is suitable where there is a limited need for buoyancy. In order to achieve a better warning effect, the buoy is often inserted into a sign buoy with a warning light or a luminous strip is added to the main buoy to make the buoy-buoy boundary clearer and the vision clearer.
Manufacturing Processes of PE Floating Buoy Ball
PE Floating Buoy Ball is crafted by rotational molding. Rotational molding is a process of method for forming hollow plastic products. The plastic powder is added to the mold, which is then heated and rotated along two mutually perpendicular shafts. Under the action of gravity and heat, the resin in the mold is gradually and evenly coated and fused to the inner surface of the mold, forming the desired shape. Then the mold is cooled and demoulded to obtain the product.
Comparing injection molding and blow molding, rotational molding is suitable for the production of large and medium-sized or complex plastic products with almost no internal stress and other advantages.

Due to the long processing time and high energy consumption of rolling forming process, the performance of raw materials has specific requirements. Through repeated tests and demonstrations of resin density and thermal stability, we have selected raw materials 100% suitable for plastic floating products, and established a stable channel of raw material suppliers. This also ensures the high quality and stability of the product.
At the same time, our company promises that 100% of the products we produce are made of new raw materials, and the waste materials generated in the production process will be destroyed or resold to recycling materials middlemen through formal channels.
Features of PE Floating Buoy Ball:
Eco-friendly: Recyclable polyethylene. No heavy metals. No ecological damage.
Impact Resistance: The outer shell is made of rotomolded plastic, and the inner layer of polyurethane foam is impact-resistant.
Lightweight: 3 times lighter than steel buoys of the same size, and the buoy will not be skewed in the event of a typhoon.
High Stability: Our polyethylene floating balls are designed to guarantee excellent buoyancy and remain unsinkable.
Corrosion Resistance: The shell of the buoy is made of PE material, which is resistant to acid, alkali and seawater corrosion.
High Visibility: IALA-compliant pigments are integrated directly into polyethylene. No painting required.
Inexpensive: The lowest prices on the market without compromising the quality, safety and performance of our marine buoys.
Low Maintenance Costs: UV-stabilized polyethylene limits marine growth and enables easy and quick cleaning "on board". Large maintenance intervals can result in significant cost savings.
Applications of PE Floating Buoy Ball:
Ship mooring
Public safety area
Marine barrier
Waterway safety barrier
Dimensions: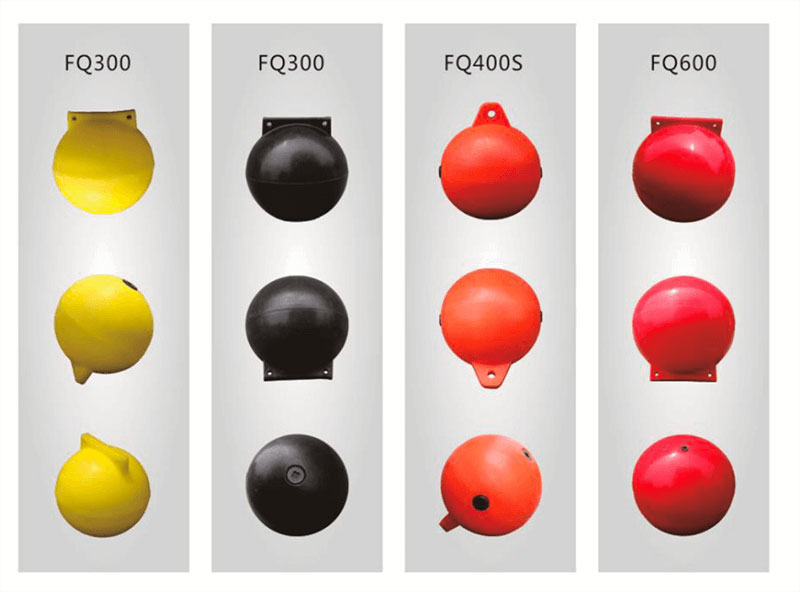 Name
Model
Diameter (mm)
Thickness (mm)
Buoyancy ( kgs )
Floating Buoy Ball
FQ-250T
250
4
8
FQ-300T
300
5
10
FQ-400T
400
5
25
FQ-400S
400
5
25
FQ-500T
500
5
55
FQ-600T
600
5
100
FQ-800T
800
6
230
FQ-305
305
8
10
FQ-381
381
5
23
FQ-457
457
6
40
FQ-600
600
6
100
Products Photo: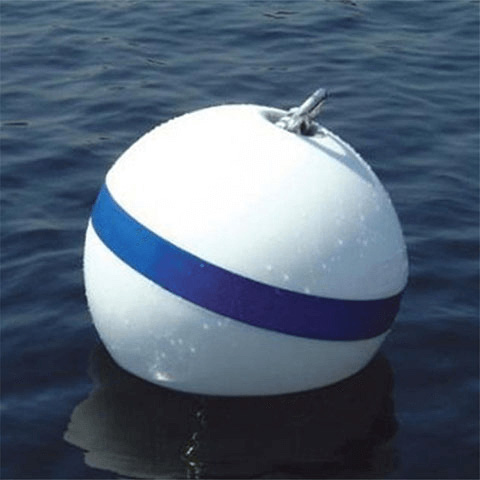 FAQ
Recommended Products