Pipe Floats, also known as Dredge Pipe Floats or Dredging Pipeline Floaters, are float-like objects made of highly abrasion-resistant, UV-resistant polyethylene. Its interior is filled with high-strength polyurethane closed-cell foam. As floats for discharge hoses, they are ideal for a variety of pumping and dredging applications because of their high flotation capacity, impact resistance, and aging resistance.
Two pairs of pipe floats form one group, and two pieces form one pair. The inner diameter of the pipe floats is the same (or slightly smaller) than the outer diameter of the HDPE dredging pipe, so the pipe floats can be firmly fixed on the HDPE dredging pipe without slipping. The two halves of the pipe floats are connected by bolts/nuts made of galvanized steel (or stainless steel, if required). Thanks to their excellent construction, dredge pipe floats can absorb or reduce the energy generated by ship collisions and protect the dredge pipe they support. Pipe floats are usually produced in orange or blue as a warning sign for other vessels in the vicinity. Other colors can be produced upon request.
Dredging pipeline is used to transfer the material to the requested area. There are many different material pipelines. Traditional pipe floaters are made of steel pipelines and floats. Now, the HDPE and other pipes have been widely used. To select the correct floaters, we should consider the arrangement of floaters, the materials to transfer, the length and thickness of the pipeline, matching with the high quality material and the filling of the inner EPS foam. All these factors ensure the safe and reliable operation of dredging pipeline.
Features of Pipe Floats:
Dredge pipe floats have always been the first choice for dredging jobs because of their many excellent properties:
Thick PE shell, with high wear resistance, high corrosion resistance and UV resistance;
The interior adopts environmentally friendly PU filler, which has excellent impact resistance and can withstand rough seas and ship collisions;
Light weight, easy to install and transport, low transportation cost;
Marine-grade galvanized fittings;
Longer service life, more than 3 times that of steel floats;
Excellent flexible system for harsh sea conditions;
Heat resistance: -60-80℃;
Colors are available.
Applications of Pipe Floats:
Pipe floats provide excellent support for dredging, mining, dewatering, pumping and many other applications. The snug, non-slip fit ensures that the float stays in place on the pipe and hose as it moves. The main applications are as follows:
Used for mine pipes to float on the water surface such as rivers, fairways, dams, ports, etc.
Facilitate inspection of dredged pipes.
Widely used in civil engineerings such as sand mining, dredging, estuary dredging, tidal flat water replenishment or large-scale reclamation.
Dimensions: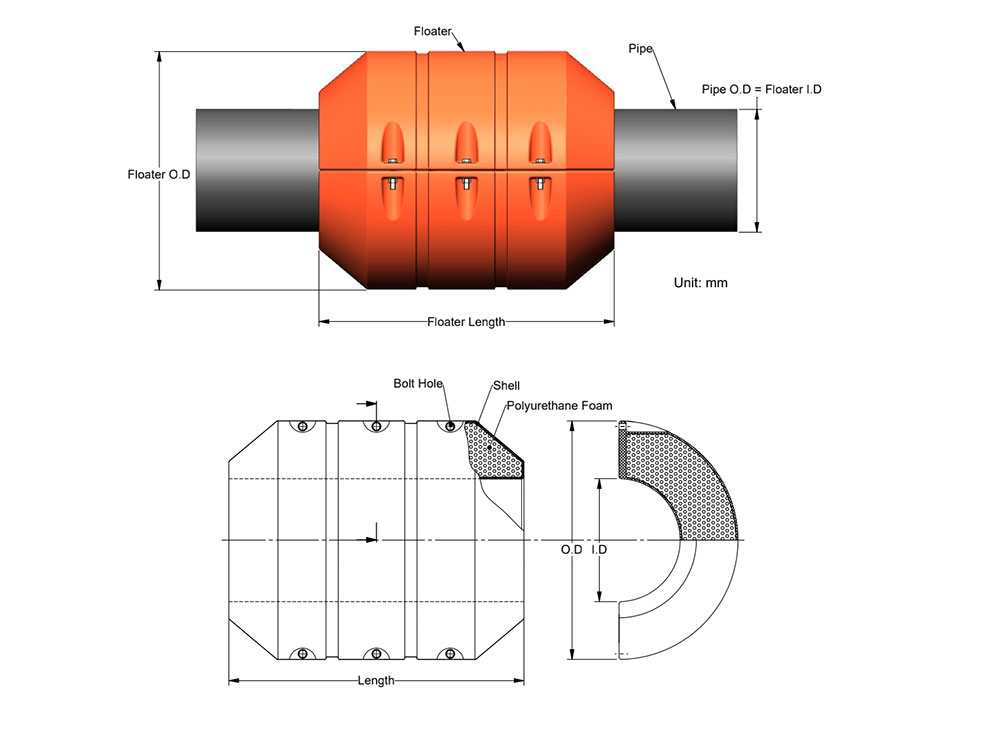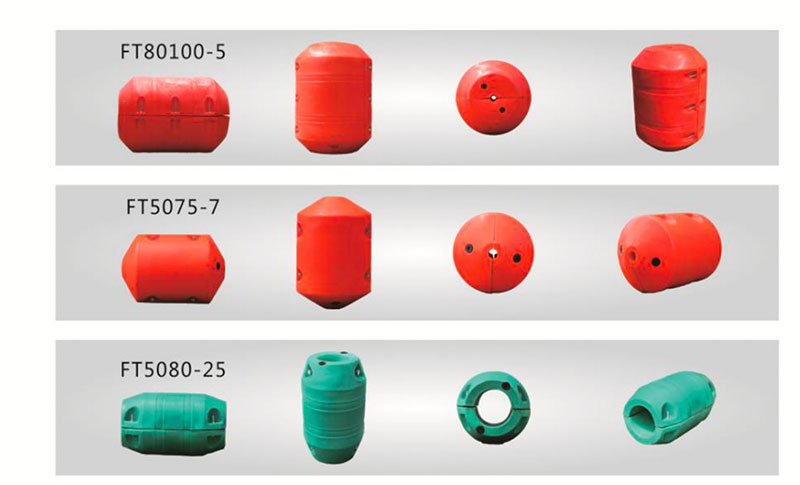 Name
Model
Hole Dia. (mm)
Floats Dia. (mm)
Length (mm)
Thickness (mm)
Buoyancy (kgs)
Pipe Floats
FT3060-12
120
300
600
5
35
FT3641-5
50
360
410
5
35
FT3645-5
50
360
450
5
35
FT30100-3
30
300
1000
5
60
FT5075-7
70
500
750
4
90
FT4590-15
150
450
900
5
120
FT5080-15
150
500
800
6
130
FT5080-20
200
500
800
6
130
FT5080-25
250
500
800
6
130
FT5590-28
280
550
900
7
190
FT7080-32
320
700
800
7
220
FT7080-36
360
700
800
7
220
FT60100-3
30
600
1000
7
220
FT60100-10
100
600
1000
7
220
FT80110-3
30
800
1100
6
520
FT80110-5
50
800
1100
6
520
FT80110-50
500
800
1100
6
520
FT100100-33
335
1000
1000
8
620
FT110140-22
220
1100
1400
8
1200
Products Photos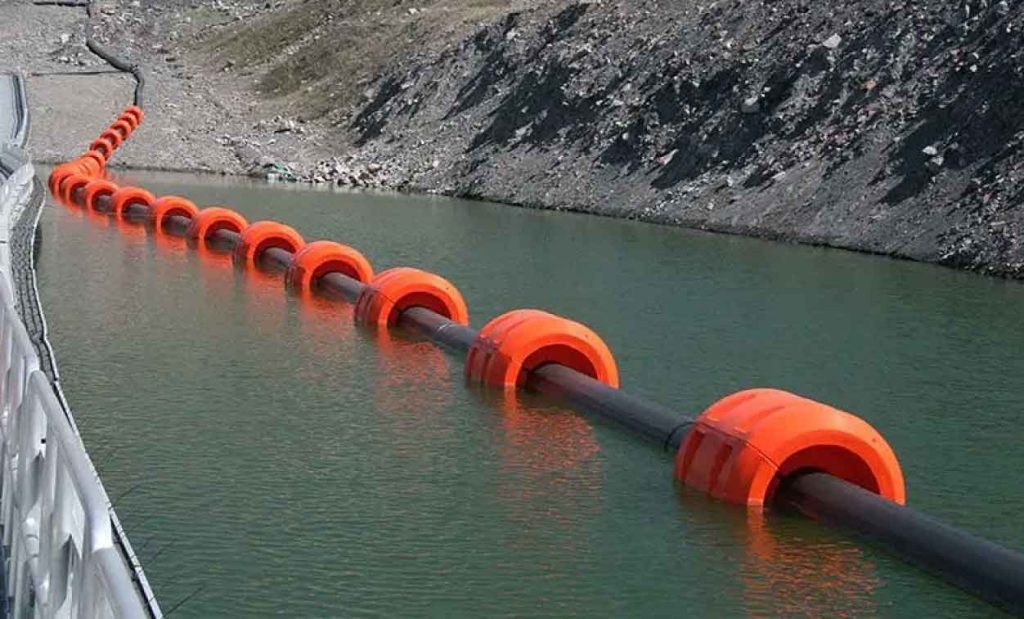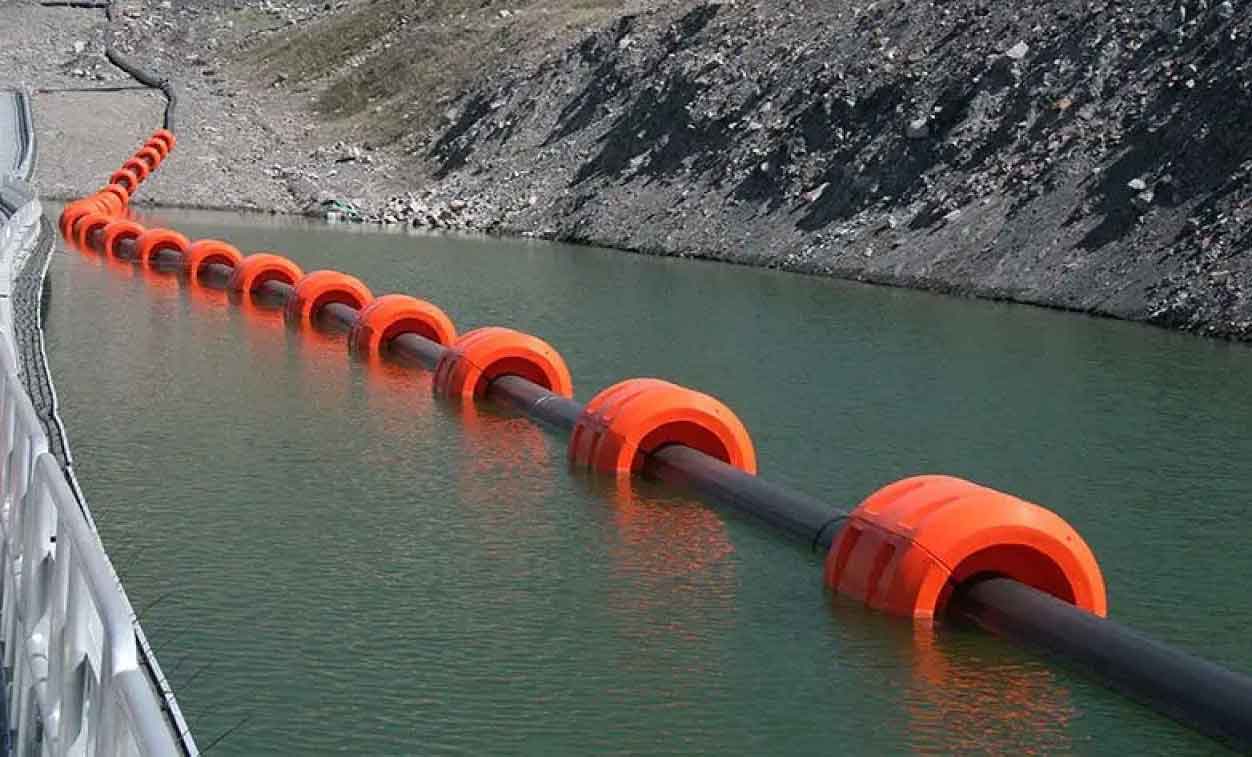 FAQ
Recommended Products